Discussion Starter
·
#1
·
Jbarefoot22, Swampin', and myself had been schemin' on a trip east all week. Between moving and the opening of bow season, trips have been less frequent, and this needed to change. The clock struck 4 AM Sunday, and we departed for the sunrise service.
We launched just a smidge later than we intended to (I get grumpy if we don't stop for food), and the prevalent clouds allowed a sunrise that was more of a fade to light. The 3 of us converged on a point that had show us limited love in the past, and Cody and I got to work with the faithful Chartreuse Super Spook Jr.'s. My first cast got blown up by what appeared to be schoolie striper that turned out to be a 16" trout, much to my delight.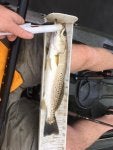 Broke the stringer out and got back to work. 3 14-16" stripers followed shortly thereafter, while Cody caught a keepin' trout and a mix of stripers.
The active bait chasing slowed down some, and I went to work with a swimming mullet which promptly attracted a keepin' trout.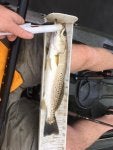 Cody remained at this point and bank a little longer, Jason followed a hunch down the small creek next to us, and I crossed the adjacent larger creek to a bird-covered dock that jutted out into the wind blown creek channel. I yanked in a handful of dinks and one keeper here, before letting the wind blow me out towards the main river. Every wind blown point or turn with a sheltered side held fish, none of which minded the quick rainshower that blew through. Jason headed this direction and landed a nice flounder I had missed.
At this point, I was working with a 3/4 full trout limit that needed to be filled. Out in the main river, I was fishing Zmans with relatively little success when I got to a point with an (unattended) net surrounded by very clearly unhappy shrimp. I fired off a cast with the spook that got punished on impact by a very large trout that ripped drag off my 2500 conflict and medium HMG combo. If you're using "trout" and "drag" in the same sentence, you're either fishing very light tackle, or there's a slob on the line. Once he was turned, the head shaking began and he threw one hook and broke the other. Defeated, I broke out the pliers and changed out the treble just in time to see some more scared shrimp breaking the surface. Splash, boom, trout.
This one went for about 18.5" (my biggest on top in the week span in which I've targeted them this way) and completed the limit.
Fished this same general area for another 30 minutes, throwing back several keepers, all on top.
Checked back in with Cody, who also had his trout limit plus a nice flounder, and filled them in on the situation out where I was.
They joined and picked up all the flounder I had missed, 20 or 30 something between the 2 of them. I hit a completely sheltered, sandy area and threw out the Zman and slowed it way down, catching 8 and missing countless flounder. Lost one boatside at about 17" that I sure would have loved to take home.
With rain on the horizon, we headed back in at about 2. Well Cody and I did... Jason lingered at an old faithful dock he likes to fish, and came flying in as the sheets of rain chased, caught, and drenched him at the launch, where we watched intently from a nearby shelter. We grabbed a couple pictures and we hit the road.
Cumulatively, a near 100 fish day that took up a nice chunk of the freezer at the new place. It's not even technically my favorite fishing season yet, but it's coming faster than the pumpkin spice everythings! Thanks for reading y'all. May the trout be with you.