Discussion Starter
·
#1
·
Decided to fish my home lake in southern Alamance county this afternoon. Got on the water about 2:00 and quit around 5:30. Started marking fish between 8 and 12 feet deep in 15 to 20 feet of water so started trolling a 2-3/4 Berkely Flicker Shad (7-10 feet) and a Rat-L-Trap. Caught several small bream, several small and one ridiculously small bass, a couple of keeper crappie (one PB for this lake) and one (again PB for this lake) good-sized bass (all on the Berkely shad).
The crappie were 10-1/2 and 13-1/2 inches long and as this picture shows, the difference between a 10-1/2 inch crappie and a 13-1/2 inch is dramatic..
.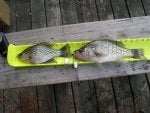 Didn't weigh the smaller; the larger was 1.05 lbs.
The lake is full of 12 inch skinny bass (not enough catch and too much release?) but this fella looked like he was getting ready for winter. Just a touch short of 2 lbs (1.96 lbs)
Also posting one of the bream mostly because it shows the hard bait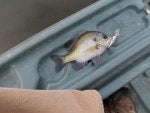 Caught all the fish in the first hour and a half. Spent the next two hours trying to find one more...