Discussion Starter
·
#1
·
Well to me, the weather was perfect on Saturday to go out and fish Norman, but I had promised an account I would work for them on Saturday. With little choice, I fished Sunday. The forecast was looking bad, very windy and bluebird skies.
I decided to launch very early in hopes that I could catch some sort of top water action. I was able to watch the sunrise from my kayak this morning as I quietly glided away from the launch. I did a half hearted check of a catfish spot, but found no life on the finder. I was on a mission to head to my hybrid bass grounds and felt I should focus on that. Ran a varied spread over my area of choice and got no love, not even a spotted bass. I began to feel the dread of a possible skunk as this is fairly unexpected for me on Lake Norman. The bait was in the area, but not quite staged in the right areas or seemingly being chased by anything. Headed into a cove where I nailed a couple of nice catfish the week before. Once again, nothing. My buddy managed some spotted bass on the way to the hybrid grounds which frustrated me even more. Once he got to the area he wasn't having much luck and he decided to troll a different area. He texted me a few more catches and I decided it was time to reel up the catfish lines and begin looking again. Put my spread out again and began hauling rear towards some birds. My front port gets slammed hard and my rod holder swivels back and I have to dig my rod out of the water. (My holders are on ram balls and even with drag loose sometimes get scary close to getting lost.)
Was pretty impressed this guy was able to hit that hard.
Ok well there goes the skunk...back to chasing the birds. Got slammed again by another spotted bass.
The wind really was not nice, I can't say windy conditions are something I savor, but it takes a lot to keep me off the water.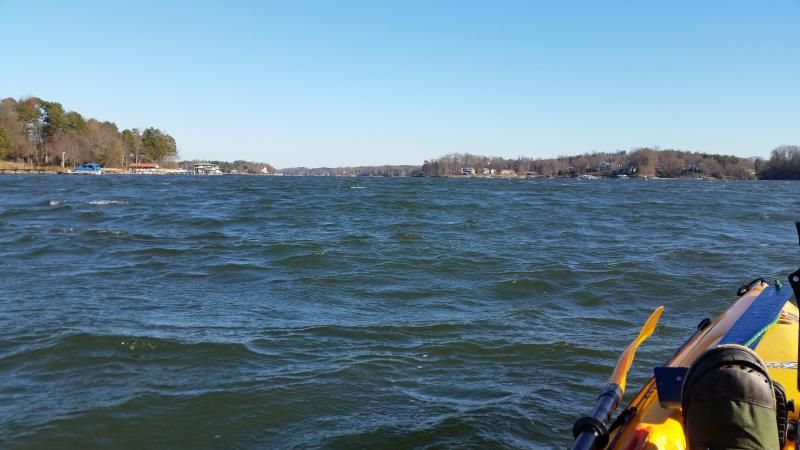 This is where a narrow, fast hull, like the Hobie Revolution shine, days like this. I recently installed turbo fins and the sailing rudder upgrades. The turbo fins let me run 5.4 mph sprint into the wind/waves to get me back into the action, and running a decent troll speed into the wind was a breeze too. Trolling down wind and managing boat position while fighting multiple fish was heck, but easier with the new rudder, but more on that later.
I decided it was time for a pit stop, and headed towards an island. Managed a little spotted bass before landing on the shore.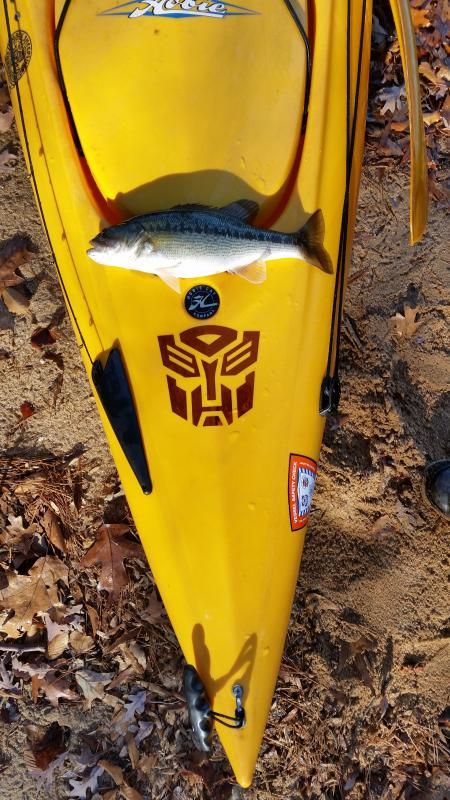 Finished my business and back towards my spot to see if anything new was going on.
Another spot tags me.
Started to notice there was a lot more life in the area. I'm guessing I should stay and see what else may come up. Started pulling past the life on the screen when my rear port goes off. This one sounds good! Next thing I know my rear starboard goes off! This one is whining louder. Squeeky wheel gets the grease, louder reel gets handled first. First fish comes in, hybrid bass. No time to celebrate more work needs to be done. Second fish comes around, another hybrid.
Bit of a mess onboard, so I go into shore to sort things out.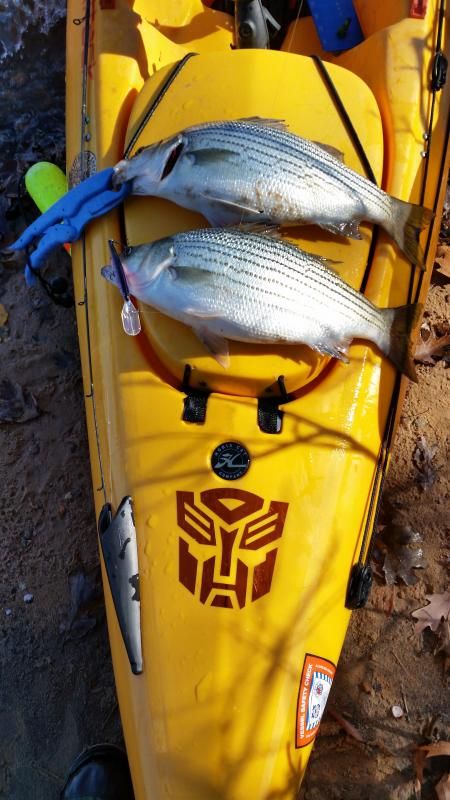 About this time boating buddies show up since I texted them my location. They seemed to be paying attention to what I was saying but I think they we're thinking this is the craziest thing I have seen. Not only does the wind suck and this guy is catching fish, but that kayak has way too much stuff on it. This guy is clearly not right in the head. They promptly left, though they did offer for me to call if I needed anything. Not sure if they heard me yell "A DRIER RIDE!"
Back out there to find the carnage.
Was trying to text this photo to some friends to let them know I hit the motherload, but I was rudely interupted when 3 rods bent and line started peeling. I managed to land 2 out of the 3.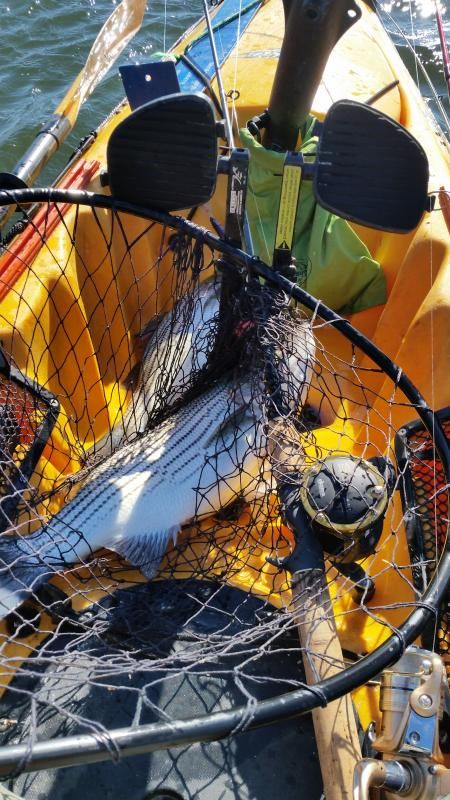 Ok lets set back up and do another pass!
3 lines get tagged again. Landed 2 out of 3.
Lost the second fish, third fish fought like a wet rag...should of known, lazy largemouth bass. Largemouth bass don't fight at all when caught on the troll. I've had 10 inch white perch give better fights than 19.5" largemouth bass (not that this bass was that big though!). Get this filth out of my kayak!
Found another hybrid and had to sort a mess out that he caused.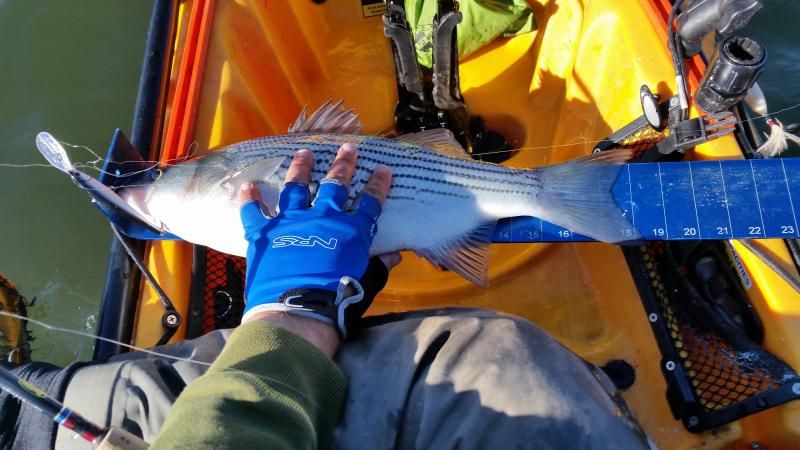 Ok double, triple, and triple. I want a quadruple! Lets go already! Executed a u-turn and made another pass. 1...2...3...and 4! There is my quadruple! Landed 3 out of 4, but no hybrids in this mix! The sailing rudder helps a lot in keeping course when fighting fish like this. As the kayak slows the bow buries a little and the stern raises, lowering your tracking ability. Having the oversize rudder is exactly where this upgrade works and makes itself known.
And just like that...the action died. Decided to try a new cove for catfish. Drove over top what I thought for sure was a catfish and a few seconds later my rear starboard goes off. I could feel the tell tale rolling of a blue cat. In hind sight I should have pulled the rudder hard left to try to get a better angle, but it was too late, hook twisted out of the mouth.
The rest of the afternoon was quiet and I managed one more small bass while coasting into my launch area.
Now I'm wondering what would happen if I can learn how to properly troll A-rigs...