Discussion Starter
·
#1
·
It is January in Fayetteville and that means it is fly fishing time at the John E. Pechmann Fishing Education Center (JEPFEC). Our first clinic of 2008 is now history.
We limit participation to the first 40 folks who pre-register with the Fayetteville/Cumberland County Parks & Recreation. These fly fishing clinics have been a best seller for the past several years and we once again had a sold out crowd. Folks came from as far away as New Bern on the coast and Brevard in the mountains. This is our first year in the new building and things fell together much more smoothly now that we have a facility designed with education in mind.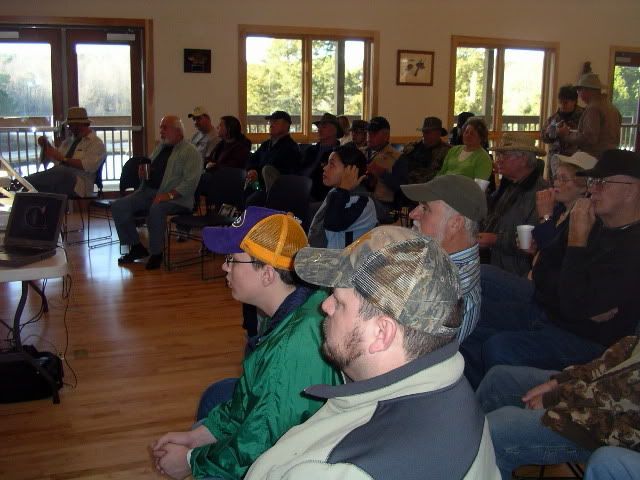 Things kicked of with a welcome and orientation by JEPFEC Director Kris Smith.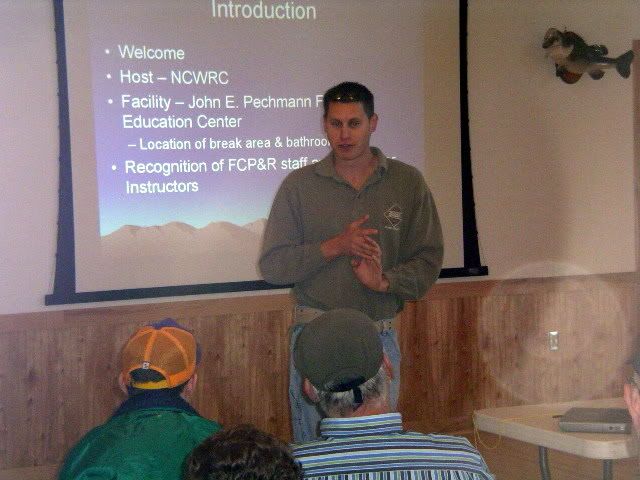 This was followed by an introduction and overview of fly fishing by one of the many volunteer fly fishing instructors who actually run the clinics. Director Smith is quick to point out that without the help of these volunteers the clinics would not be possible. He also notes that our only pay is a sausage biscuit and a well deserved "thank you".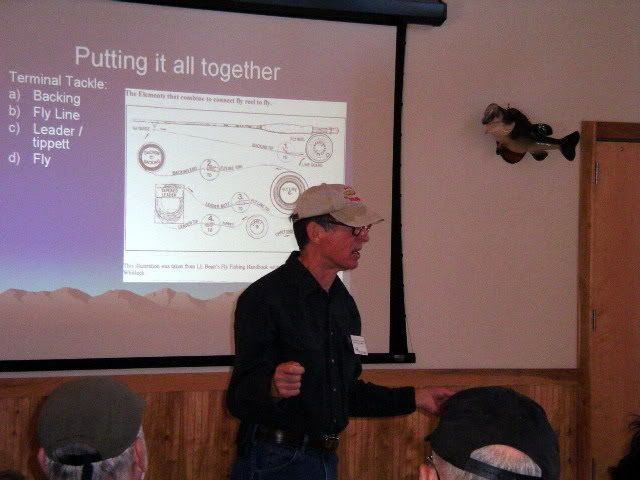 Following the overview participants took a short refreshment break and were encouraged to tour the new facility. They were also exposed to several fly fishing displays prepared by the volunteers.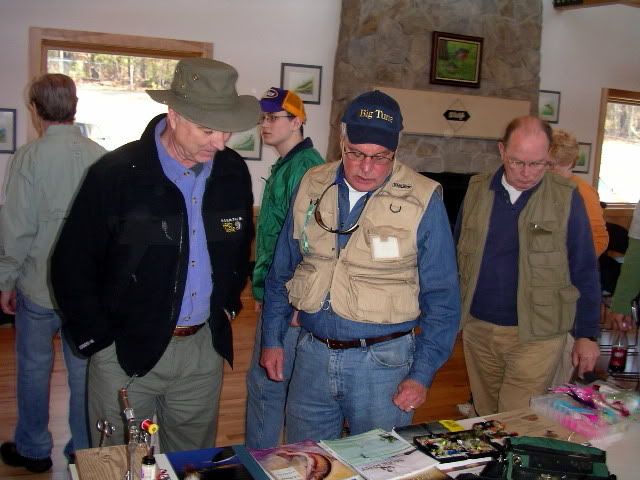 The participants were then broken into four groups and started a rotation of various stations where they learned key aspects of fly fishing. One of these stations was knots and fly rod assembly. Everyone had the opportunity to practice tying the double surgeons and improved clinch knots as well as assemble and disassemble a fly rod.
Casting was probably the most important and hardest skill to teach. We started out with the basic concept and a few demonstrations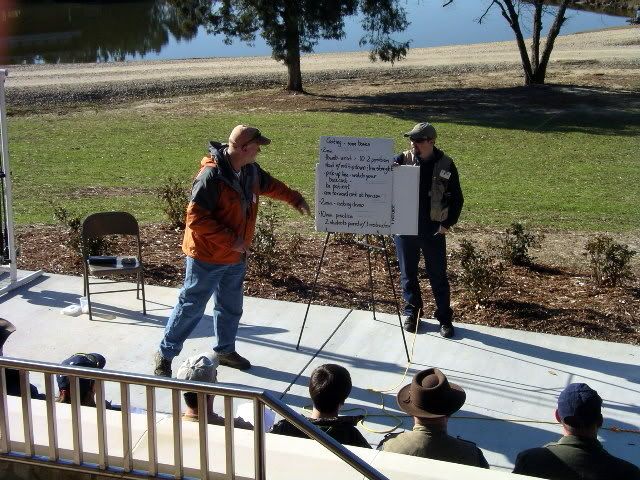 The participants then went to a nearby pond where fly rods without flies awaited them. Everyone is amazed at how easy it looks when one of our primary casting instructors demonstrate, but how difficult it becomes when they first pick up the rod and give it a try. Thankfully most are able to cast in an acceptable manner under the watchful eye of our volunteers. (We try to have sufficient volunteers to give each student one on one or one on two instruction).
Our 3rd station deals with the important topic of a "healthy habitat'. Here students are exposed to the conditions that make up a healthy trout stream, i.e. cold water, shade, oxygen levels, gravel bottoms, insect life, forage fish, etc. They also learn about fishing ethics.
We can't send fledgling fly fishermen out in pursuit of the elusive trout without first apprising them of the unique and many laws that are particular to trout fishing. (Sorry but we did not get a photo of this station - look for it next time)
By this time everyone is ready to go fishing. Participants are encouraged to bring and use their own rods but because many are trying the sport for the first time we have over 40 rods all set up and ready to place in the hands of these newly minted fly fishermen and women. Everyone receives a safety and safe fish handling briefing before being allowed access to the fish ponds.
Like fishermen everywhere, they all eagerly anticipated that first cast and almost guaranteed tug on the other end of the line. Unfortunately for many it did not turn out that way. A cold front blew through the area less then 12 hours prior. This front was accompanied by a drop in temperature and blue bird sky. Many of you more experienced fishermen know the rest of the story. In a word - the fishing was tough.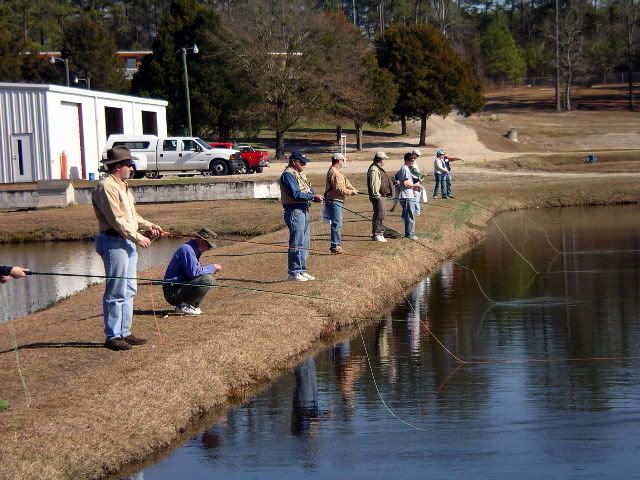 What makes it really bad was just 3 days prior we hosted a Wounded Warrior event where everyone had numerous hook ups. We also rested the fish since the WW event, i.e. no one was allowed to fish the trout ponds and we also placed the fish on short rations to insure they would be hungry. Today's fishing was not exactly a skunk but as previously stated it was very challenging. Some folks were able to catch several fish, while others struggled to get the first bite. I talked with several who said they were just enjoying being out on such a beautiful day and they were happy to be practicing their casting.
One fellow brought lots of attention to himself when his rod took a deep bend and he pulled in a rainbow which measured about 20 inches. This fish also exhibited about as big and deep a belly as I have seen on a trout.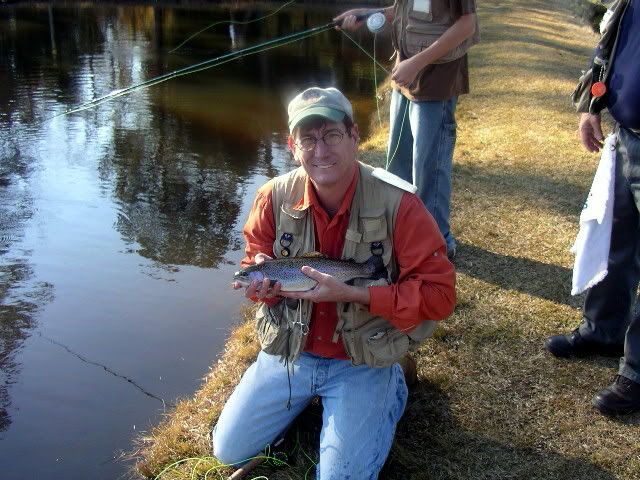 We allow our volunteers to break out their rods once the majority of the participants have departed. Today, even our so called "experts" were having a difficult time enticing a bite. I personally caught 3 in about a half hour of fishing - a few days prior it was a fish every other cast. Paul (aka Phg) and I both agreed that the fish were very gentle on the take - we missed several because they were there and gone before we could react. Paul was fishing one of his new bamboo creations and caught a very respectable brown trout just prior to our calling it a day.
So ends our first basic fly fishing clinic for 2008. We exposed a great group of aspiring fly fishermen to the sport. Despite the lack of a feeding frenzy by the fish, just about everyone had a good time and several caught multiple fish. I saw lots of smiles and heard lots of heartfelt "thank yous". We will do it all over again two weeks from now, on Saturday, January 26th.
Because I am the old timer with the clinics I will speak for the staff at the JEPFEC when I say to our cadre of volunteers, THANK YOU VERY MUCH. Your unselfish sharing of your skills, knowledge and passion for the sport of fly fishing is acknowledged and greatly appreciated.
Al Kittredge
FFC Volunteer Coordinator
NCWRC JEPFEC