Discussion Starter
·
#1
·
Today was a beautiful day for being outside. We joined 40+ Boy Scouts who had camped out overnight at the JEPFEC (Old Lake Rim Hatchery) in Fayetteville NC and helped them qualify for the Fly Fishing Merit Badge. These eager beavers were a joy to work with because they are the future of fly fishing.
We put them through the "basic fly fishing clinic" program of instruction which included a general overview, followed by a breakout into four groups which rotated through various stations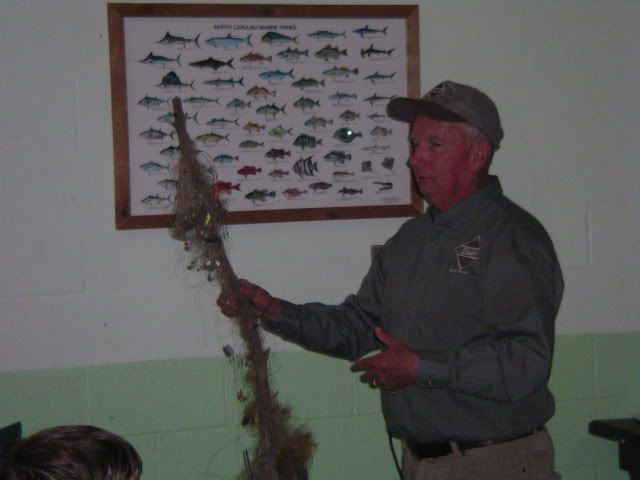 Station 1 on "A Healthy Environment" was taught by NCWRC technician Marshal Ray who pulls out his "infamous" fishing pole which consists of discarded monofilament and snagged lures. This blob of trash was actually found along the bank of Lake Rim, a public fishing area right across the street from the JEPFEC.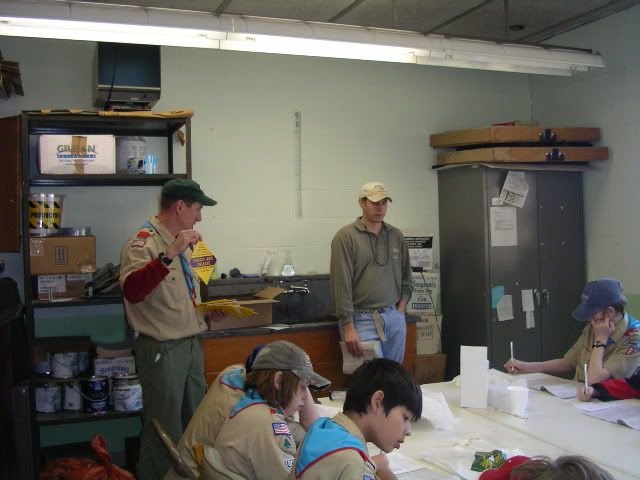 Station 2 was on "Regulations Peculiar to Trout Fishing in NC" - The scouts were each given a current regulation book and quizzed on their ability to locate and understand the rules for various trout streams.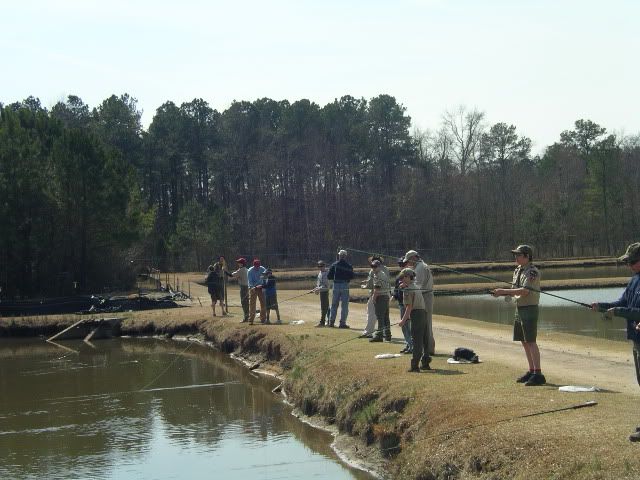 Station 3 put the scouts through the mechanics of the basic overhead cast and the roll cast. We had enough volunteers to give each group one on two instruction. The instruction continued for those that needed it once we moved to the trout ponds.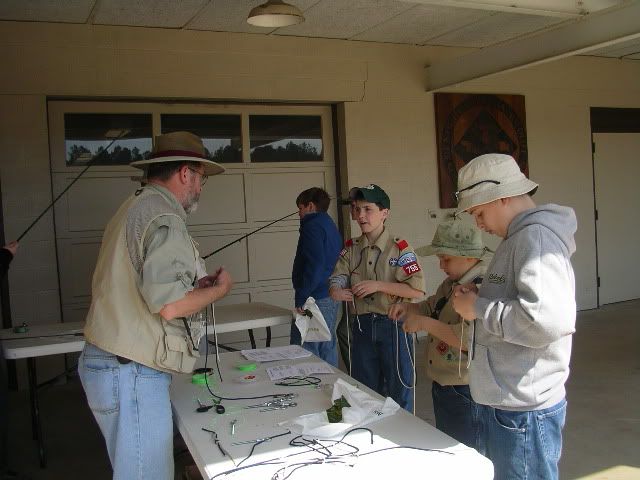 Station 4 consisted of hands on instruction on basic fly fishing knots, i.e., the improved clinch and the surgeons knot. We also showed them how to assemble and disassemble a flyrod at this station.
About half way through the rotations we discovered that many of the scouts had missed breakfast because they had not gauged the time required to build a fire and reduce it to a hot bed of coals correctly that morning. Several told me that the granola bar they had woofed down just prior to coming to class was already a distant memory. We broke for lunch before heading to the trout ponds.
While our "clients" we enjoying a late "brunch", several of the volunteers broke out our flyrods and tried our luck at the catfish ponds. (We don't allow our volunteers to fish the trout ponds on the day of the clinics so as to save the fish which are ready to feed for the students). Here is a nice cat caught by yours truly - it put a nice bend in a 6wt full flex flyrod.
Today was not the best day of fishing which we have had, but most of the scouts caught fish. Even those that did not, had a big smile and seemed to enjoy just being out with friends and Mother Nature.
Part of the Boy Scout Fly Fishing Merit Badge requirement is that the scout harvest, clean and cook at least two fish. Two of our NCWRC technicians manned a cleaning station which demonstrated proper fish cleaning techniques without any skin or blood loss on the part of the participants. They caught enough fish for a good old fashion fish fry which was held right there at the JEPFEC.
Just about every scout and their leaders came by to offer their thanks and shake the hand of myself and the other volunteers. All those thank you's and smiles make it all worth while.
The good Lord willing we will be out there again next Saturday doing it all over again for another group of Boy Scouts. Next weeks event will be the end of the trout fishing clinics for 2007. However, we will also offer a "Warm Water Fly Fishing Clinic" which is open to the public on Saturday, June 9th. Lake Rim Park will be taking registration on a first come first served basis - They can be contacted at 910-424-6134. There is a $5 fee to participate.