Discussion Starter
·
#1
·
The temperature was a little brisk and the wind got up at times but the sun and spirits were bright at the 3rd basic fly fishing clinic held at the John E. Pechmann Fishing Education Center (Old Lake Rim Hatchery) in Fayetteville today.
We had a full roster of forty today, and even added to it with a few folks who showed up hoping that we would a spot for them. Once again, participants drove from as far away as Charlotte, Durham and New Bern to attend what has become known as a very affordable way to learn the basics of fly fishing.
All of our basic courses start off with a forty-five minute overview of fly fishing in the classroom. We then break out into four rotating stations where participants are introduced to
what makes up a healthy stream or lake environment. We also talk about fly fishing ethics at this station.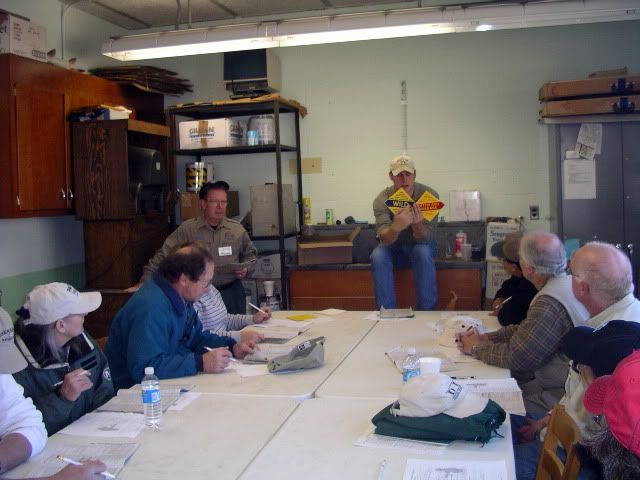 Station number two reviews all of the NC rules and regulations peculiar to trout fishing. Participants are also given copies of the latest NC Regulations Digest and offered tips on where to go to locate streams that offer trout fishing.
Casting instruction is a big part of our instruction. We normally have enough volunteers to have one for every two participants. The above photo shows the students and volunteers going through the basics of the overhead and roll cast.(No flies tied on at this point). Casting instruction continues for those that need it even after we move to the fishing ponds.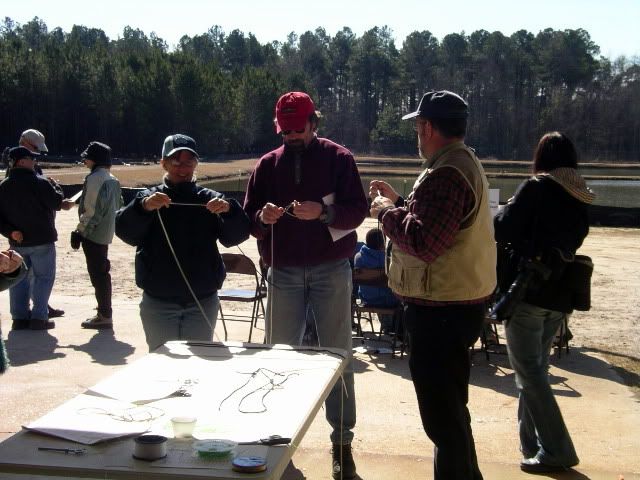 Our fourth station in the rotation is basic knot tying and rod assembly. We teach the improved clinch and the double surgeons knot.
Participants also learn to assemble their own flyrod.
I have participated in these clinics for the past six years and must say that today's group of students were some of the most enthusiastic, well organized and quick learners that we have had. Several of our volunteers echoed my observation. We always enjoy exposing new people to the joys of fly fishing. Today's folks were a real pleasure to work with.
At noontime we moved to two trout ponds where 500 trout in each pond waited to give the students their final examination.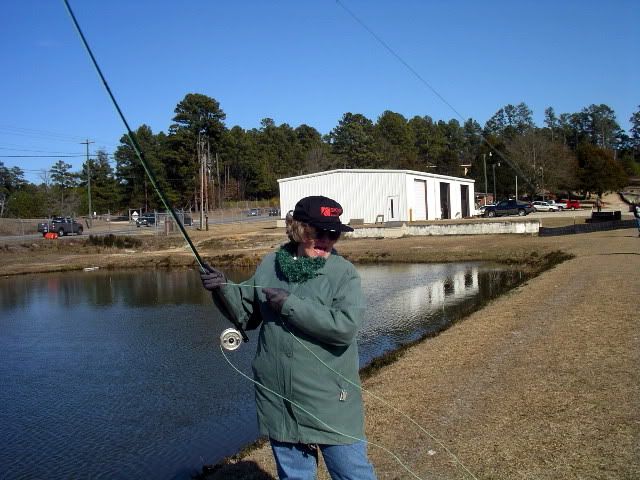 Once again I need to mention the enthusiasm of the students. This lady fished for almost two hours before she caught a fish - But as you can see by the expression on her face, the wait was worth it.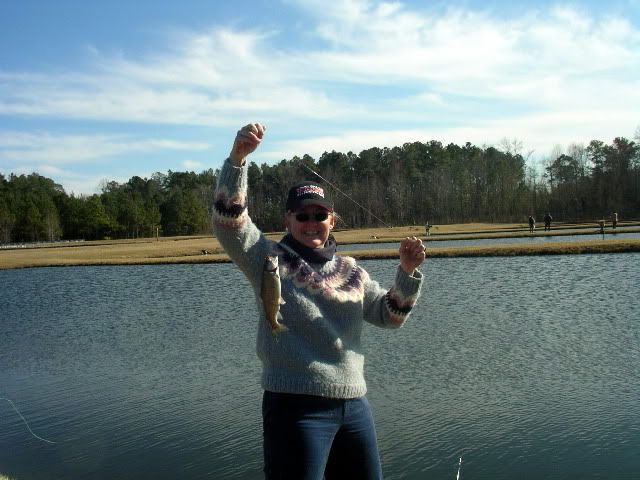 Another happy participant.
What appeared to be a cold front moving through the area made for more "fishing then catching", but I think everyone caught at least one fish and several participants caught more then one.
I can't turn you loose without saying a word about our volunteers. As Kris Smith, the Director of the JEPFEC is fond of saying,
"The volunteers work pretty cheap. All we pay them is a cup of coffee and a sausage biscuit". He goes on to say that "Without the volunteers, the fly fishing clinics would not be possible". No truer words were ever spoken. We ask a lot of our volunteers. We have seven fly fishing events or clinics on the schedule for 2007. Most make at least half of them and several of our volunteers make them all. I am the volunteer coordinator - our present roster of volunteers make my job easy.