Discussion Starter
·
#1
·
Wheeww - Another Saturday, another basic fly fishing clinic behind us. We just barely had enough volunteers to carry it off, but we did it and that's what counts. These back to back clinics are understandably burning out some of our volunteers. It takes lots of dedication, an understanding spouse and lots of team work to put these things on. We could not hold even one clinic without the help of our cadre of volunteers. I usually position myself near the rod racks at the end of the day and without exception, everyone expresses their thanks to all the volunteers for putting on such an informative and fun filled program. The question that I am asked the most often is, "When can we come back to do it again?"
The weather was beautiful so none of our participants woke up this morning and said "I think I will just kiss off my $5 registration fee because it is too cold to go fishing". Therefore we had a full class of forty plus students today. As with all our basic classes we started with an orientation and then quickly broke them down into smaller groups for rotation through some of the key topics essential to fly fishing. The first being a "healthy habitat and ethics associated with fly fishing"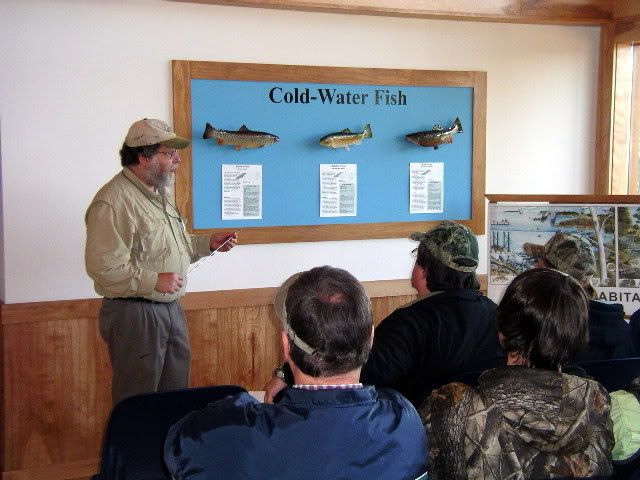 Two other essential topics included rod assembly and knot tying (No photos this time)
We had a new NCWRC Tech explaining the NC rules and regulations peculiar to trout fishing. As with all of the JEPFEC Fisheries Technicians, he was very knowledgeable and a natural when it comes to sharing information.(Of course we backed him up with one of our volunteers)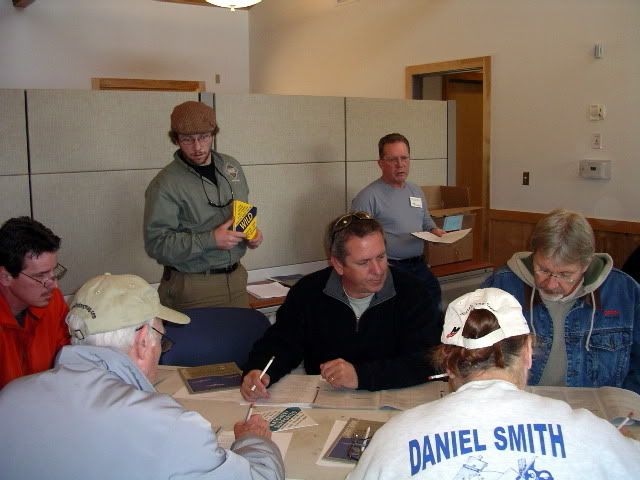 The volunteers run the casting station on their own. Our lead casting instructor is a local school teacher who knows how to reduce a very complex topic to understandable terms. He is assisted by 2 other excellent fly casters.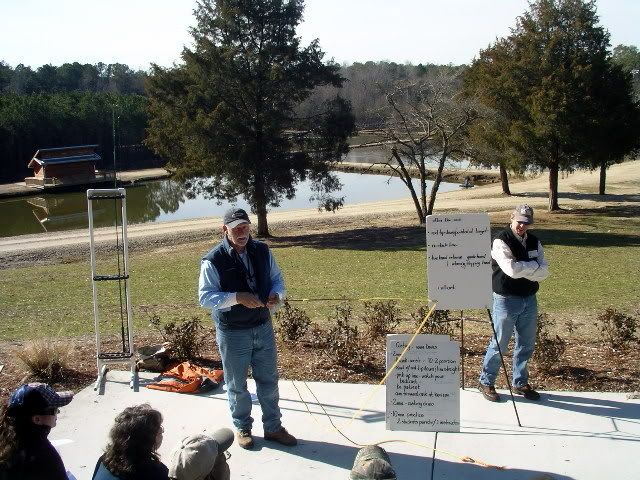 They are backed up by all other volunteers, all of whom are themselves very competent casters. We try to have no more then two students for each volunteer at the casting pond. We came up a little short today but it worked out. (We need a minimum of 12 volunteers at each clinic for things to work smoothly)
We still don't have the trout trained to bite on cue. A few of the volunteers tested the waters earlier in the week and things were looking up with one volunteer catching almost twenty in less then an hour. We rested the ponds for forty-eight hours prior to the clinics and did not feed the fish, but all to no avail. Fish were caught but not in the numbers one would expect when you know there are 500 of them in each one acre pond.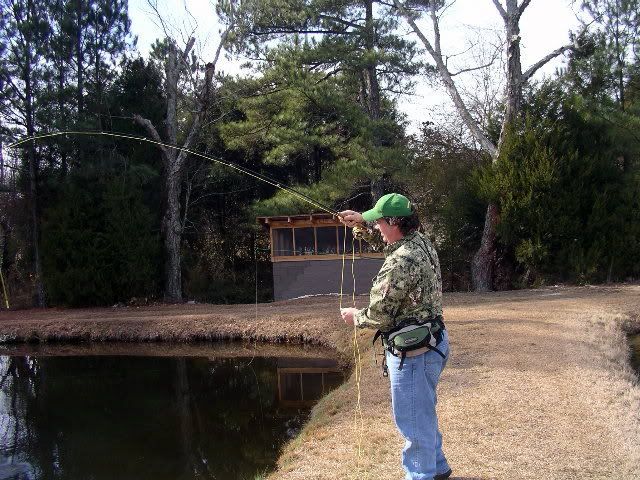 I saw a few rainbows and brookies caught and released. The big fish of the day was this brown trout that pushed the 20 inch mark.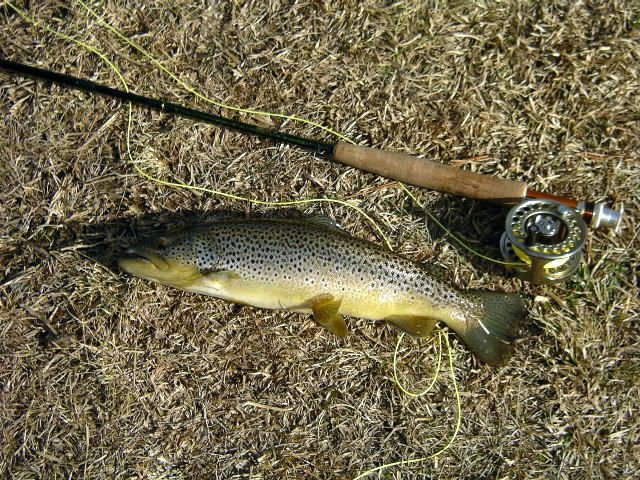 The Pechmann Center has several catfish ponds that are mainly used for youth fishing events. However, one of the secrets which is known to many of our volunteers is that the catfish are easily fooled with a submerged fly. When it was obvious the trout were not going to favor us with their presence, we turned a few of the participants loose on the catfish pond. This young ladies whoop for joy when she hooked one and the smile when it was landed is why we continue to hold these clinics.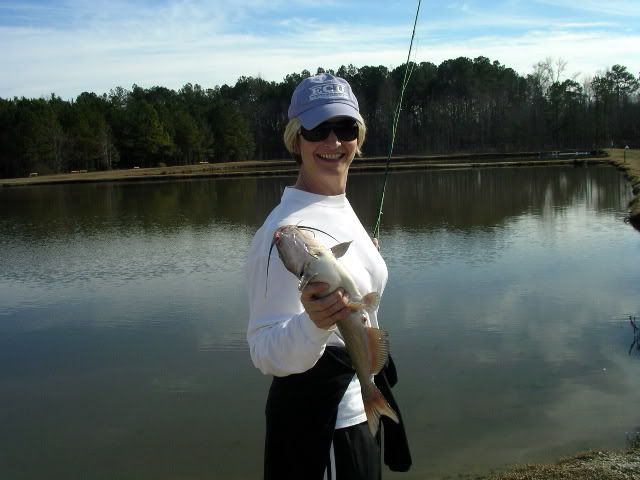 Our next event will be for the Wounded Warriors on Monday, Feb 11th from 1-5pm. The final event that includes trout fishing open to the general public will the Advanced Fly Fishing Clinic, Sat, Feb 16th. I have heard there are a few slots still available. If you know anyone whom might be interested, have them contact Lake Rim Parks @ (910) 424-6134 They must register in advance. They can use a credit card or cash to reserve a spot - only $5 so it is a steal and we also furnish coffee, sodas and donuts. Can't beat that.