Discussion Starter
·
#1
·
The 2007 Advanced Fly Fishing Clinic held at the John E. Pechmann Fishing Education Center (JEPFEC) in Fayetteville, NC was once again blessed with good weather, enthusiastic participants and outstanding instruction by a group of dedicated volunteers.
This clinic went beyond the instruction we have provided at three recently completed basic clinics. We provide everything, including rods, flies, etc at our basic clinics. We have that same gear available for the advanced clinic but most of the participants had their own rods and assorted gear. In fact many of the participants were experienced fly fishermen who had skills in some areas beyond what we are able to teach in a clinic setting.
After the initial welcome and general information to set the tone for the remainder of the day, we broke out into various stations where participants were exposed to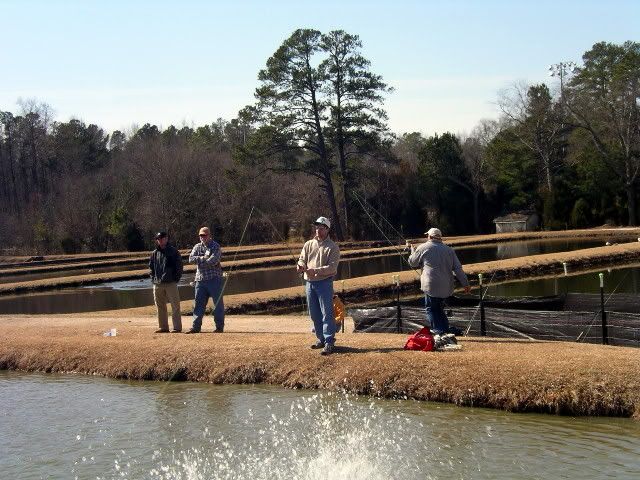 advanced casting techniques to include how to fish in flowing water.. We created a current in one of the ponds with a paddle wheel aerator. This allowed the participants to work on the of techniques of stripping and mending line and also the dead drift.
We also worked on perfecting the roll cast. All of our volunteers are accomplished fly casters in their own right, however we have recently added two new volunteers to our roster who excel at the single and double haul as well as some of the more exotic casts. Many of us are talking about asking these fellows to hold a "volunteer clinic" so that we can hone our casting skills.
Our knot station was expanded from the traditional improved clinch and surgeons knots to include the nail, blood, Duncan, and Albright knots.
Volunteer Paul Gruver held everyone's attention with a fly tying demonstration that showed all the basics. Several participants were seen writing down what they might need to purchase in order to try their hand at this very rewarding off shoot of fly fishing.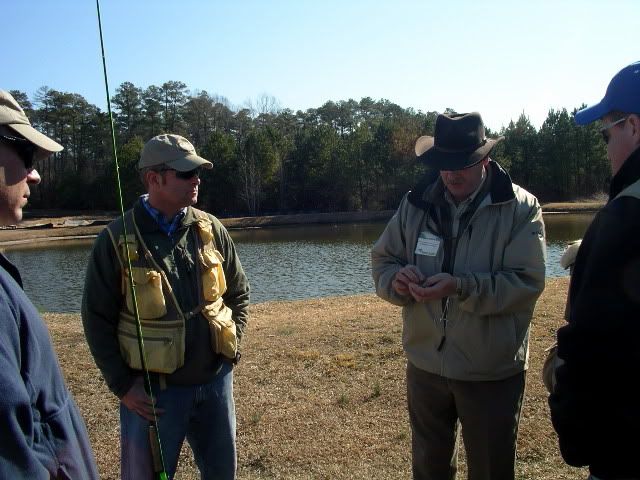 Everyone was amazed at some of the frog and mouse creations and poppers that are used to catch bass and panfish as demonstrated by volunteer Robert Grover at the warm water fly fishing station.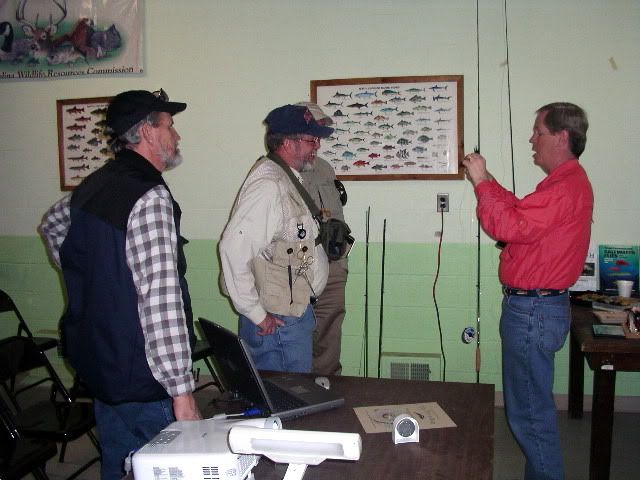 Salt water fisherman and expert fly tier Keith Gallaher shows one of his creations at the salt water fly fishing station.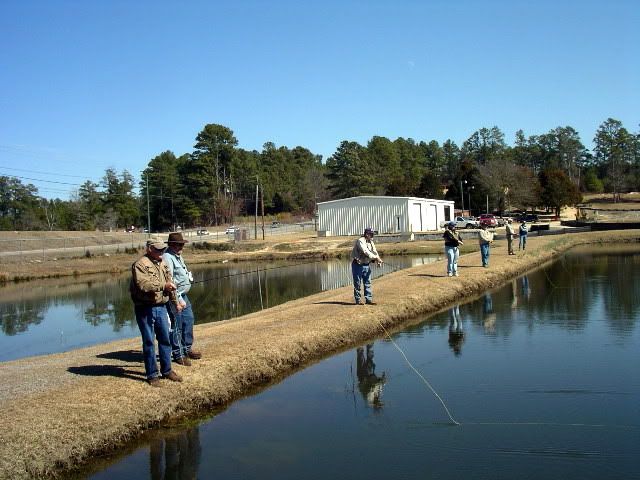 At noon we headed to the trout ponds where Brook, Rainbow and Brown Trout waited to test the skills of these seasoned anglers.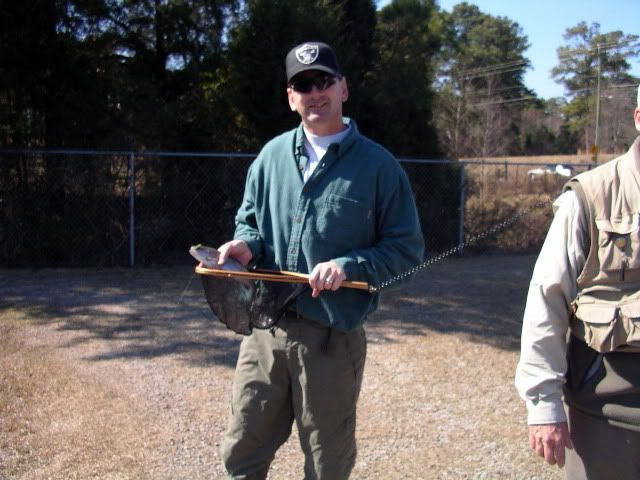 A bright sun and decent breeze complicated matters but everyone caught fish. Some even hit a grand slam of all three species.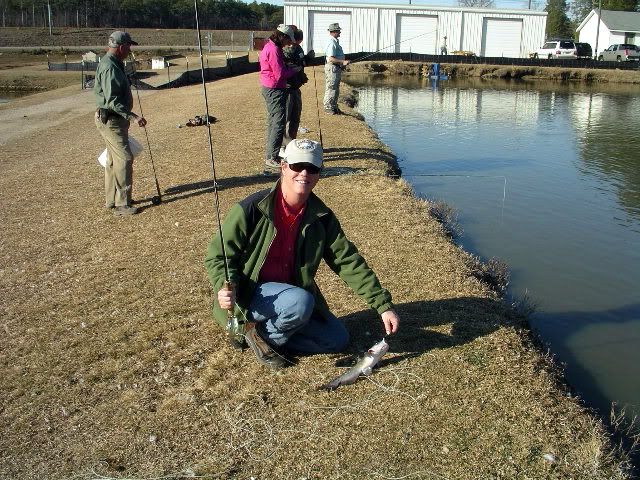 Once most of the participants had departed, some of the volunteers headed for the catfish ponds where catfish up to 8-10 pounds are known to lurk. Volunteer Keith Gallaher is all smiles because even the smaller ones will put a good bend in your rod.
And so ends another good day on the water. This was our fourth event for the year. Our volunteers continue to unselfishly share time and expertise to teach others about our great sport. I know we have planted the fly fishing bug in a few of the participants because the owner of our local fly shop told me that several have come in to purchase rods, reels and other gear that they were exposed to at our clinics. We all live for the smiles and thank you's. Nothing else is desired or expected - from our viewpoint, it doesn't get any better then that!