Discussion Starter
·
#1
·
I am blessed to have made multiple trips to Alaska, aka "The Last Frontier". Twenty two years ago one of my daughters moved there and I have used this as an excuse to combine family visits with fishing on an every other year basis. The first year up there I hired a guide who took me and several other clients by boat to the mouth of a creek running into a main river where we joined 15-20 other clients and their guides who surrounded a large pod of salmon and tired to avoid hooking one another. Right then and there I decided to cut out the middle man, i.e. the guide and learn to do it on my own. I did break this rule four years ago when a group of us hired a guide with a drift boat who floated us down the Kenai River where we caught some nice Rainbows and Dolly Varden. If I lived up there I'd consider buying my own boat but for visitors hiring a guide with a boat is a good option.
I have pretty well confined my "do it yourself" style of fishing to the streams which cross the Parks Highway about 100 miles north of Anchorage near the historic town of Talkeetna. After a few hit and miss stays at various cabins I've settled in with a very nice B&B which is centrally located, very well furnished and reasonably priced. The owner and hostess is a one of the last Alaskans who can legitimately claim they homesteaded. She came to Alaska as a 17 year old bride married to a recently discharged Air Force man whose family were running a mining operation north of Talkeetna in the area of Gold Creek. She spent her first winter in a shed next to her new in-law's cabin. She has a lot of stories that makes you realize folks were tougher back in those days.
My adventure got off to a good start when the girl on the left got on the airplane in Charlotte as a last minute standby and sat down beside me. We struck up a conversation and she said she was a recent college graduate who had chucked everything including her car and most other possessions and was traveling to Seattle to temporarily roommate with a friend while she looked for work. We joked that she might end up homeless and she agreed to keep me updated via cell phone text if I would send her photos of my fishing trip. She did link up with her friend (on right) and last I heard has moved to Tacoma. No word on job prospects yet. Awwww, to be young and just starting out again!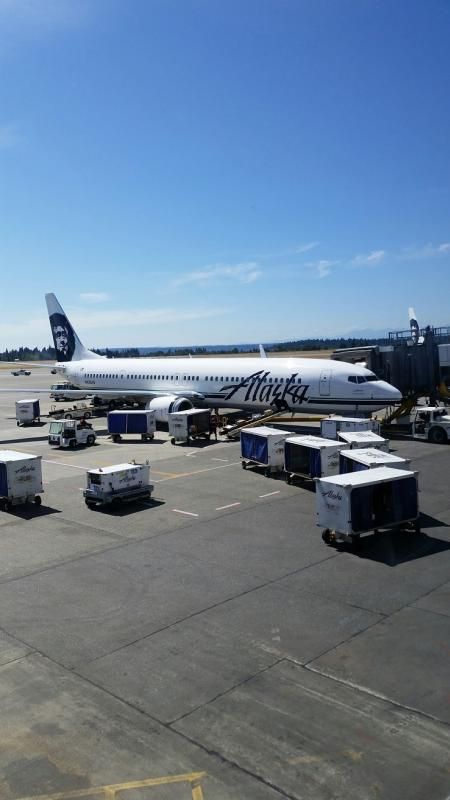 There was much joy in my heart when I watched my two pieces of checked luggage make it up the conveyer belt of the plane I was waiting on for boarding call.
Here is one of my three daughters and the one I use as an excuse to visit Alaska every other year. For the past several years she has worked as a cost analyst and program manager for some of the native corporations which formed when Alaska became a state. Her husband holds several security alarm and fire protection certifications and is currently the "go to guy" for most things related to commercial fire protection in our northern most state.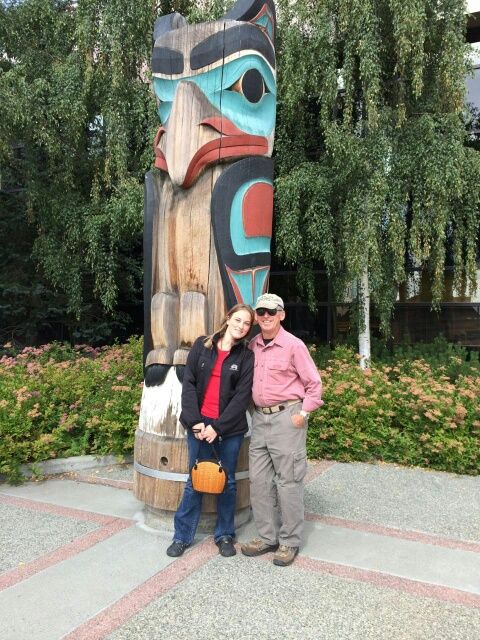 Before heading out for fishing I did a little visiting with my northern family which includes this young lady. Her academic grades earned her a full scholarship at the University of Alaska where she is in her final year as a nursing student. .
I also quenched a two year thirst I have been building up for some of the best tasting ale on the commercial market.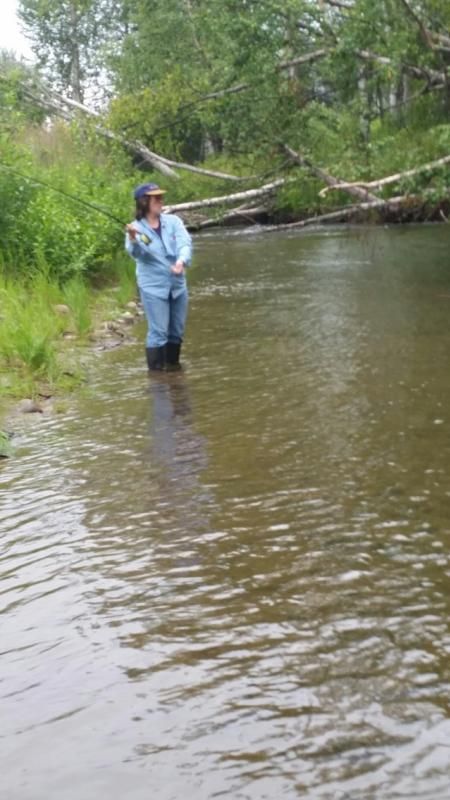 This year my daughter Allyson surprised me by declaring she wanted to learn to fish. Heretofore she has been the "let's go shopping" type - She even purchased a fishing license, knee high boots and rain jacket just for the trip. Off we went for some father/daughter time at a well known salmon stream a couple days before my fishing crew from the lower forty-eight arrived.
Under my "expert tutorage" it did not take long to get her connected to a huge fish.Your humble "expert" was quite vocal with advice such as "keep your rod high", "get him on the reel", "don't let him have any slack", etc, etc. An exasperated "Dad, I've got it!" quieted me down a bit.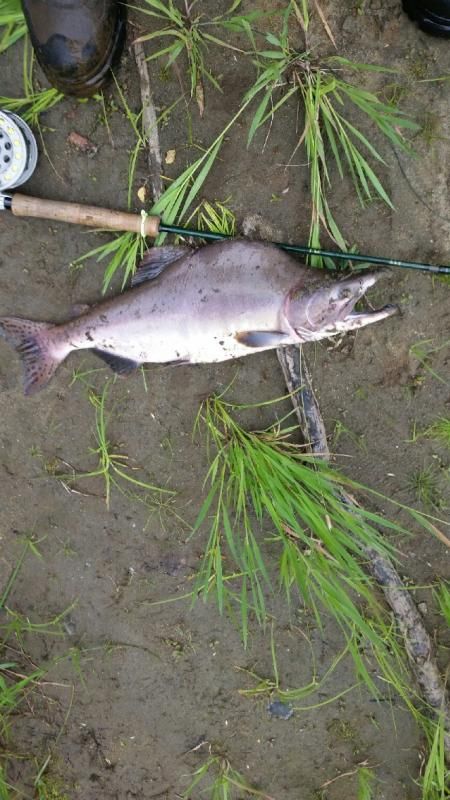 Not bad for a first fish. This is a male pink salmon also known as a "humpy" - the males develop a very prominent hump on their back when they return to the stream of their birth for spawning season.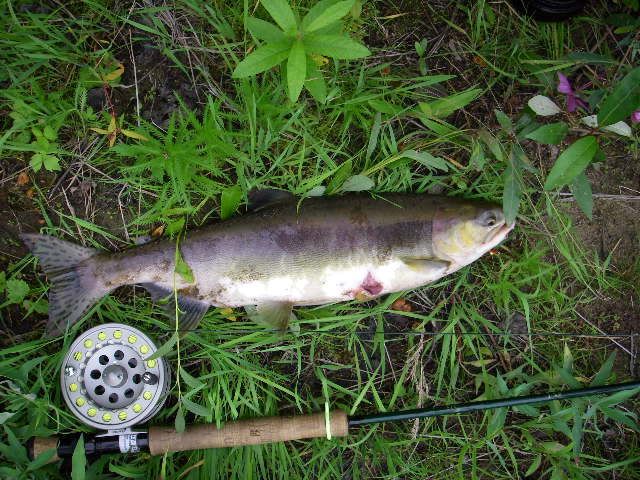 Here we have a female pink which does not exhibit the hump. When you first see one the untrained eye often mistakes it for a trout or silver salmon. Pinks are the most prolific of the salmon family. They are also the smallest, averaging 2-5 pounds when they return from two years at sea. Even numbered years see the most returns. They are good eating when fresh and many end up as canned salmon on the commercial market. IMHO any fish which spends it's growth years in the ocean before returning to it's home waters to spawn is a strong fighting fish.
This looks like cotton and is called Alaskan Cotton. We found a couple isolated patches of it when we took a riding tour above tree line. It seems to grow in wet places along the edge of bogs. I don't think it has any commercial applications but perhaps the natives used it before the arrival of "outsiders".
We fished, toured and had a good time for two days before returning to Anchorage to drop Allyson off and pick up the fishing crew made up of my US Army employed eye surgeon and his adult son who is a product engineer based in California . It never hurts to have medical help close at hand when visiting Alaska and of course the young fellow would come in handy packing out the salmon.
*Authors note - I am going to break this up into two parts because it is photo heavy and I'm also busy with other things which may prevent me from most of the fishing story. Hopefully that will pour off the keyboard this afternoon - for now I will just say we had a great time and caught lots of fish.