Discussion Starter
·
#1
·
I celebrated a birthday this past Friday. 37, and feelin' old! Got a basspro gift card, blue tooth earbud headset, and a book "Down the Wild Cape Fear". My wife asked what I wanted to do this weekend and I replied "go fishing."
I shot Mack a text earlier in the week and asked him to reserve Sunday for an all day excursion. I sent him a few options and we settled on our locale. I asked him to bring the scanoe and a set of his catfish floats to see if we could pick up a few catfish for dinner.
We met up at an Apex gas station and headed off. Launched around 7 am to cool ambient temps and great looking water. Slight stain, up just a hair. Things started a bit slow, a few bream here and there for bait and a couple bass. My first good fish was a nice pickerel on a black buzzbait, pushing 3 lbs. This fish went into the cooler. Shortly after, Mack caught a nice pickerel as well, but I fumbled the landing and lost his fish.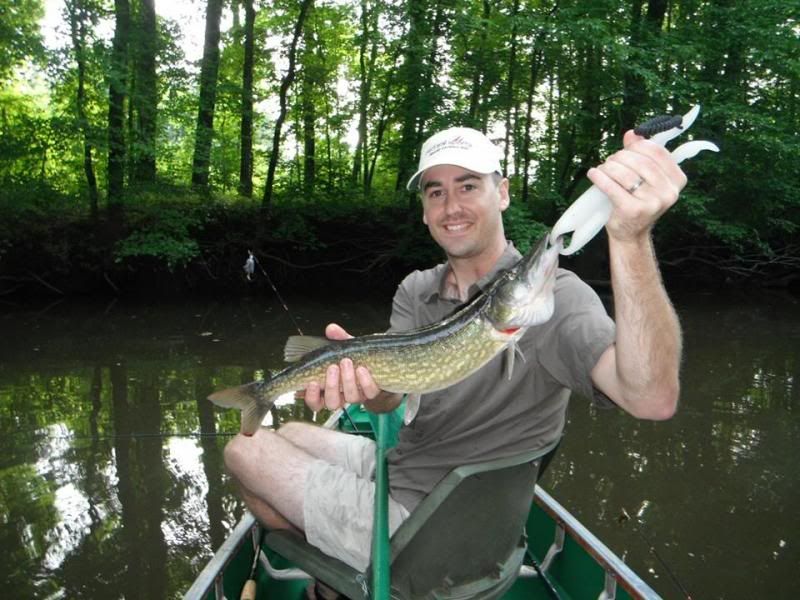 We started trolling for crappie and Mack was on fire. He probably landed 15-20 crappie long lining a small chartreuse roadrunner. Most were small, and I got a few on a yellow curly tail. Since most of the crappie were small, only the largest four landed in the cooler. 3 black, 1 white.
We set some jugs with cut bream, trolled, set some more, then trolled back. We let the jugs soak and ventured on. A few hours later, I proceeded to land my best personal river bass on my light action rod, 6 lb mono, and a 1/4 oz bettlespin. This bass was sitting in 1' of water in a slack eddy pool near flowing water. It appears this big girl was spawned out. We didn't have our measuring devices on us, so we have to guess the size. Mack estimated 7.5 lbs. I know it beats my best riverbass by a good 1 lb and several inches. This bass was very long and had the biggest head and mouth I've held.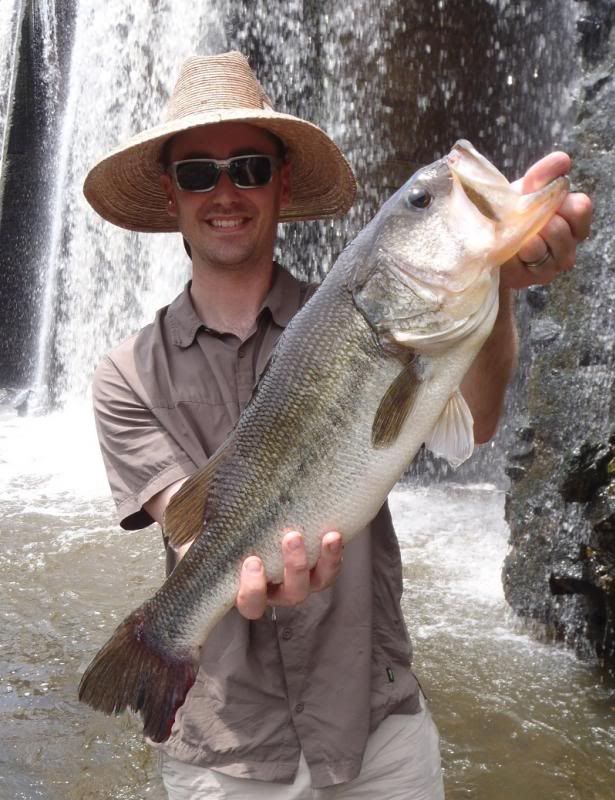 Mack landed a nice bass in this same area on a spinnerbait and we headed back to the jugs. From that point on, we caught many bass on spinnerbaits and flukes, about 20 each, including a double. Most were holding tight to wood. I missed at least two more big pickerel on flukes and Mack came through with one of his own on a spinnerbait. This one also landed in the cooler.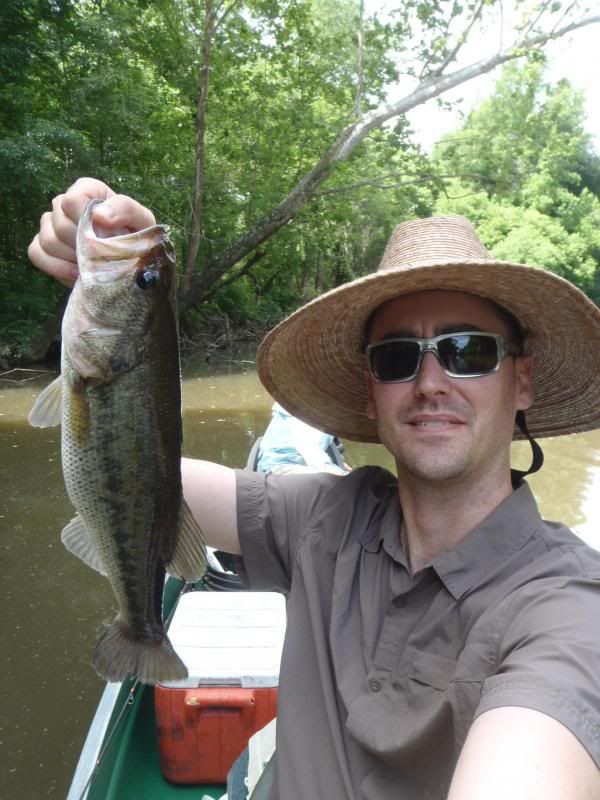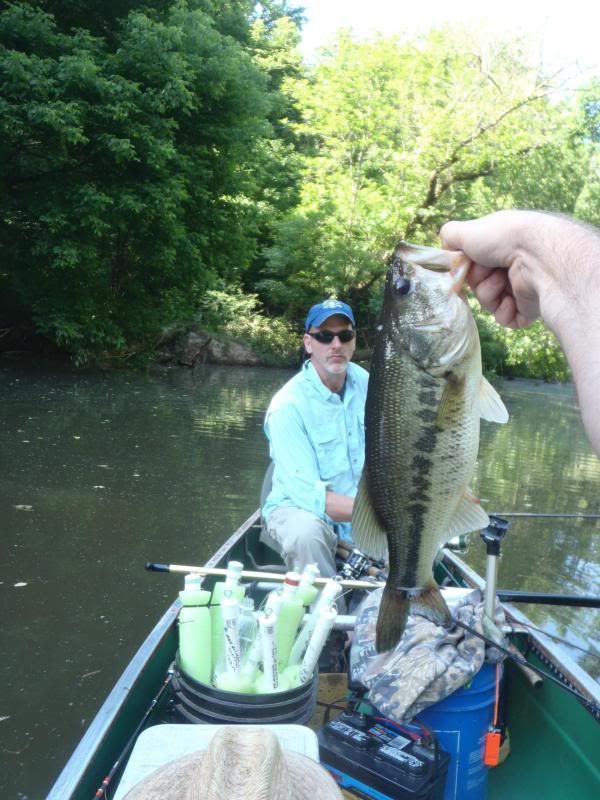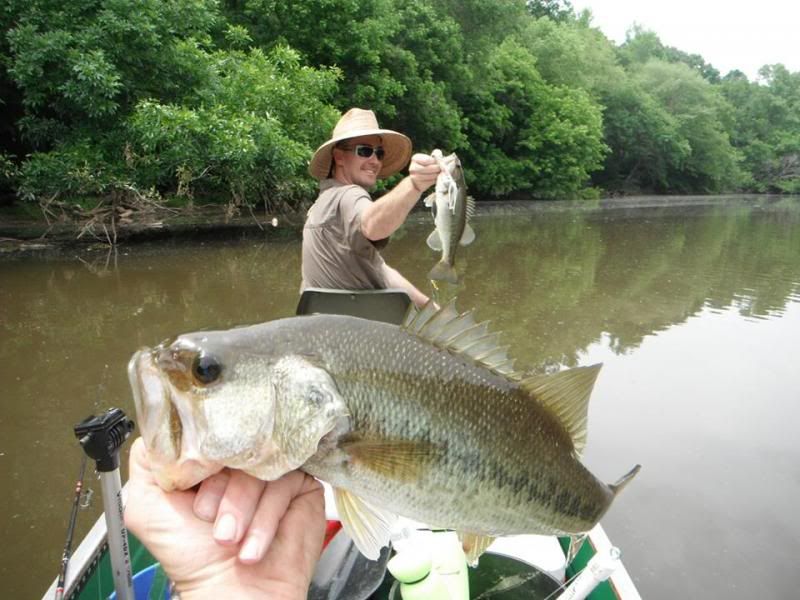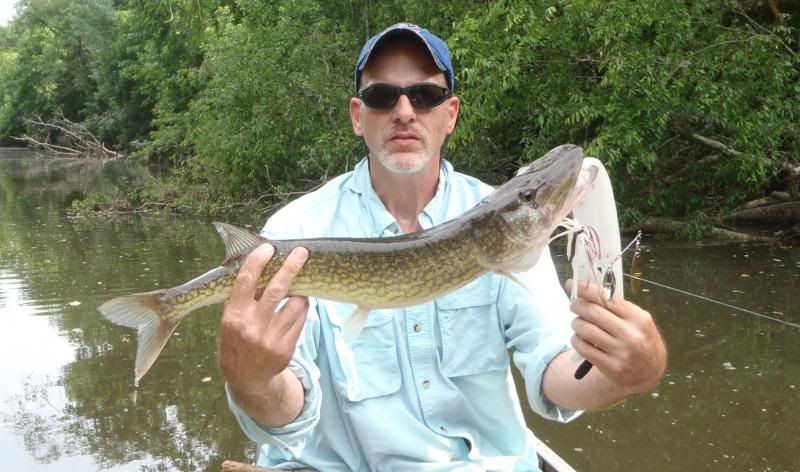 Not a single catfish was landed on the 10 jugs we set, but we did manage one medium sized snapping turtle.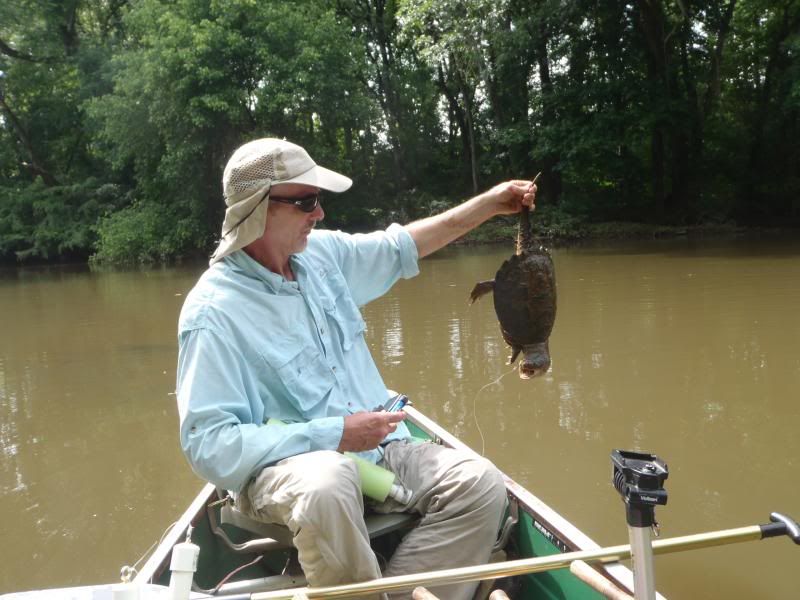 We made it back to the launch around 6 pm. A long, but very productive and solid day of catching. Must have been the hats
. We capped it off with a fried fish dinner at Skipper's in Apex and headed home.
I have two nice bags of filets in the freezer, one crappie & gills, the other pickerel. Had a great time Mack.
Last week I caught my PB white bass (17.5"). Next up is a PB Roanoke!