Discussion Starter
·
#1
·
As PETA advertises their paid Hollywood wack jobs to pose naked in protest of Fur, Supermarket meat,Hunting , Fishing and pet ownership, I think that it's time that we recognize those famous and not so famous who share our love of the Outdoors. Let's hear your nominations for the Sportsman Hall of Fame. Nominate anyone that you like and briefly explain how they participate in the outdoors. They can be anyone living or deceased.
I'll start off with a few of my own;
Lee Marvin (Actor) Quoted as saying "I only make movies to finance my fishing."
Curt Gowdy. Simply the greatest sportscaster ever. Inducted into the IGFA Hall of Fame in 1981, Curt hosted the American Sportsman and brought the Outdoors into our living rooms from 1965 to 1985.
Hank Williams Jr (Singer) if your ever up around Kentucky Lake, it's just possible that you could run into this fellow chasing his favorite (Socolet) with a jig.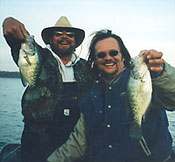 Gerald McRainey (Actor) starred in Simon and Simon . Gerald is an outspoken supporter of Hunting, Fishing,
wildlife Conservation, and Gun Rights. Honorary Chairman of the Union Sportsman Alliance.