Discussion Starter
·
#1
·
hey everyone... I'm in Castle Hayne down near Wilmington and have just gotten into fishing again after a long break away from it. We've been out on the Cape Fear River out of the Castle Hayne ramp a few times now, since last August when dad bought a bass boat. Fresh water fishing is a new experience - I grew up fishing on the lower Potomac in Southern Maryland, so this is all new. We were convinced for awhile that there were no fish in the Cape Fear, but our luck changed this past month when we started landing some bass, brim and catfish.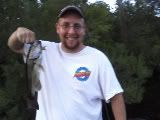 I landed my first bass (on my last cast of the night) this past Saturday and it was a great feeling.
Look forward to sharing with everyone...