Discussion Starter
·
#1
·
Well my plan Saturday was to go to the Pee Dee early and fish for the ROBUST REDHORSE. Fiqured I would have to wade through a lot of Bass, Blue cats, and stripers to get a robust redhorse but it would be fun. Scratch that. Found out I had to go to my sons football meeting at 11 am so I had to hit up some place local. This would be a super secret spot that I will share with no one. Not even Nats Dad or FW.
Met my friend Rodney there and we fished from 230- 800pm. I had to use my Frogg Toggs cause of the rain which ended about 4 pm. Our goal was to catch bait and then catfish, problem was where I can usually catch all the bream here I want to but today they were not biting. Tried every then I had. Spinners, grubs, ul Rapalas, even red worms. Nothing. finally after a couple of hours I grabbed the ole trusty Lews Speed Spool loaded with 50 lb braid and started slinging my favorite spinnerbait. Immediately I hooked into a chunky Largemouth and that may have went 3 lbs. Ended up catching no more Largies but caught 3 bowfin. 3lbs to 9 lbs. only got picture of smaller one as I released the 2 bigger ones while still in the water and caught aprox 20 Spotted Bass ranging from really small to maybe 2 lbs. Lost several big gar and no lunkers caught but it was a fun day on the water.
Wildlife seen was Ducks, herons(watched several catch some nice bait that I couldn't) , eagles, ospreys, 1 deer, 1 raccoon, and lots of 3 - 6 inch eels trying to do the salmon thing and swim up the dam. Some were making it 1/2 way up then falling back down. Note- I have caught eels above this dam so either some make it over in lower water or they crawl around. Here are a few pics.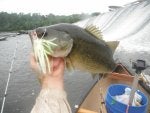 Rodneys first ever Spot
A few Spotted Bass...some were very chunky