Discussion Starter
·
#1
·
i met up with uconn at the wildlife launch.. started off with a short run to a quiet pocket. worked some top water bass were hitting on top on the oppisite side were we were fishing -how normal- we would switch side and they would bust in the section we just left
how insulting.. no top water bites. we were nearing the back of the creek and well this lil feller nipped the blade.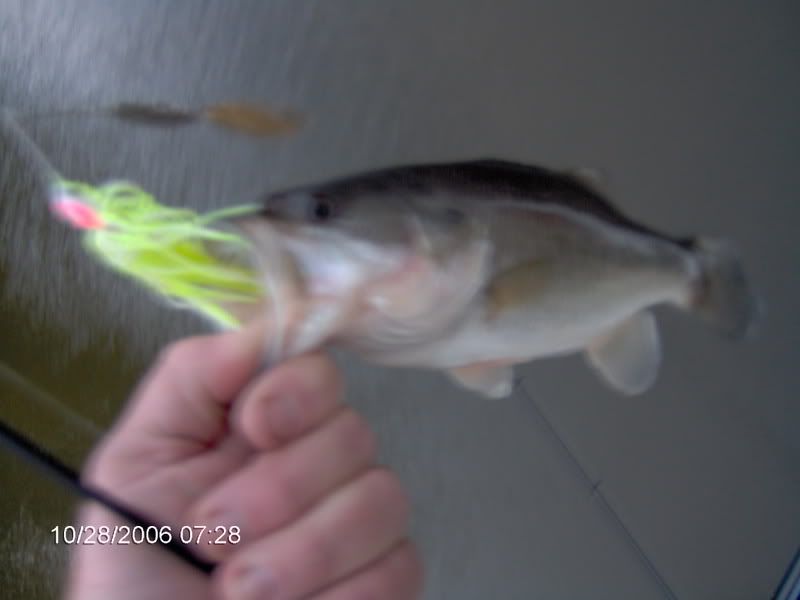 as we were working out of this quiet creek i left the bandit 100 sitting on the surface while chuckling at uconn.. a fish -small- about ripped the rod out of my hand..
on the out side of the creek at the main lake point we both caught lil short bass. wind begins to blow as we run to smileys for post dawn munchies-and oil-.run up into crane creek fished my normally consistaint docks-catching nothing-
i then run to crow creek. where i catch yet another bass on the crankbait.-this one fought like he was 4 pounds yet weighed 1/2 that..
uconn hits a good fish that pulls drag and gets off
he finally catches one -not sure what he caught it on a tube i think. while going across the cove i layed into a monster with the crank bait. he fought like a champion of course uconn agreed we needed a picture of him. so there is like 18" more of him in the water..
at 11:30ish we start to head back the wind blowing 30+ gusting over 40. we both got a bit of moisture on us as we ran down lake.60 degree water is cold as ****..
uconn is a great guy wished the fishing/weather was better but had a great time meeting the man.-i almost got him trained
..
zooker