Discussion Starter
·
#1
·
...hook! This time, anyway.
Having access to a small pond full of feisty, stunted largemouths is providing lots of opportunity for case studies with various tackle. Its definitely tackle-nerd heaven. This was a same-day adjustment that allowed me to compare a couple different rigging options on a creature bait and make a big difference in my hook-n-land ratio.
I had this bag of Yum mighty bugs laying around for years without use.
I had gotten into a little creature bait action earlier this year in the muddy water, swimming a giant Deep Creek creature bait, but they're just to smelly to keep out so I had put them up. I wanted to do a little more slow fishing in this heat and these Yums looked like the ticket for a variety of presentations. (Closest thing I've got to the legendary speed craw of the central foothills!)
Being lazy and favoring moving baits to stationary, I grabbed the first big weighted hook I could find - a big swimbait hook.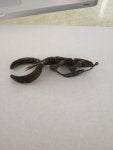 I bought these for big, bulky swimbaits and have never really had great confidence with them, partly because I have lost a few memorable fish that way. This Yum bug is not a super bulky bait, so I felt like I had plenty of hook & gap and it was as sharp as anything else I throw.
I hit the pond and started pitching & dropping & swimming. 4 quick bites in about 30 minutes in different areas of the pond, all swam with the bait, all got good whacks for hook sets (sometimes more than one), a couple got airborne and all 4 spit it back at me without making it to shore. The bait was coming back almost unaffected - not bunched up on the hook or compressed at all. My first 0-fer-4 in recent memory, and a real head-scratcher given how well I thought each fish was hooked.
I went back to work (ie. thinking about fishing) and decided that something is just not right about the angle & fit on that swimbait hook. The bait was definitely getting bit, but I needed to try with a different hook style to change my results. I was wanting exposed, but there's just too much weed, overhang and pine to drag around on the bottom with an exposed hook. I dug around the almost-unused jig box and found this almost-unused light-weight bass jig that had a decent color combo for my bugs.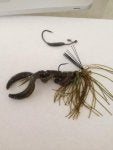 In the afternoon heat, I pitched that around my same spots and got 4 more quick bites. All 4 swam with the bait, all got good whacks for hook sets, a couple got airborne and best of all, every one of them came to hand firmly buttoned up on the jig.
I'm still not a big-time jig fisherman, but I am rolling through some other jigs to try different colors & sizes. I definitely got more bites on this light, slow sinking version with the big trailer, as compared to a heavier jig with smaller trailer, but they're all productive. Still trying to dial in a retrieve that brings more of a bite - I'd say 90% of what I'm catching is hitting on the initial drop or immediately after it hits the bottom for the first time. Not much is happening during the retrieve, whether I drag, hop, or swim it back. So the study continues...