Discussion Starter
·
#1
·
I work this weekend so I was off today. Had a short window this morning and then my wife offered to keep the little guy this evening so I could go fishing again from 530 till dark. Went to HPCL this morning, I only had about 3 hours to fish, so I didn't have much time for trying new patterns and such...figured I'd try to repeat what I did this past Sunday. I repeated what I did, but the fish did not. I got a couple pickups that I swung and missed on, but the only fish I was able to catch were two tiny little dink schoolies that were running shad in the upper end. After the 4.5 and 5.5 that Jerry and I caught Sunday, I was a little disappointed, but that's just fishin'.
So I had to get home, unhook the boat, go get the boy from school, give him lunch, then get to a doctor's appointment... and when I got home, my wife noted that it was Thursday and Oak Hollow is open late on Thursdays (I don't need reminding, but I was going to leave well enough alone till she brought it up). When your wife suggests she can keep the toddler so you can go fishing, the answer is always, "Sure, ok, thanks!"
Given my past several trips and the limited time I had to fish, I wasn't expecting much. I got to Oak Hollow about 5pm and just cruised a bit looking for activity. There were shad schools all over the place, so I picked a section that had good bait presence and some contour, some rock, and just generally a good vibe. Worked a swim jig, twitch bait, spinner bait, and shakey head along the first section, no love. Decided to go back to my old tried and true, the Berkley Power worm. Eschewed the green pumpkin this time for the red shad I used to fish all the time and that worked on Sunday, and it was on like Donkey Kong.
Hooked up with 5 bass, and missed a couple others on a mixed bag of rocky main lake semi-points, one on a bridge piling, one on a laydown, and two while up-sloping a dropoff bank (where I cast from shallow to deep and hop the worm up the slope instead of the other way around). I switched back to shakey head and a twitch bait for a bit to see if I could get bit in the same area, but they seemed to only want that T-rig worm. They were all keepers; didn't get the photo of the 2nd one as I dropped it while trying to liplock and it flopped out of the boat.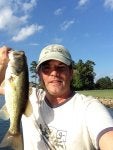 What I thought was just going to be casting practice turned into a better-than average evening ... at Oak Hollow of all places!