Discussion Starter
·
#1
·
My friend JP and I got up a little earlier then normal and headed to Lake Jordan to see if my twenty-one year old bass boat would still float. It was a good boat in it's time but by today's standards it is just an old fishing boat. It still runs good and the 60hp Mercury will push it along at 30mph, which again is slow for today's boats. One thing it does have is lots of storage space. It is also long ago paid for and provides a great casting platform. I am ashamed to say that it sits in my backyard most of the year.
We put in at the Poe Ridge boat landing and sure enough, she still floated. We were soon heading up the Haw River end of Lake Jordan. The lake was calm with a slight breeze. We saw a few other boats but one thing that was conspicuously missing was the personal water craft or jet skis that seem to harass most fishermen. It really looked like a nice day to be on the water.
I have not fished Jordan in almost ten years but memory sent me to a cove which had been good to me in the distant past. We were fly fishing with 5-6 weight rods with a bass size popper on a 4 ft level leader. To the bend of the hook on the popper we tied a beadhead nymph as a dropper on about 18 inches of 6-8lb mono. My first cast drew a bream and then another. JP was a little slow on the draw but he made up for it when his 2nd fish of the day was a respectable size bass which made a bathtub swirl at the popper.
You have got to figure things were looking up. Less then 5 minutes of fishing and we were slaying them. Wish I could report it continued that way but my reputation for telling it like it is would suffer. With my luck JP would chime in here and tell what really happened which was that just as sudden as we ran into fish we ran out of them. We continued to catch a few bream. Lots of hits, but many of the fish were so small that they could not get a #12 nymph in their mouth.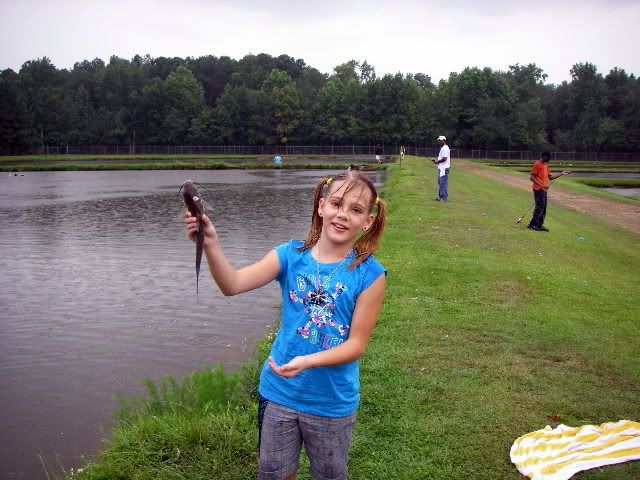 All were pretty and those that were big enough to eat a nymph gave a good account of themselves.
Take a look at this 4 inch bass which tired to mate with one of JP's creations. Makes you wonder what he was thinking.
The breeze keep the temperature down so that it was real nice out there on the water until noon when we decided to call it a day. The company was good, the boat ran like a top and even though the fish were not in a feeding frenzy or the size of Moby Dick, we had a very enjoyable outing. I have got to remember that my boat is made for fishing and not out there in my backyard waiting as emergency transportation in case we have 40 days and 40 nights of rain.