Discussion Starter
·
#1
·
Headed out yesterday to see what I could do. Didn't take too long to get into action but I was a bit alarmed at what I caught in my go to spot.
For me channel cats usually mean no blues in the area, or I just missed a bunch of blues come through.
Missed a hit and then found a blue.
Not too much else so decided to head off looking for bass.
Found my bass to complete the slam but not much else.
Ran into a nice fella who asked me for some pointers on white perch. Gave him some ideas but he seemed to like the buys some bait at the marina idea best. he said he managed to get a 25 pound blue on a crappie minnow so that motivated me to go cat searching again.
I was dragging bait in the main lake in 30 feet of water and got hit. Ended up getting a sleigh ride but in the end the fish came unbuttoned. Felt a lot like my 37 inch, 25 pounder that I got a few weeks ago.
Started seeing spaghetti on the finder and I got some very savage hits but couldn't stick the hooks I guess.
Eventually made my way across the lake to where I observed gulls sitting on the water most of the afternoon. My front port rod goes off, rod almost flying out and I managed my first decent wiper.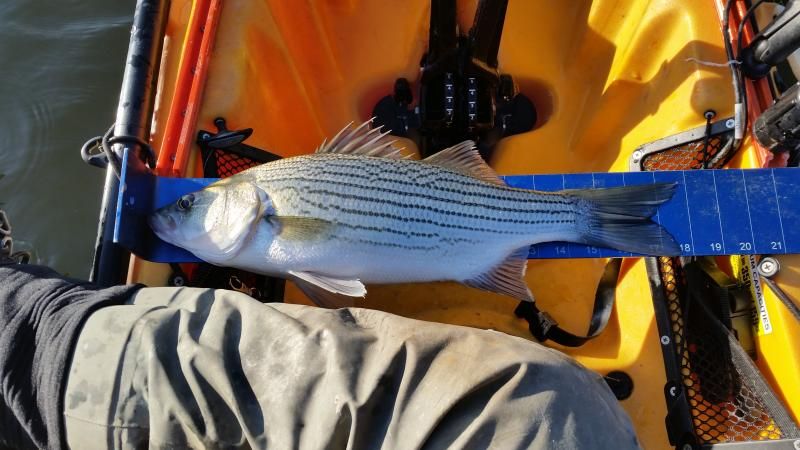 I found a good ledge and kept getting spotted bass after spotted bass. I had one fish hit that felt like a small spotted bass...turns out it was a striper who was playing possum and let me have it next to the kayak. Can't win them all I suppose.
etc.
I saw lots of larger fish suspended in the water that probably were catfish throughout the day. There was also large soundings under the feeding frenzy but I was too busy pursuing striped fish. Hope I can get back out there soon!
Also the mailman was kind today and dropped off a bunch of art work for my home.
Also for master angler since a few were curious. It does not need to be done in 1 calender year nor does it need to be done with 6 different species. Also if you happen to have some older photos of fish and never submitted for an award, you can do so. As you can see these look pretty nice. I hope to collect a few more, I kind of enjoy getting a surprise to how the awards look, so I hope I didn't spoiler too much for anyone.

[URL=http://s84.photobucket.com/user/fishy67chevelle/media/Patch_zps7bd76c40.jpg.html]
[/URL]