Discussion Starter
·
#1
·
I launched from Lake Norman State Park shortly after 8AM. Air temp was lower 40's, water temp was 51. No breeze, no other boats until later in the morning. All fish were caught on a crankbait. I don't currently keep track of my lure brands, but this is the rattling culprit. I took a pic after I got home:
I pulled a few small bass from the sunny banks.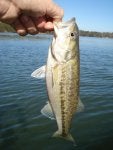 After a short spell of no hits, I marked some fish on the finder, and caught one a little larger from 15-20 feet.
There were plenty showing on the finder at this point, so I stuck around and caught several more. Around noon, the wind was picking up and constantly changing direction, so I was just going with the flow at this point. I threw my lure and let it sink for around 15 seconds. Almost immediately after beginning my retrieve, I got a hit that had a little weight to it. I grabbed my net for the first time ever. I soon found out why......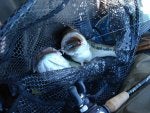 I got fish number one unhooked while his buddy waited patiently in the net. Number one measured ~ 16 inches.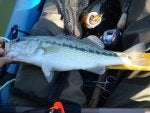 Number two was a little longer and a little fatter.
I fished a while longer and started jigging the same crankbait verticallly. I caught 2 more bass using this method in about 25-30 feet of water. I tied a beetle grub onto the ultra light gear (no blade), and got a few hits - but no takers. All in all, it was a great day on the water!
I haven't been kayak fishing for long, but I believe that all of these are LMB? Maybe the double were spots?
Greg