Discussion Starter
·
#1
·
Sittin in Fayetteville most people wouldn't think that you would find many people interested in tying flies, but for the past few months, we have hosted over 20 tyers in our monthly Fly-tying Forums at the Pechmann Fishing Education Center.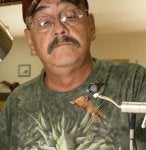 This month, we tied the FS Foxy Shrimp and the FS Scuplin Bunny. These patterns incorporate the Sculpin Helmets produced by Flymen Fishing Company. Each month, we select two patterns to tie in the forum that share a common theme (i.e. saltwater, foam, nymphs, panfish, etc.) intended to keep the sessions interesting. Since beginning the fly tying forum a little over a year, we have yet to tie the same fly twice. Participants who attend the Beginning Fly-tying Course receive a course binder that contains recipes for the six pattens tied in class, Hook comparison charts, and other tying reference items. In the fly-tying forum, participants receive copies the pattern recipes that can be added to the binder received in the beginning course. All of these are offered at no charge to the public.
We videoed these patterns in a test tank to demonstrate the action that these materials lend to these patterns.
FS Foxy Shrimp Video
FS Sculpin Bunny Video
Hope that you'll join us!!!
Tom Carpenter