Discussion Starter
·
#1
·
I had to be home by 12:30 to relieve my wife for her afternoon plans. I wanted to try a section I've scouted, but never fished. It's 1.5 hrs from my house, so I wouldn't have much time to fish.
I'd heard there were crappie in this section. Last night I loaded a small cooler with ice, rigged up my lighter spinning gear, grabbed one baitcaster, tossed the small jigs in my box, and loaded the car.
I woke up before the 4:30 alarm, I assume due to the anticipation of new water. I popped in my contacts, grabbed my keys and breakfast and slipped out the door.
The moonlight was low and it was a cloudy morning. Around 5:45 I pulled into the gravel lot and parked under a street light. The dark surroundings of the parking area were a little creepy. I unloaded my canoe and gear by the riverbank, turned on my head lamp, and pushed off upstream toward the first set of rocks. I paddled/drug/walked upstream about a half-mile before daybreak. At first light, I started throwing a spook in flatwater near laydowns. My second cast gets blasted by a largemouth. It's the only bass I'd see for the next 2 hours. The next mile, I'm trolling a jig and tossing a bettlespin, trying to catch a crappie in the flatwater. I can't buy a bite from the target species. I do land a few sunnies and soon go back to bass fishing.
As I approach my target area for the morning, I switch the lure on my baitcaster to a small sebile swimbait. On the first cast, I catch a small bass. 2nd cast in the same hole, another bass. I proceeded to land 8 out of this one hole before moving on. Most of the bass were small and fat, like these ...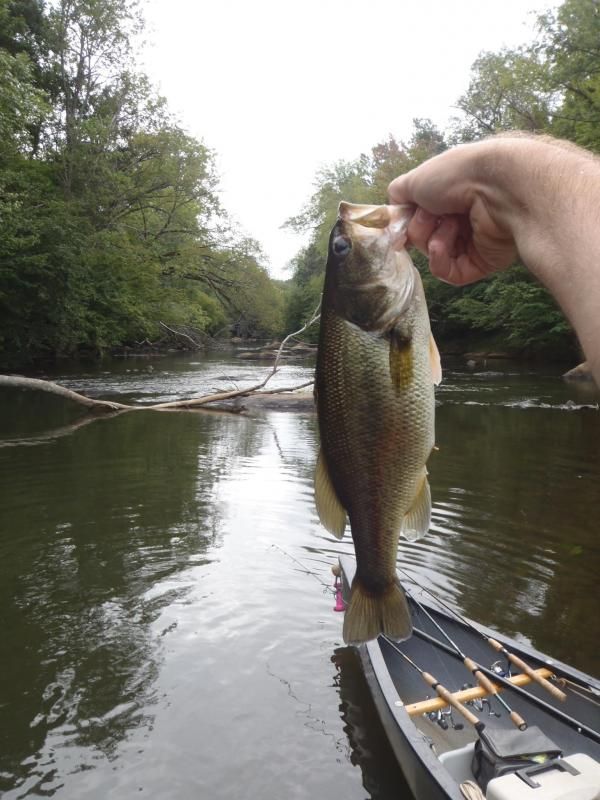 I work my way upstream in the shallow water and I'm catching a bass on nearly every cast or every other cast, but they're all fairly short. I switched to a larger sebile magic swimmer to try and entice the larger fish. Same results, lots of hungry fish, but nothing too big.
I find one pool below a rapid and catch at least 25 standing in one place. It was nuts. This area produced my best fish. I think this was number 21 or 22 from this spot ...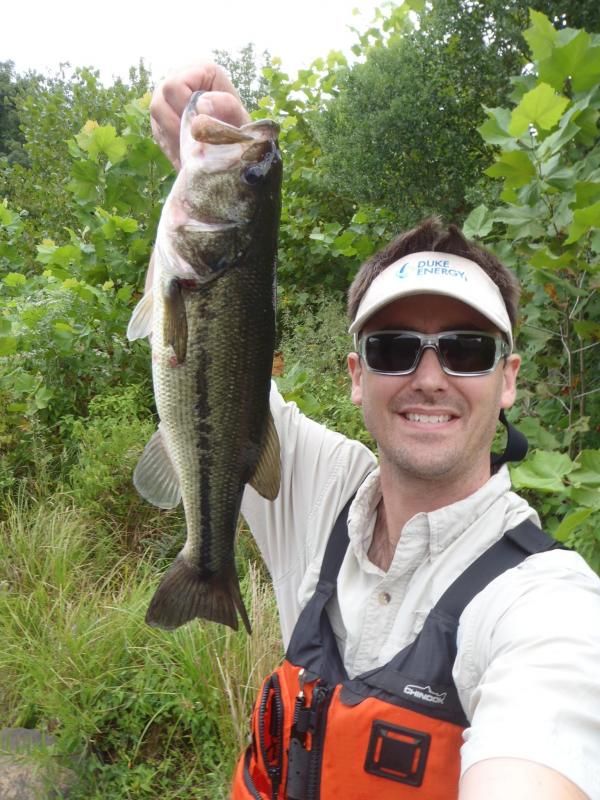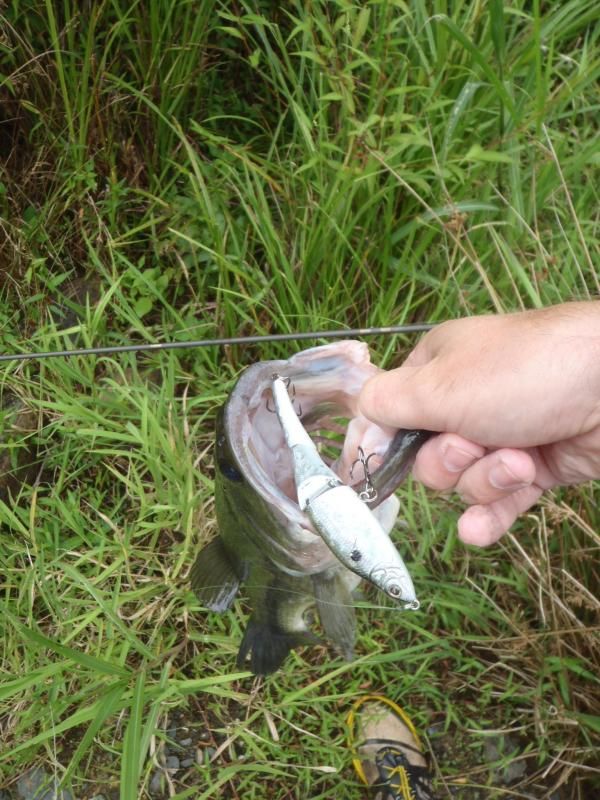 I turn around at ~10 am to head back. The catching continues on my return and then my 10:15 alarm goes off. I still have at least 1 mile to go, so I had to boogie and the leave them biting.
I only caught one small crappie, but that's ok ... the 40+ bass will do