Discussion Starter
·
#1
·
I drove up to Weldon on Saturday with my buddy and his father-in-law for the last day of the keeper season. Got there about 6:45 and there was a line of boats almost to the road waiting to put in. We scurried over to the parking lot, got some minnows from Blondies and hurried back over to get in line. Thanks to the new 3 lane ramp, the line moved pretty quickly. This was my first year up there and I can't imagine how hectic it was before the ramp was that wide.
Once we got out on the river it was SLAMMED. You almost didn't have to worry about falling off your boat because you'd just fall into someone else's! A lot of people were stacked up just down river of the big rock, so we motored on through the thickest group and started to drift from there.
By the time we got to the power lines, I'd caught 3 and I ended up landing 4 before anyone else in my boat even had a bite! They were talking about throwing me overboard at this point!
This one was my first striper ever:
And this one was the biggest of the day at 24":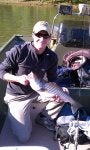 The boats got really thick again on the curves after the power lines where the river narrows up. At one point there were even 4 boats anchored up in a row across the river just asking for someone to drift into them. While trying to navigate through that mess, my buddy and I both hooked into fish. Got a little hairy for a minute trying to avoid a collision and both land our fish.
We ended up drifting almost all the way to Halifax because we didn't feel like fighting the crowds and we were still getting some bites in the areas that weren't as crowded. After that, we motored up for one last drift from the power lines through the tight section, then called it a day.
At the end of the day, I'd landed 6 stripers (5 from 16-17.5" and the one big 24"), lost one at the boat, and lost 4 more before I could see them. My buddy caught 4, including 2 keepers. His poor father in law didn't land any stripers. Late in the afternoon, it looked like he finally had one on and we were excited for him to get one at last, but he pulled it up to reveal it was only a small blue cat. Bad luck, but I guess that's just fishing sometimes!
One of the 2 keepers:
All in all great day on the river!