Discussion Starter
·
#1
·
Many of you know the VDGIF conducted a sampling of the Smith River Trout Fishery 19-21 Aug 14. I, along with several other members of SRTU was there for some or all of the site samples. Here is my initial impression.
First of all kudos to George Palmer, the recently assigned fishery biologist, responsible for the Smith River who pulled together the most comprehensive sampling I have witnessed to date. He orchestrated the gathering of 25-30 VDGIF fishery biologists from around the region for a massive sampling of 8-9 sites in the old trout managed water. He also arrange for a sampling raft which floated for two days through the new waters from the Martinsville Dam to the Mitchell River Bridge. There was also a special crew with appropriate equipment to relocate brown trout from several of the overpopulated areas to locations below the Martinsville Dam. Tip of the hat to ya George - job well done!
Before I post a few photos let me give my overall assessment of the findings - I was physically present at all the sites with the exception of the raft going downstream of the MV Dam. The 4-5 inch fish we were used to seeing have grown. I saw fewer fish then in years past but the fish I did see were 1 1/2 to 3 inches bigger than in years past. I also saw several fish which went well above the protected slot limit of 10 inches and quite a few which exceeded 15-16. The folks who sampled below Martinsville said there are fewer fish but the ones they did roll up were nice ones - many exceeded 16 and one exceeded 20.
The crew heading downstream to the start point with the typical Smith River fog on a summer morning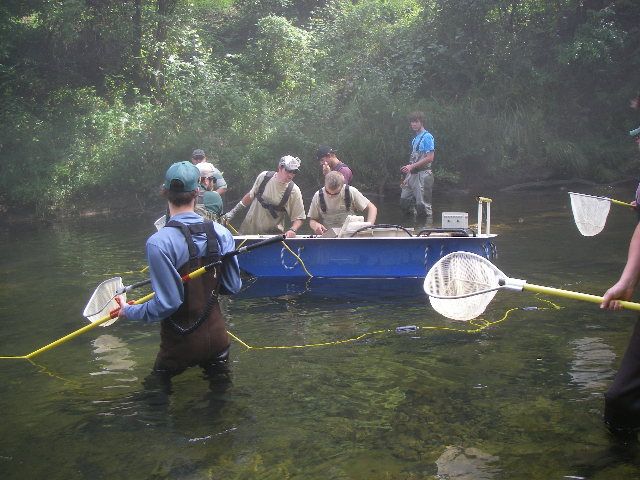 Sampling barge with holding tank, generator and inverter which changes AC to DC - cables connect to handheld wands which send current throughout water as the crew with nets march shoulder to shoulder upstream to a measured ending point. Fish are momentarily stunned and are scooped up by netters. Yes, it tickles if you dip you hands or elbows in the water - one man of each barge holds a cut off switch which he hits if someone slips and falls in - yep, it happens, just ask me about it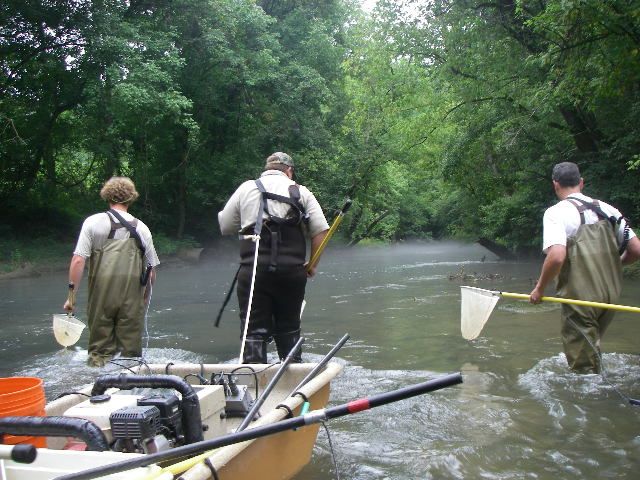 The young fellows strap on a harness and pull the barge upstream. No easy feat when the water is shallow. Key is for everyone to stay abreast of each other. If one side has a lot of fish the other must slow down so the electrical field helps pen them in.
Think of it as herding cattle, you keep driving them forward. In this case the fish get bunched up in a pool or against a rock or log jam and then you have to be nimble with the net. Here we have a deep pool with a boulder in the background. Over a hundred fish came out of this one hole.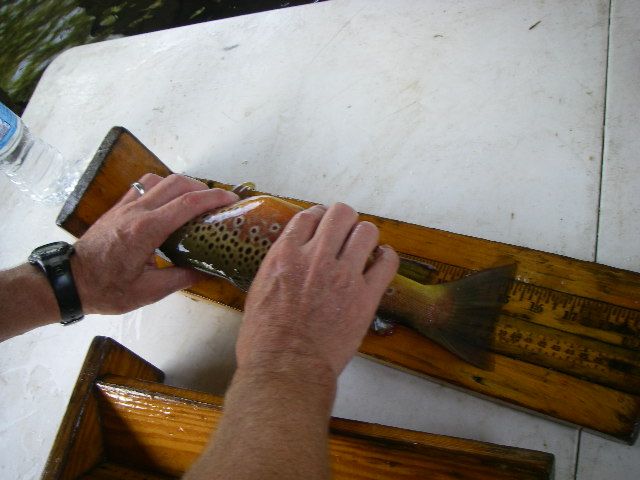 Each fish is weighed and measured.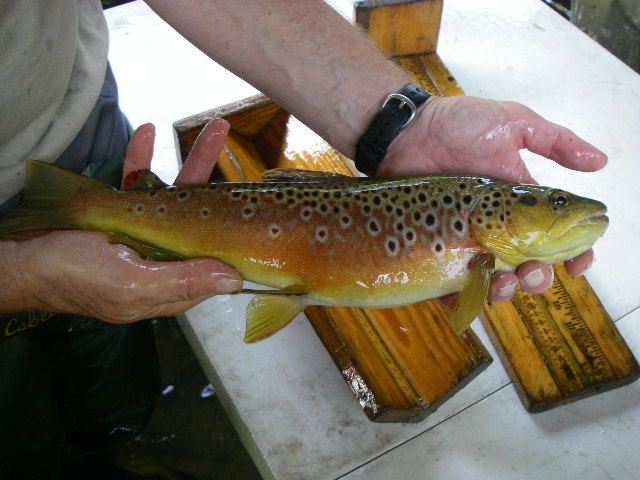 This is a nice one.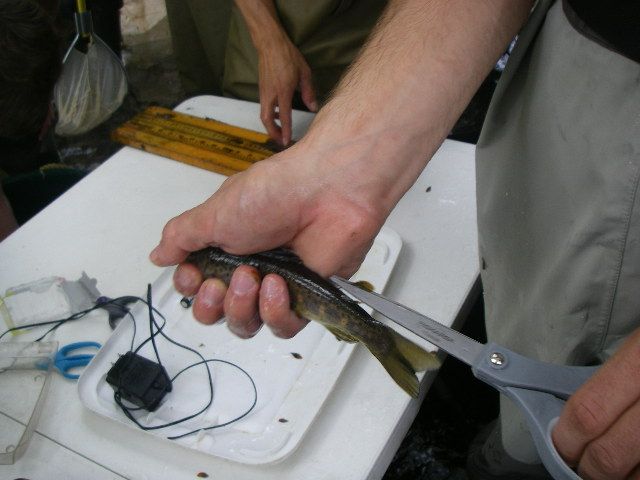 At three of the sites we collected so many fish most were marked by clipping the top tail fin before moving them with a special stocking truck to various locations below the MV Dam. The thinking is that the trout are already acclimated to the Smith and know how to fend for themselves. Now we will see if they grow once they are turned loose in an area with better forage.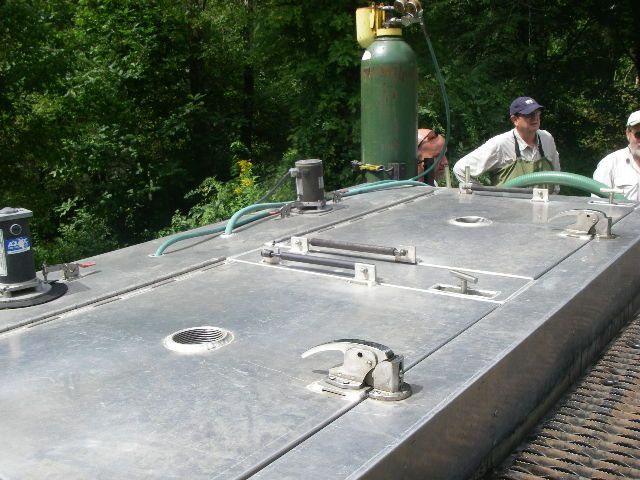 We did this once or twice before with a couple coolers full of fish but this is the first time a special truck was brought for that purpose. Good thinking on someone's part.
A small percentage of the fish from each site paid the supreme sacrifice for the good of the fishery when they were selected for ageing which requires removal of their equivalent of our ear bones. These will be placed under a microscope and read much like we read the rings on a tree. Purists who practice catch and release may shed a tear when watching this but I was told by a very respected biologist "fall in love with the fishery, not the individual fish".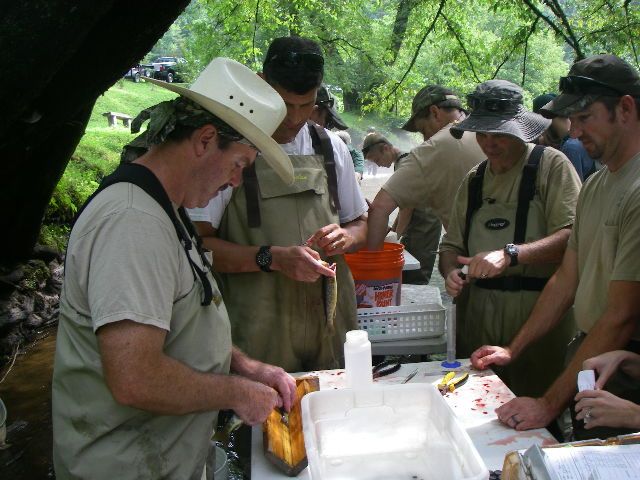 This looks like lots of confusion but it actually ran like a well oiled machine.
The young guys manhandle the barges back to the trucks and ready things for movement to the next sampling site. Not a whole lot of direction required - everyone seemed to have a job and knew when and how to do it. Once again I am reminded of why I don't mind paying for my hunting and fishing license.
Smith River Sampling is over for this year but the data must now be entered into computers and compared to previous years. We should have a preliminary report at our end of year meeting on December 4th when Smith River biologist George Palmer and regional supervisory biologist Scott Smith will be our guests.