Discussion Starter
·
#1
·
What a great day to be fly fishing even if it was what many would consider a "canned event" with a captive school of fish. The sun was out, the temperature was cool but warmed to shirt sleeve weather by the time we started fishing and the breeze was not a big factor or excuse for misdirected casts. Best of all the fish have finally signed a contract which states that they will grab most any fly that is presented to them in a non-threatening manner.
We hosted twenty-five (plus) fly fishermen for an advanced clinic at the Pechmann Fishing Education Center (Fayetteville) Saturday, Feb 16, 2008. These folks already knew the basics and most had their own equipment. Some had sufficient skills that they could have easily helping with the clinic - in fact our volunteers who are always looking to learn an new trick or two often pick up a new idea from our participants. Everyone attends the advanced clinic because we are eager to learn a little more about our great sport.
Our advanced clinic starts off with an overview and general orientation in much the same way as the basic clinics.We try to put them in an open frame of mind where they are receptive to the fact that "beating the water" in the same old way is not moving them forward in their quest to be a more accomplished fly fisherman. Our advanced clinic curriculum tweaks their skills and exposes them to other aspects of the sport.
We worked on casting skills to include distant casting with the double and single haul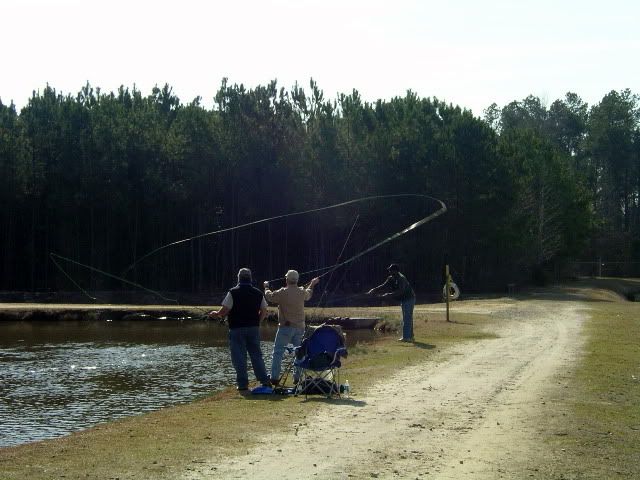 Other casting skills included the roll cast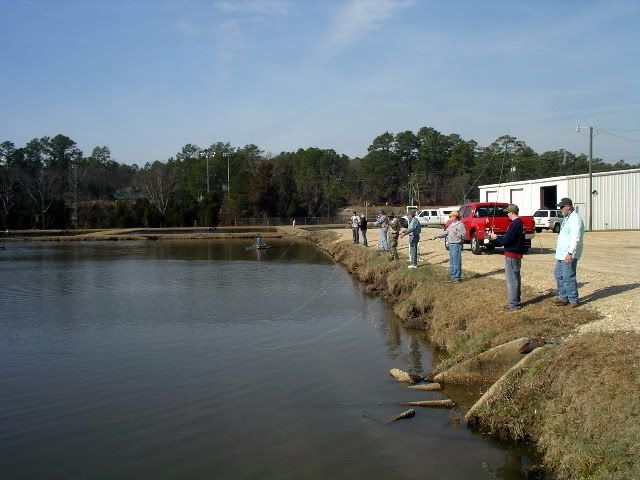 We hooked up one of the pond's paddle wheel aerators to get a current moving to allow a practical exercise on how to work a riffle, mend line and execute a drag free drift.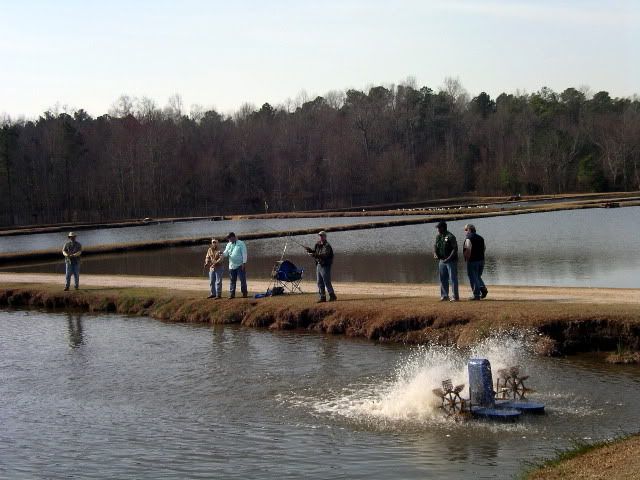 Advanced knots included practice with the nail, duncan & perfection loop, barrel and other less known knots.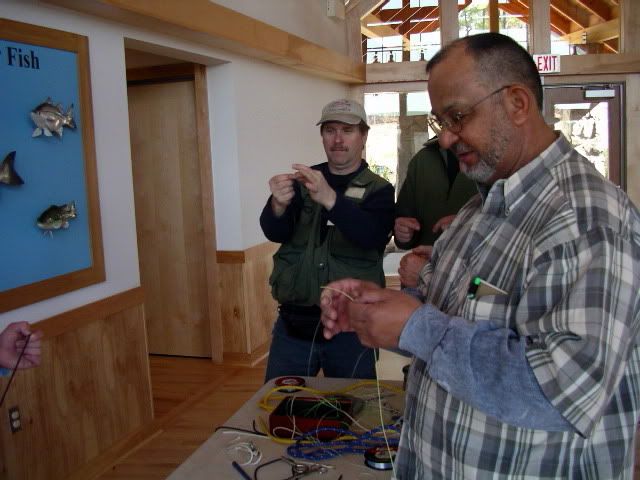 Many of our participants settled in to watch our resident fly tying guru work his magic with hook, hackle, yarn and thread.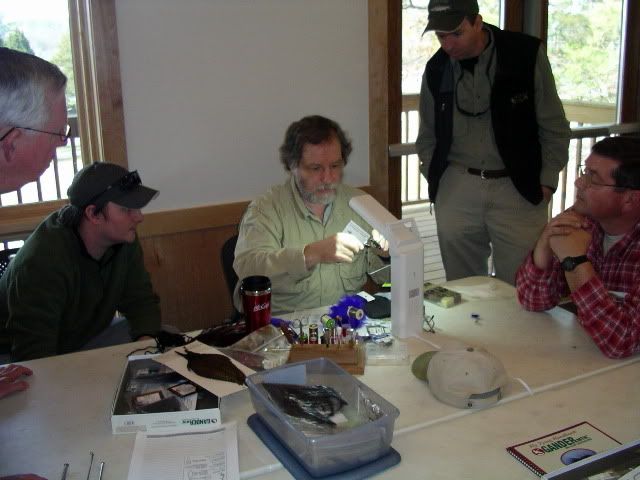 The salt water fly fishing station taught by Jeanette, our own "women's world record holder" for Mullet Snapper was a big hit.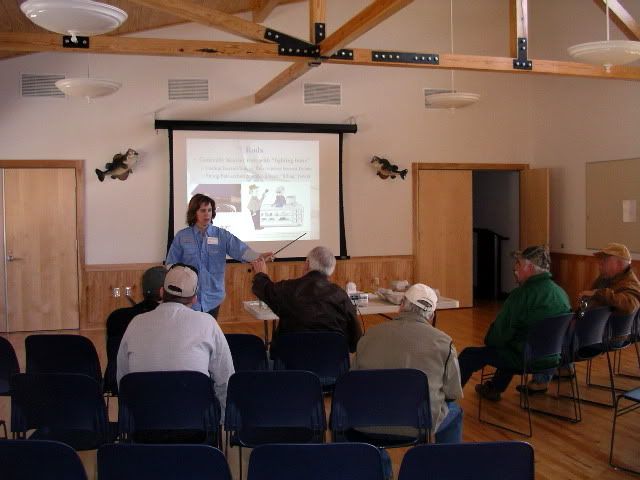 Many of our participants came to the clinic thinking that fly fishing was strictly for trout. Our resident expert on bass & panfish put that myth to rest when he explained and demonstrated some of the "set ups" and techniques that make a fly rod a tool that can be used in all seasons and on all waters.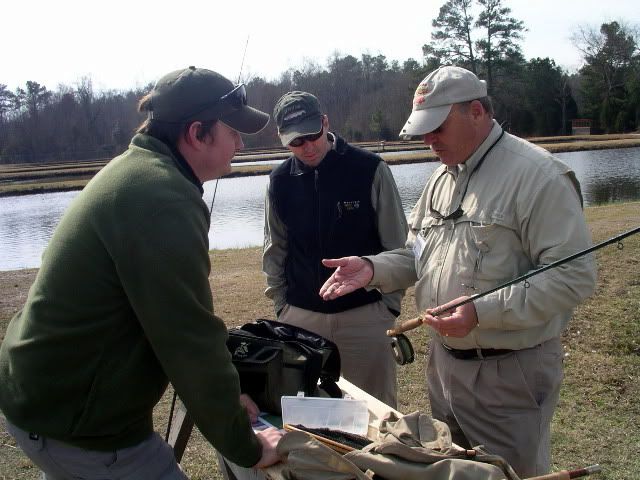 One participant took his new knowledge and promptly caught a nice catfish. This was just one of many catfish, bass, crappie and bream that were caught at this station.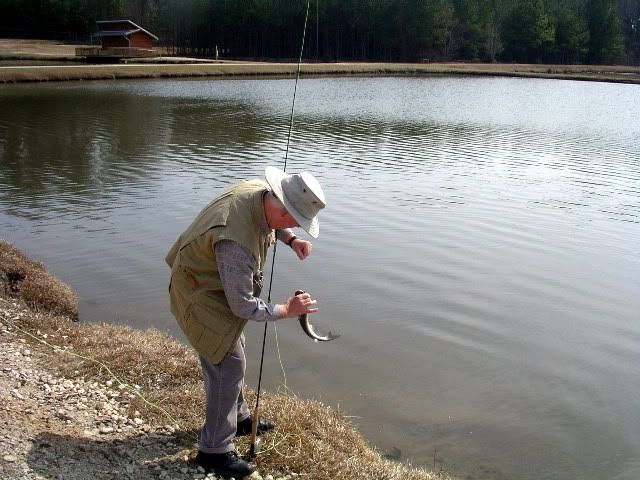 Of course we couldn't have a fly fishing clinic at this time of the year without fishing for trout. Two of the ponds hold nearly 500 brook, rainbow and brown trout during the winter and early spring. They have been known to be finicky feeders but today we were blessed with fairly active fish which meant happy fishermen.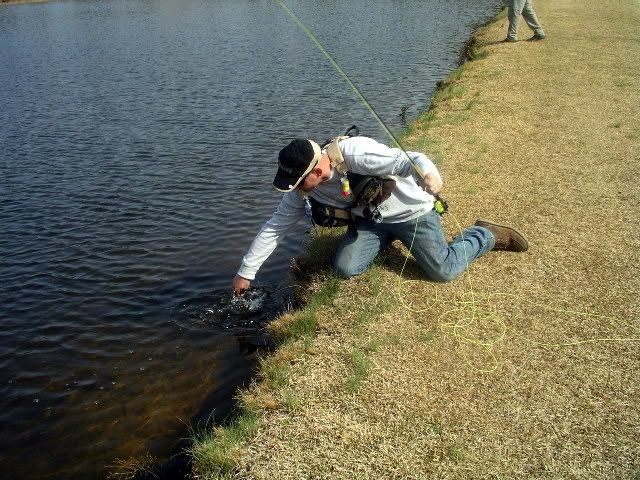 Everyone was doing so well that we allowed our dedicated volunteers to wet a line well ahead of schedule.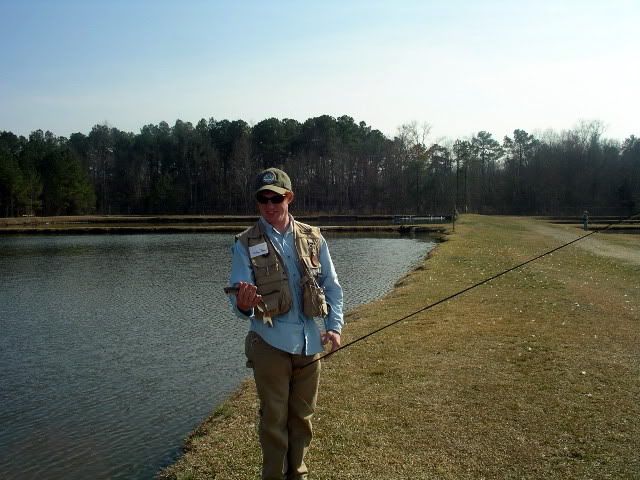 This young lady received a lot of volunteer attention but it was not until she was left to her own devices that she started to connect with the fish.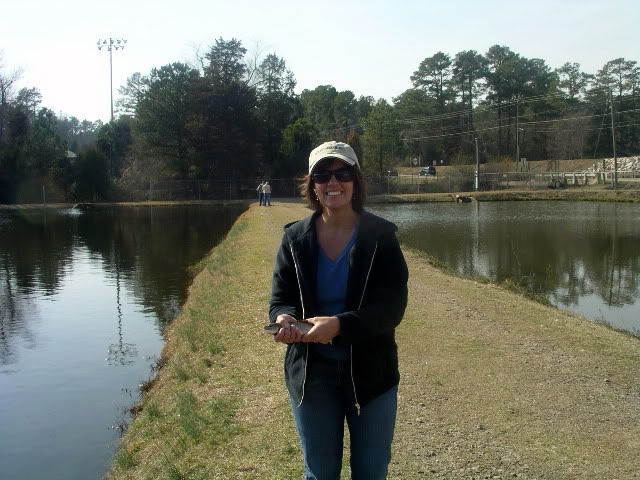 Not wanting to interfere, your humble scribe and photographer, merely stood by with a camera to record her catching at least a half dozen fish is less then a fifteen minute period.
Here is what happens when the biggest fish of her day comes unbuttoned just as she attempts to lift it out of the water.
Not to fear, she is soon all smiles again.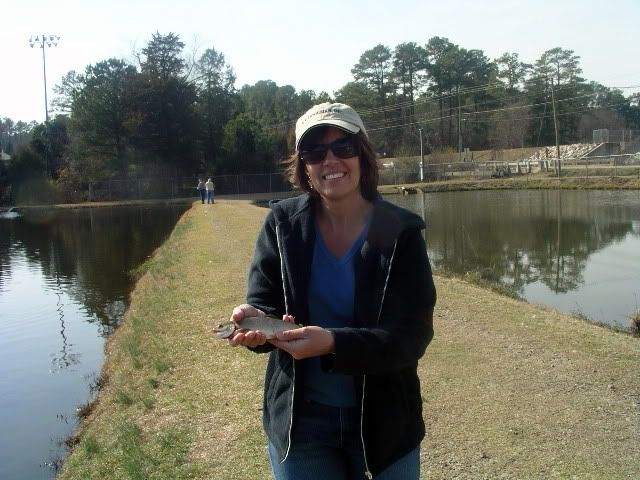 Big fish of the day was this very nice brown trout caught by Paul, one of our very reliable volunteers who drives almost two hundred miles round trip just to help us out and pass on his passion for the sport of fly fishing.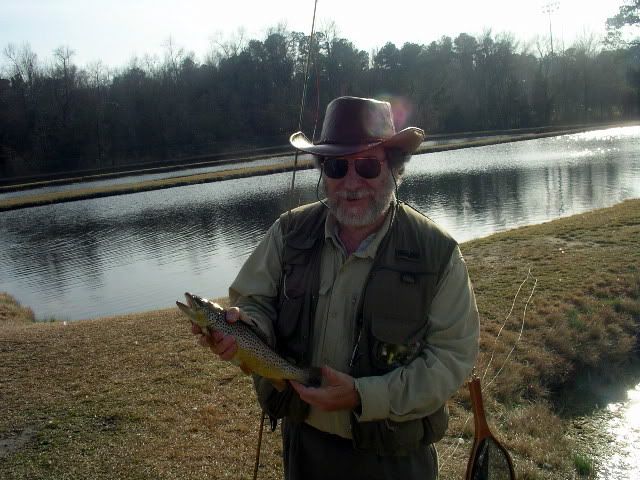 And so ends the Pechmann Center 2008 Advanced Fly Fishing Clinic. Our volunteers once again unselfishly gave of their time and knowledge. I can't thank them enough. They make my job look easy. We were also blessed with good weather, cooperative fish and a very nice group of participants. I learned a couple new tricks, met some nice folks and wore myself to a frazzle - That is what keeps me going.
Our next fly fishing event at the Pechmann Center will be for the Wounded Warriors on Monday, February 25th from 1-5pm. We will also host the first of two Boy Scout Merit Badge events on Saturday, March 1st. The second Boy Scout event will be the following Saturday, March 8th.