Discussion Starter
·
#1
·
HAD THE CHANCE TO TAKE MY GOOD FRIEND DENNIS OUT FISHING AGAIN TODAY AND IT WAS A BEAUTIFUL DAY TO SAY THE LEAST BUT THE FISH WERE NOT IN A GOOD MOOD TODAY AND I'LL EXPLAIN WHY IN A BIT.
THE FIRST THING THAT WENT WRONG WAS AT 5 AM I HAD A DEAD BATTERY,TOOK ALMOST 2 HOURS TO GET IT CHARGED ENOUGH TO START,AND ALL THIS TIME DENNIS WAS WAITING FRO ME AT THE LAUNCH.
GET THERE CLOSE TO 7 AM GET SOME BAIT AND HEAD OUT BUT DECIDED TO THROW SOME GRUBS AND SPOOKS FIRST TO SEE IF WE CLOUD FIND A TROUT OR 2,THEN I WANTED A FLOUNDER AND A RED FOR THE SLAM BUT IT WASNT GONNA HAPPEN I GUESS SINCE I HAD CAUHT MY FIRST EVER 14 INCH GREY TROUT AND A FLOUNDER ALL OF ABOUT 12 INCHES WHILE THROWING A GREEN FIRE TAIL GRUB.
GOT BORED OF TOSSING THE LURE AFTER 2 HOURS AND DECIDED TO RUN INTO THE FLATS AND LOOK FOR THE DRUM,FISHED 5 HOLES WITHOUT A TAKER AND THE LONGER I WAS BACK THERE THE MORE I GOT FUMED.
WE HAD A DING BATTER WHO JUST BUILT A HOUSE THERE THIS YEAR AND THINKS HE OWNS THE WHOLE CREEK AND HAS NO REPECT FOR ANYONE THERE,HE WAS ON HIS JET SKI AGAIN TODAY AND ME AND DENNISE WATCHED HIM COME IN ONE END OF THE FLAT TO HIS HOUSE AND WATCHED HIM 20 MINUTES LATER COME BACK OUT RUN FULL SPEED RIGHT BETWEEN A GUY AND HIS WIFE FISHING BEHIND OS BY AND ISLAND WITH ONLY 15 FT OR LESS BETWEEN THEM.
THEN AS I LEFT THAT AREA AND MOVED FURTHER BACK IN(WHY I DONT KNOW) HE COMES BACK IN AND GETS OFF AND PUTS HIS WIFE ON IT WHO PROCEEDS TO COME OUT 100 YARDS FROM US AND DO NOTHING BUT RUN BACK AND FORTH ANDAROUND IN CIRCLES.
ANY ONE WHO KNOWS ANY THING ABOUT FISHING KNOWS THIS IS DEFINETLY NOT GOOD FOR THE FISH,SPOOK WISE,TRY AS WE MIGHT WE COULDNT FIND A DRUM AT ALL AND WE LEFT THE WATER BY 4 PM,ALSO THIS IS THE SAME GUY WHO DOESNT CARE ABOUT REGS WHEN IT COMES TO DRUM UNDER SLOT AND OVER HE WILL KEEP THEM AND HE ALSO DOESNT APPLY THE 1 FISH A DAY LAW,I WILL CAPTURE HIM ONE DAY ON CAMERA AND THEN IT WIL BE PAY DAY FOR HIM.
ENOUGH ABOUT THAT HERE IS THE PICS FLOUNDER FIRST THEN MY FIRST EVER GREY TROUT.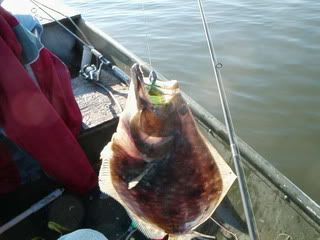 FOR ALL THOSE GOING OUT TOMORROW TIGHT LINES AND SCREAMIN DRAGS TO YOU ALL .