Discussion Starter
·
#1
·
HAD THE CHANCE TODAY SINCE THE WIFE WAS WORKING TO HIT THE CREEK AND DO SOME DRUMMING,GOT THERE AROUND 9:30 AM AND CAUGHT SOME BAIT AS THE TIDE WAS STARTING TO GO OUT.
HAD 2 CHOICES OF BAIT TODAY IN A LITTLE BIT OF TIME,MANHADDEN AND FINGER MULLETS,MANHADDEN WAS A LITTLE TOO BIG AND THE FINGER MULLETS WERE FROM 3 TO 6 INCHES NICE AND PLUMP.
SET UP IN MY FIRST HOLE AND SADLY TO SAY NOTHING NOT EVEN A BUMP,I FIGURED THIS WAS GONNA BE THE CASE TILL THE TIDE SWITCH AND STARTED COMMING BACK IN SO I HEADED INTO A SIDE CREEK AND SEEN SOME ACTIVITY FROM GOOD FISH SCHOOLOING OFF THE BANKS.
I SET UP NOT KNOWING WHAT TO EXPECT AND I DID MANAGE ONE TAKER BUT I MISSED IT WHEN I STARTED TO REAL TOO SOON,MY MISTAKE BUT IT WOULDNT HAPPEN AGAIN LOL.
I HEAD INTO A COVE THAT I KEPT HEARING SPLAHING COMMING FROM AND ITS A COVE I NEVER FISHED BEFORE SO I WASNT SURE WHAT TO EXPECT,TOSSED OUT 2 BAITS ONE ON A CORK AND ANOTHER ON THE BOTTOM,CORK FIRST THEN BOTTOM RIG AND AS SOON AS THE BOTTOM RIG HITS WHAMMMM,ITS ON AND I GET ABOUT 5 MINUTES INTO THE FIGHT AND THE FISH MANAGES TO CUT 20 POUND POWER PRO ON AN OYSTER ROCK.
FISH THIS SPOT FOR ANOTHER 20 MINUTES OR SO AND NOTHING BUT A MISSED FLOUNDER 2 FEET FROM THE BOAT,LOOKED TO BE KEEPER SIZE BUT ILL NEVER KNOW.
HEAD BACK INTO ANOTHER SPOT I LIKE AND SET UP AND AGIAN NO TAKERS FOR HALF HOUR SO ONCE AGAIN I MOVE ONLY THIS TIME TO MY GO TO SPOT AND I SET UP 3 RODS 2 ON THE BOTTOM AND ONE ON A CORK.
10 MINUTES LATER THE TIDE CHANGES AND THE RATS START TO BITE,BOATED 14 LAST COUNT AND I WAS GETTING APREHENSIVE ON CATCHING A SLOT WHEN ALL OF A SUDDEN BAMMMM MY ROD BENDS AND DRAG STARTS TO EASE OFF,FIGHT IS ON OR SO I THOUGHT SECOND LUNG THIS ONE COMES UNBUTTONED.
BRING IT IN AND REBAIT AND PUT IT BACK OUT AND WHAMM THE OTHER ROD GOES OFF AND IT SEEMS LIKE A GOOD FISH,ONCE DONE AND SAID THIS FISH WAS 2O 1
2 INCHES,THE FIRST SLOT............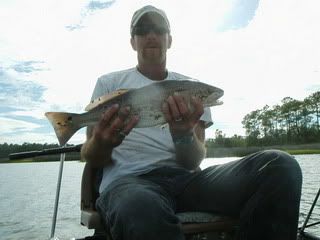 THEN AFTER THE PIC I REBAIT AND BEFORE I CAN TOSS THIS BAIT OUT MY OTHER ROD BENDS TO THE WATER AND BEFORE I CAN GRAB IT ITS GONE,PLACE THE ONE I BAITED OUT AND RESET THE OTHER AND A FEW MINUTES LATER WHAMM ANOTHER ROD GOES DOWN TO THE WATER THIS TIME ITS A BETTER FISH ,ONCE NETTED ITS 21 1\2 INCHES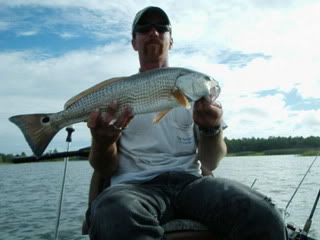 NEXT FISH IN THE BOAT IS 22 INCHES AND A FEW MINUTES LATER,
THEN OUT OF THE CORNER OF MY EYE I SEE AND HEAR A ORANGE TIP GO IVER BOARD,ITS THE ROD I JUST PUT OUT AND PUT DOWN IN THE BOAT INSTEAD OF IN A ROD HOLDER,GRAB THE OTHER ROD AND CAST TO WHERE I SEE IT GOING AND LUCKALLY I SNAG THE LINE AND START TO REEL IT IN ,LOW AND BEHOLD THE FISH IS STILL ATTACHED AND NOW IM FIGHTING THE ROD AND THE FISH,THE PWOER PRO WAS NO MATCH FOR BOTH AND THE ROD I SNAGGED IT WITH HAD 30 POUND POWER PRO ON IT AND IT BROKE OFF LEAVING ME WITHOUT THE LOST ROD OR THE FISH, I CAST WITH THE 3RD ROD FOR 1\2 HOUR AND NOTHING SO I EAT MY LOSS AND CONTINUE TO FISH WHEN ALL OF A SUDDEN THIS FISH TAKES THE BAIT..............
ANOTHER 22 1\2 INCHER.
ALL THESE WERE CAUGHT IN LESS THAN AN HOUR OF FISHING AND IT STARTED TO SLOW A LITTLE WHEN ALL OF A SUDDEN THIS BRUTE SLAMS MY LINE AND THE FIGHT LASTED 25 MINUTES,AROUND THE BOAT UNDER LINES AND THRU ANCHOR LINES TILL I FINALLY NETTED IT,28 INCHES TAGGED PHOTOED AND RELEASED
TO MAKE IT EVEN BETTER I NOTICED SOME GREEN LINE HANGING FROM THE SINKER OF THE ROD THIS FISH WAS CAUGHT ON AND BELIEVE IT OR NOT IT WAS MY LOST ROD LINE AND I GOT IT BACK BUT WITHOUT THE FISH,WOULDVE LOVED TO SEE THAT FISH SINCE IT SENT THE ROD OUT OF THE BOAT LIKE A ROCKET.
TO END MY DAY THE RATS STARED TO BITE AGAIN AND THIS DOUBLE HEADER WAS THE END OF MY DAY.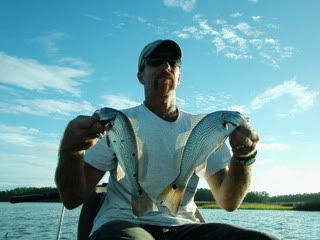 WELL THAT IS IT FOR NOW IM HEADING OUT AGAIN TOMORROW MORNING TO SEE WHAT ELSE I CAN GET INTO,SO FOR ALL THOSE GOING OUT TOMORROW TIGHT LINES AND SCREAMIN DRAGS TO YOU ALL MOST OF ALL BE SAFE OUT THERE,I HOPE I HAVE THIS POSTED IN THE RIGHT PLACE.