Discussion Starter
·
#1
·
HELLO EVERYONE ITS BEEN AWHILE BUT I NOW HAVE A REPORT FOR YA FROM YESTURDAY THE 19TH.
YES WE FISHED THAT NASTY RAINY COLD DAY BUT NOT FOR THE SALTWATER FISH BUT THE FIGHTERS OF THE COLD THE BOWFIN.
MY SON WAYNE AND ME ALONG WITH A GOOD FRIEND OF OURS FROM WORK AND HIS SONS WENT FISHING YESTURDAY DESPITE THE RAIN AND COLD,JOE MALIA AND HIS 2 BOYS WERE DEFINETLY UP TO THE TASK AHEAD OF US,THEY WERE THE ONES WHO BUGGED TO GO BUT JOE NEEDED A PROP FOR HIS TROLLING MOTOR AND I WAS TTHE GO TO GUY THERE.
JOE HAD AN OLD MINNKOTA AND I THOUGHT I HAD A PROP LEFT FROM AN OLD ONE I HAD BUT AS LUCK WOULD HAVE IT I HAD A PROP BUT NOT FOR A MINNKOTA,
AFTER SOME ADJUSTMENTS ,CUTTING HERE AND MELTING THERE I WAS ABLE TO MAKE THIS PROP WORK
AND WE WERE OFF TO SEE WHAT THE DAY WOULD HAVE IN STORE FOR US.
WE GET OUT ON THE WATER AND HEAD DOWN STREAM IN SEARCH OF THE RIGHT SPOT TO AMBUSH THESE FINE FIGHTING CRITTERS AND IT DIDNT TAKE LONG BEFORE JOE FOUND THE FIRST TAKER OF THE DAY....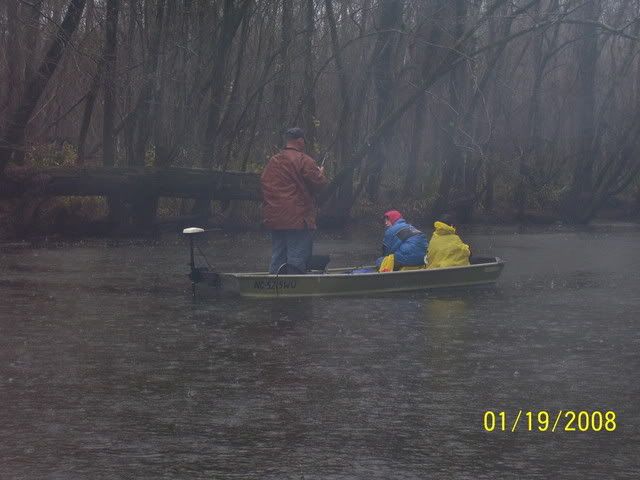 DONT KNOW THE SIZE OF IT SINCE HE DIDNT HAVE A TAPE WITH HIM BUT IT WAS AT LEAST IN THE LOW 20'S
AT THIS POINT THE RAIN STARTED GETTING HEAVIER AND THE FISH SEEMED TO BE GETTING NASTYIER SINCE I HAD AFTER THIS PICTURE LOST 3 RIGHT AT THE BOAT IN THE UPPER 20'S LOW 30 INCH RANGE
WAYNE DECIEDED HE WASNT GONNA FOOL AROUND AND STARTED HIS DAY OFF WITH THESE NICE FISH....
JOES OLDEST BOY WASNT GONNA HAVE THE ADULTS CATCHING THE ONLY FISH WHEN HE LANDED THIS SWEET BOWFIN,THE OLDEST BOY IS IN BLUE UP IN THE BACK OF THE BOAT.........
AND THEN ITS WAYNE AGAIN WITH ANOTHER GOOD FIN.........
AS FOR ME I HAD A FEW AND LOST THEM BUT THEN AGAIN IT WASNT ABOUT ME BUT ABOUT THE COMPANY I KEEP,I CAN CATCH FISH WHEN EVER RAIN SLEET SNOW OR SHINE I JUST LOVE TO SEE OTHERS CATCH FISH
IM SITTING BACK WAITING FOR THE DAY I GET MORE MARINES TO FISH WITH AND PUT THEM ON SOME OF THE WONDERS OF QUEENS CREEK MONSTERS.
THIS WAS WAYNES LAST FISH OF THE DAY BEFORE WE HEADED IN TO WARM UP AND DRY OFF.........
IT WAS A GREAT DAY FOR ALL OF US OUT THERE TODAY AND FOR A MAN WITH 2 SONS WITH BIPOLAR THEY DID A GREAT JOB TOUGHING IT OUT AND CATCHING FISH.
THAT IS IT FOR NOW HOPE YA'LL ENJOY I KNOW I DID DESPITE THE COLD AND RAIN......................TIGHT LINES AND SCREAMIN DRAGS TO YA'LL.......MOST OF ALL BE SAFE OUT THERE