Discussion Starter
·
#1
·
Hit up Topsail Island yesterday for some direly needed salt air and drumming. Met up with Dennis at the boat ramp and off we go. I had a few locations in mind that in the past had held a few reds and flounder. Water was murkier than normal but we still fished. Finally caught a small short flounder and saw one in the shallows about keeper size, but he didn't want to play.
Baitfish everywhere, menhaden along the ICW and boat ramps and loads and loads and loads of finger mullet. Fish are fat and healthy for sure.
Fished for another hour an nothing, then saw something busting bait. Headed that way with the trolling motor, about half way there I saw bait busting close. I cast and bam, fish on and started pulling drag. Ended up being a nice Jack, got off at the net. Nice sized one too.
Pulled on out and eased to another grass bed and saw bait busting again. Cast in and fish on....this time it screamed. Nice 26 inch red on the line and in the cooler. Nice school of reds now to pull a few more out.
Shortly after Dennis had his drag screaming. Nice 24 incher in the cooler. We caught several more slot size reds and the action slowed down.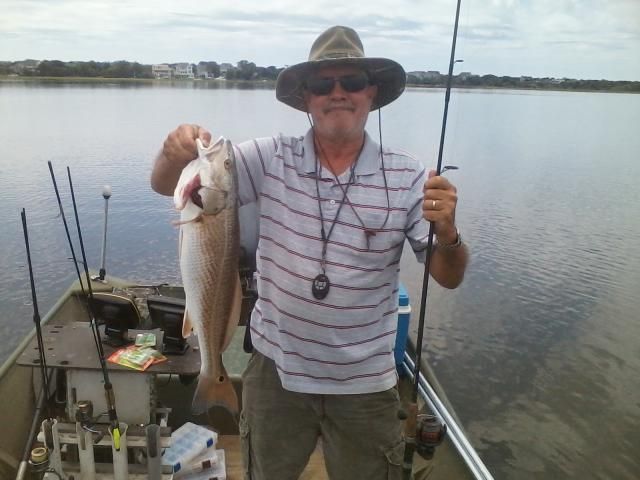 All fish were caught at high tide at high noon. We were using ZMan PogyZ and Diezel MinnowZ in Pinfish color.
On our last stop along the ICW we saw this Pirate Ship. It had small children on board Argggggin and having fun. A little while later here comes another one down the ICW. They put on a show.....both boats were having a war and banging and argggggggging going on. Looked like fun and I know the kids were having a blast.