Discussion Starter
·
#1
·
Day one - Ya can't get there from here.


Last week myself and three friends headed for upstate NY and the Salmon River to fish the annual spawning run of salmon that come out of Lake Ontario. These runs start in September and usually peak by mid October depending on where you are along the river. Chinook (King) Salmon are the star attraction but the river also hosts a healthy run of Coho's (silvers), Steelhead and Brown Trout. Our group tries to time our trip when all species are in the river.
Up at o-dark thirty to catch a 6 o'clock flight out of Raleigh - Durham (RDU). All was going as planned until they started delaying departure for maintenance reasons. The delay finally changed to cancellation and rebooking of everyone, one person at a time. Two of us were initially rebooked to arrive very close to midnight. Original arrival was 11am, we planned to fish that afternoon). My buddy Steve came up with a story about meeting his kids which gained us sympathy and a rerouting through Chicago and then on to Syracuse with an arrival time of 4pm.. Jim, who had handled his own booking was told there were no more seats available on our new flight and that he would have to wait until later for a flight to DC and then on to Syracuse with arrival of about 10pm.
John, the 4th member of our group flew out of Pittsburgh and planned to link up with us at the Syracuse airport at 11am. His flight went as scheduled. We were able to communicate with him via cell phones and advised him to grab the rental car, drive up to Pulaski, check into our room and advise them that we would be along shortly. We also sent John to the river so for a first hand fishing report.
The big question was what would happen to our luggage, included all of our fishing gear? When Steve and I saw our bags come off the carousel in Syracuse we were two tired but happy travelers.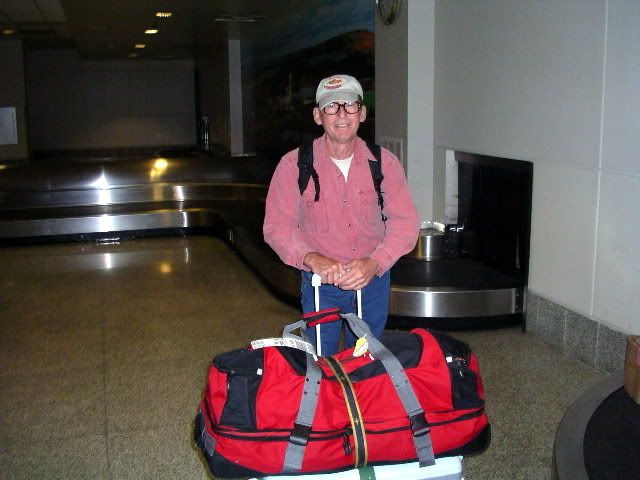 John, who arrived several hours earlier drove back to the Syracuse Airport to pick us up. About an hour later Steve and I were checking into The Portly Angler which is a landmark fishermen's den in the area.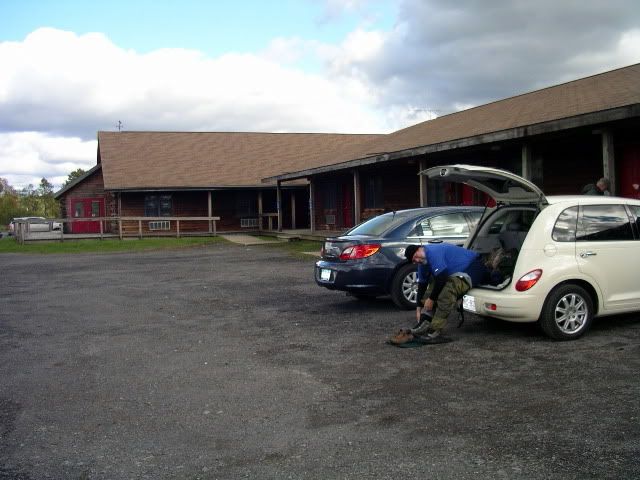 The Portly Angler is a little rustic but provides lodging for groups of up to six in bunk style rooms with showers and bathroom. Where else can you secure a room where the door prominently displays a sign saying "No Cleats in Room"? Up until a year ago they also featured a very nice fly shop. The place has probably seen it's "hey day" but it is adequate - it is also up "sale by owner".
Darkness was soon upon us and Jim who came via RDU and DC was now stuck on the ground in DC. He arrived in Syracuse just before the rental car agency closed for the night made the one hour drive to Pulaski, arriving about 11pm.
We were all tired travelers but had high expectations for tomorrow.