Discussion Starter
·
#1
·
We did the 3rd and final Boy Scout Fly Fishing Merit event at the Pechmann Fishing Education Center on Saturday, March 29, 2008. This event was not on the original schedule but as always our dedicated cadre of volunteers unselfishly gave up a good portion of their weekend in order to share their expertise and passion for the great sport with the next generation of fly fishers.
This being our seventh event for the year we pretty well have it down to a routine. This routine has been honed over a six or seven year period. We tweak it now and then whenever someone comes up with an idea for improvement. All events start in the classroom with an overview.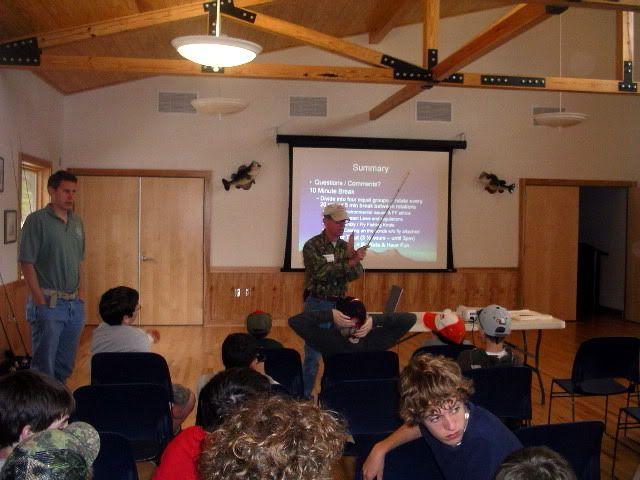 Basic and Scout Clinics are then divided into groups that rotate to knots, rod assembly, casting, habitat and regulations classes taught by subject matter experts. A couple of these stations are pictured below.
The fellow in the orange hat is one of Ft Bragg's Wounded Warriors who volunteered to help us today. (The Wounded Warrior fishing program is another event that is hosted by the Pechmann Center on a monthly basis)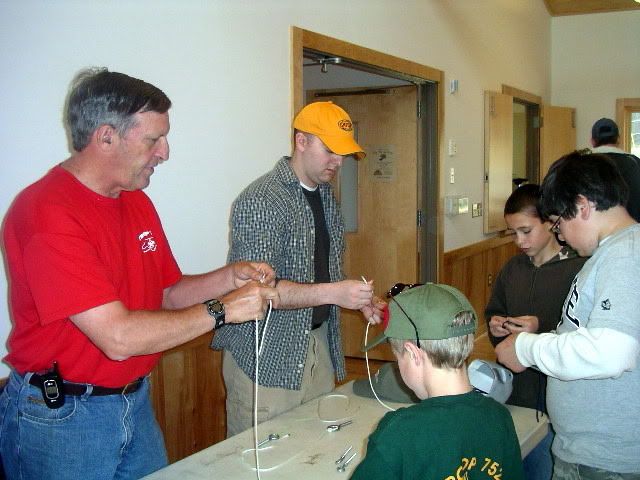 Jim Schrum, a Vietnam Era "dust off" or medical evacuation helicopter pilot and the man who helps coordinate our Wounded Warrior program helps out at the rod assembly station.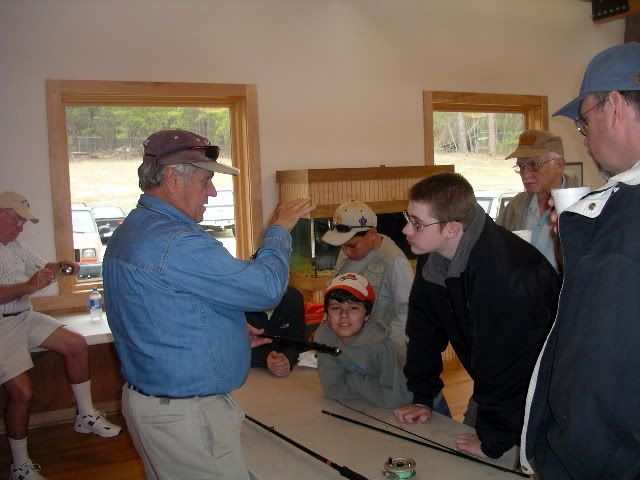 The highlight of every event is the actual fishing on the trout ponds. Up to this point we have been blessed with good to excellent fishing at all of our 2008 clinics. Unfortunately today was a little different. As some folks who ran around wearing shorts and a tee shirt for the past couple of days soon learned when they stepped outside Saturday morning, there was a big change in the weather to include a thirty degree drop in temperature accompanied by a very brisk breeze.
This abrupt change in weather put the fish in lock-jaw mode. After a lot of casting and even help from the "experts" it was decided that some chumming in the form of fish pellets was in order. This seldom resorted to tactic always brings on a feeding frenzy, but today the fish were like "ho-hum" and barely dimpled the surface of the water - most of the pellets washed up on the windblown opposite shore.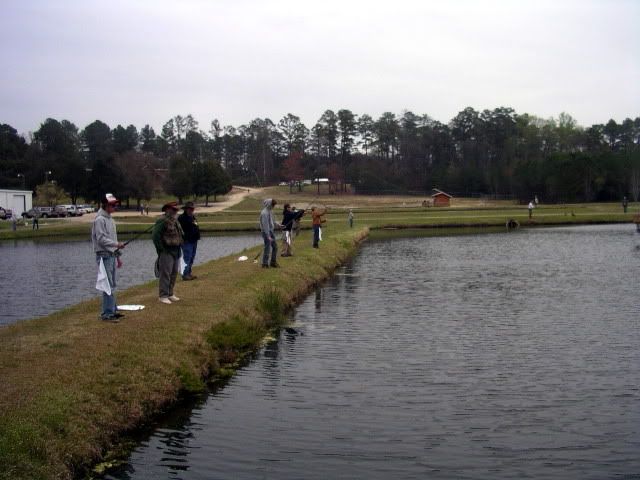 We were able to entice a few fish to the stringer but for the most part the fish were off their feed.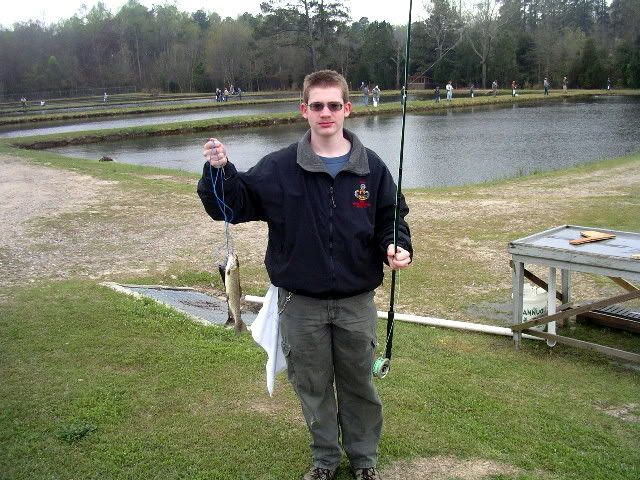 In addition to the two ponds currently filled with trout, the Pechmann Center has several ponds filled with warm water fish - these include bass, hybrid bass, bream and catfish. Fortunately these species are not as weather sensitive as trout. We allowed our scouts to fish these ponds on a "catch and release" basis and just about everyone hooked and caught several fish.
The weather was marginal, the fishing was so-so but we were in the company of a whole new generation of sportsmen. Most appeared to have already caught fishing fever. It was our honor and privilege to expose them to another way to enjoy the sport. Many of them were camping out at the Pechmann Center over the weekend and were still fishing when the volunteers left. Most still had a flyrod in their hands.
Because this was our last scheduled event for awhile, I want to go on record as saying a very sincere thank you to all of my fellow volunteers. They let me think I 'm the " straw boss" but I would be just casting into the wind without their help. I'm retired and don't have much else to do, but that is not the case with many of our volunteers, all of whom unselfishly give up family and personal time to make these events happen. Thanks guys and Jeanette. You make my job very easy.
Our next scheduled event will be a Warm Water Fly Fishing clinc, Saturday, June 21, 2008. Preregistration is required. Have your friends, associates or anyone who expresses an interest, call Lake Rim Parks @ (910) 424-6134. They must register in advance. No pay at the door allowed. They can use a credit card or cash to reserve a spot - only $5 so it is a steal and we also furnish coffee, sodas and donuts. Can't beat that!