Discussion Starter
·
#1
·
They say that wind is the nemesis of the fly fisherman. How about 40mph gusts coming from all quadrants of the compass? We had that and more at the Pechmann Fishing Education Center in Fayetteville NC on Saturday, March 8, 2008 as we hosted the 2nd Boy Scout Fly Fishing Merit Badge qualification event.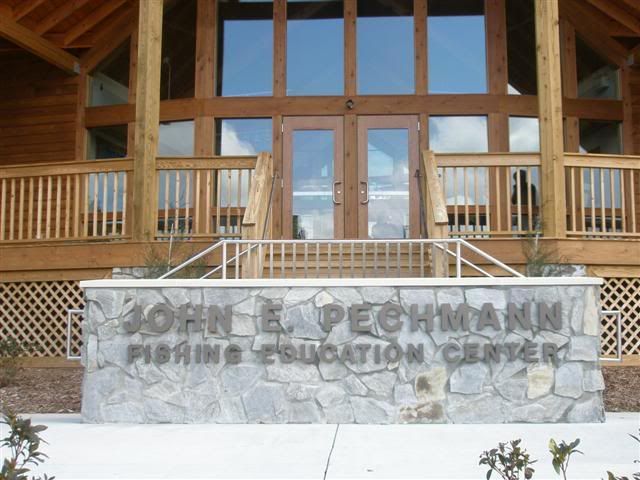 Even with the wind we considered ourselves lucky because the forecast had called for 60% chance of thundershowers - once the cloud cover passed it turned out to be a bluebird sunny day. BUT THE WIND NEVER DID ABATE. If we were not already committed, no sane fly fisherman would have ventured out. But we were committed with 40+ Boy Scouts who hoped to complete the requirements for the Fly Fishing Merit Badge.
Not to fear, we got our heads together the night before and made a decision to proceed with a flexible program that would adjust depending on what cards Mother Nature sent our way. Per usual we started in the classroom with a program overview.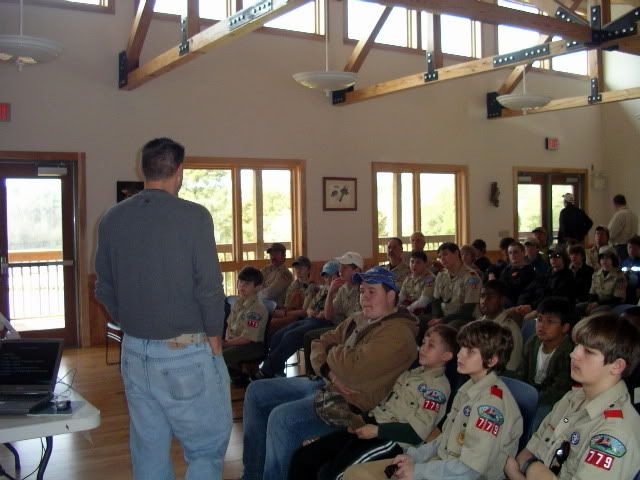 This was followed by a breakout into rotating stations that teach essential skills necessary to become a competent fly fisherman. One of the favorite hands-on stations is knot tying where they practice the improved clinch and double surgeons knot.
Our regular cadre of volunteers were augmented today by a couple of folks who are instrumental in the Wounded Warrior Program which is also hosted by the Pechmann Center. Here is one of them demonstrating the proper method to assemble rod, reel and flyline.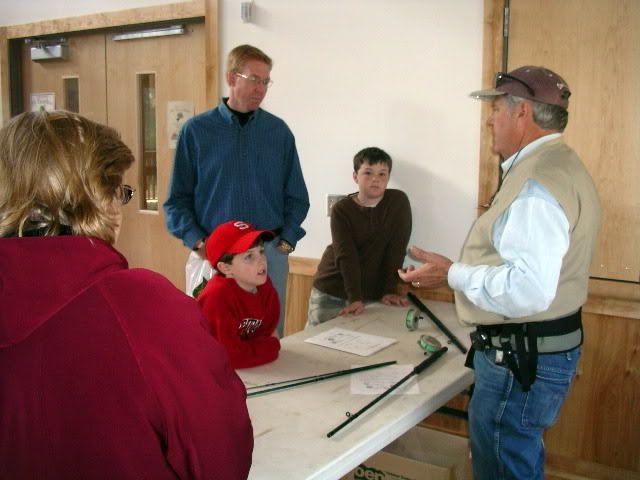 NCWRC Fisheries Technician Marshal Ray always makes a point of showing what not to do when you carry your lunch or other items into a fishing area, i.e., if you can carry it in full, be sure you carry it out empty.
Rules, rules, rules. When can I fish? What type of bait can I use? How many fish can I keep? How long must the fish be? Do I need a license and if so do I also need a special trout stamp? We have the answers in our rules and regulations class.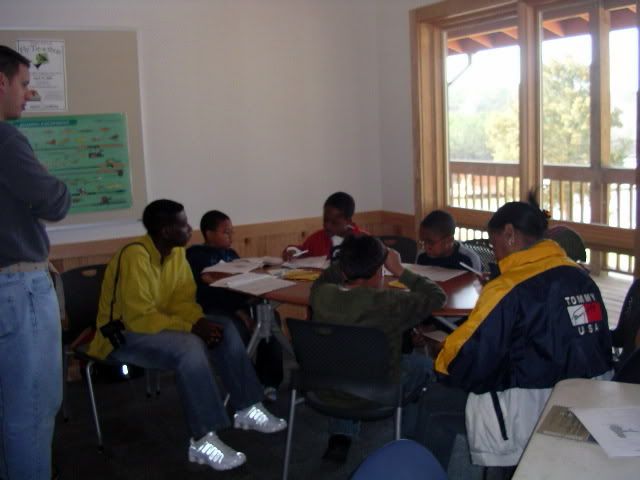 The casting station today was very challenging due to the wind. The tripod and charts we have to help make our point were nothing more then improvised sails. After chasing them for the umpteenth time we gave up and just gave a quick demonstration and then headed to the pond for some practical exercise. Rolls casts and low side arm casts were the order of the day.
The real test was when we assembled around the two trout ponds. Normally you can cope with wind by positioning yourself with it to your back or side but today it blew in from all directions. It seemed that no one had an advantage no matter which side of the pond they were on. Some of the younger scouts were in for a challenge.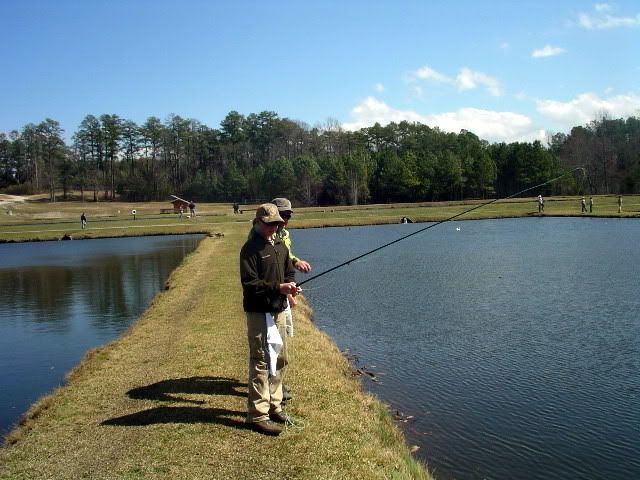 Despite these trying conditions we caught fish. No one exactly slayed them but the ones that were really dedicated kept at it until they met the merit badge requirement of two fish of different species - in this case a mixed stringer of rainbow, brook or brown trout. A few even accomplished a grand slam.
You have got to love the enthusiasm and display of pride on this young fellows face. Moments like this are what make our dedicated volunteers give so unselfishly of their time.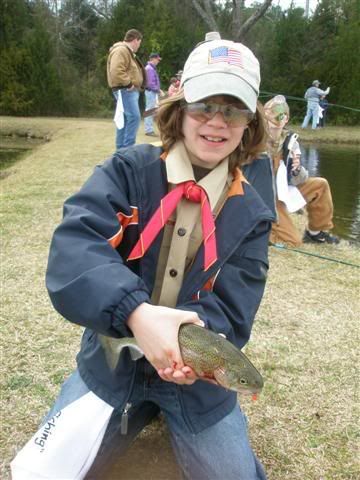 Check out the nice colors on this brown trout.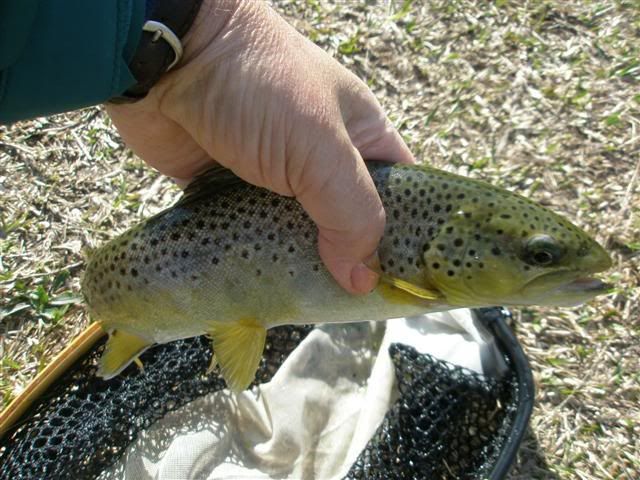 The majority of the fish caught today made it to the cleaning station which is another of the merit badge requirements.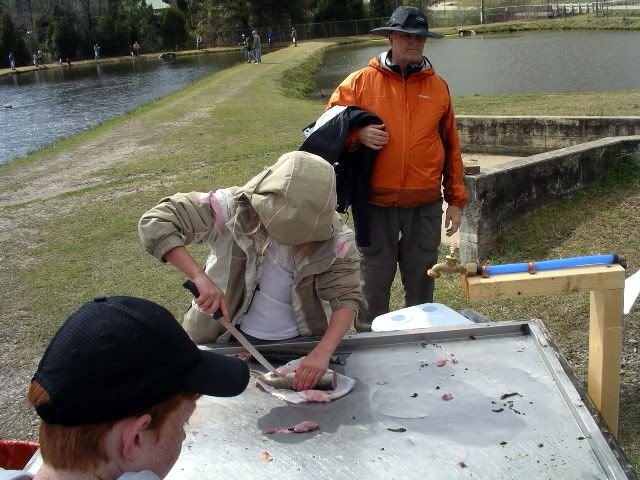 Fresh caught fish, french fries, rolls and a couple side dishes, all washed down with a Mellow Yellow. What better way to end a good day of fishing?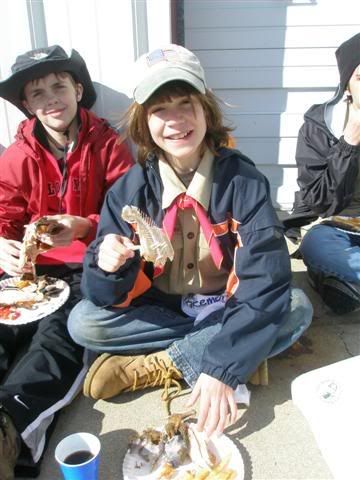 The next fly fishing oriented event at the Pechmann Center will be Wednesday, March 12, 2008 when we host a group of Wounded Warriors from Ft Bragg between the hours of 1-5pm