Discussion Starter
·
#1
·
So, I went out on Saturday and wanted to share some pics of the drop in places I use for Shearon Harris besides the two ramps. I went out early Saturday morning to drop in at the Hollerman bridge and it was so dark I couldn't really see how low the water was not to mention how far I would have to drag the yak in the mud. With that in mind, I left and went to the bridge at Cass Holt Road. Pictures will show what happened there. There's a big hole at the drop in point but once you get passed that either a tree fell across the creek or the water is so low the tree has emerged to block the passing. I was determined to go fishing so I climbed over the tree to get passed it. The photos are of me coming back, it's just before the bridge.
Hope this helps you fellow yakers out.
John
Cass Holt Road Bridge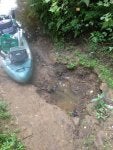 Hollerman Bridge - normally the water comes all the way up and over the tree roots. This was pictures on my way home.