Discussion Starter
·
#1
·
Other commitments have kept me away from the Smith River for the past few weeks. I finally returned to my "home waters" this past weekend and found she is fishing very well. I can not honestly say that we are at the peak of the season but the fish are certainly willing to cooperate if you show some persistence. If past years are any indication, things should steadily improve for the next couple of months.
I spent Friday afternoon fishing the riffle section that begins near the Rosemont Road parking area. This section has always been good to me and it did not disappoint on Friday. With a smile on my face and thoughts of many hook ups, I proceeded up through what is probably the longest section of riffles on the river.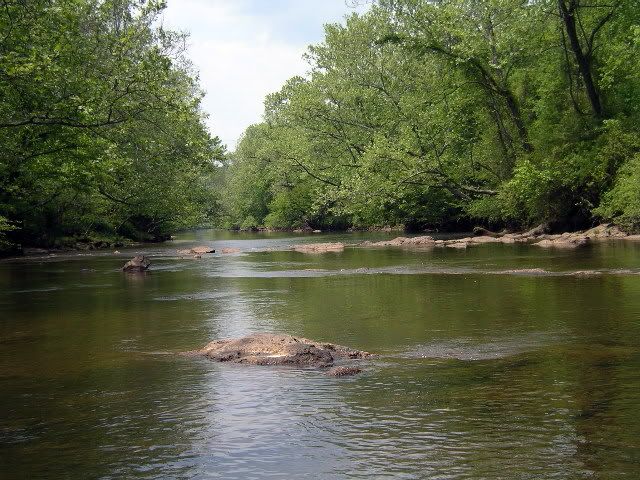 I got the "skunk" behind me on the second cast at the big pool just down from the first fisherman's path.
It began to look like that first fish was a flunk because I went a long ways before catching three more in a row and even then had to struggle to meet my goal of double digits. The water was very clear and I could see fish scooting ahead of me. I even tried fishing a dropper off the end of my Allieworm but soon gave that up because I was spending more time untangling the two flies then fishing. Shortly after catching my tenth fish things began to pick up and I easily doubled that. I have no idea what changed, the water looked the same and I was fishing the same, but the fish were in a much more aggressive feeding mood.
Most of the fish on Friday were stream spawned Browns. I did catch five or six, foot long Rainbows which had swam up or downstream from the stocked sections of the river.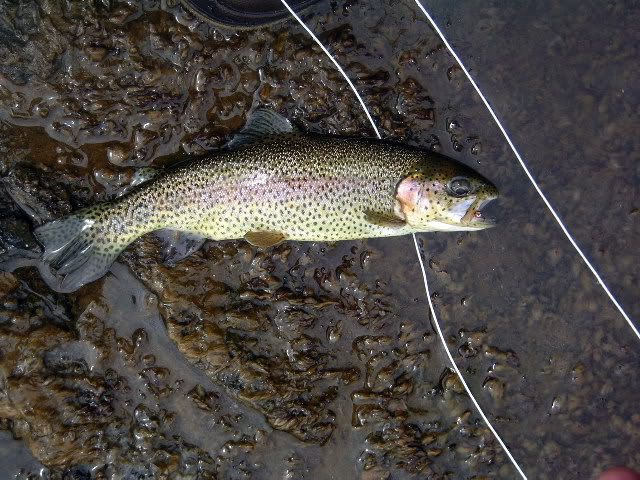 I spent a good part of Saturday afternoon in the lower river south of Bassett. As I am fond of saying, I do not have a favorite section of the river. The entire river is a good trout fishery. I try to pick sections that have reasonable access and which do not have other fisherman at the time. Put me on the water and I can usually find a fish or two.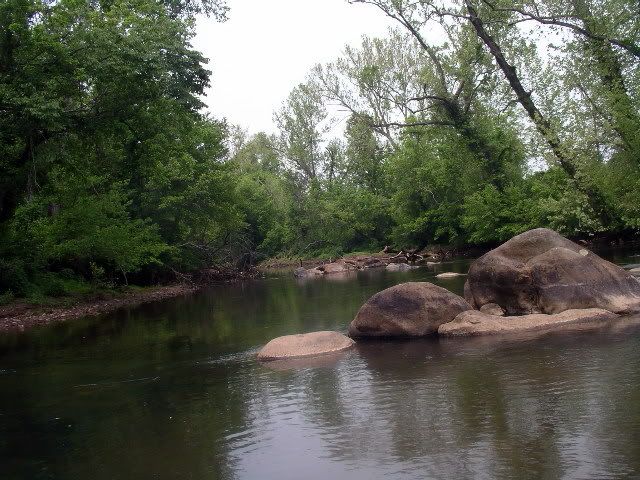 The lower river had been stocked about two weeks ago and still contained a number of Rainbows. They were not overly aggressive or plentiful but if you placed your fly in the right spot you where soon rewarded. Once again I brought a good number of them to hand.
Sunday found me at the Hwy 666 bridge which marks the lower end of the Special Regulations section. This boundary is clearly marked with a sign that has been in place for as long as I have been fishing the river (15 or more years).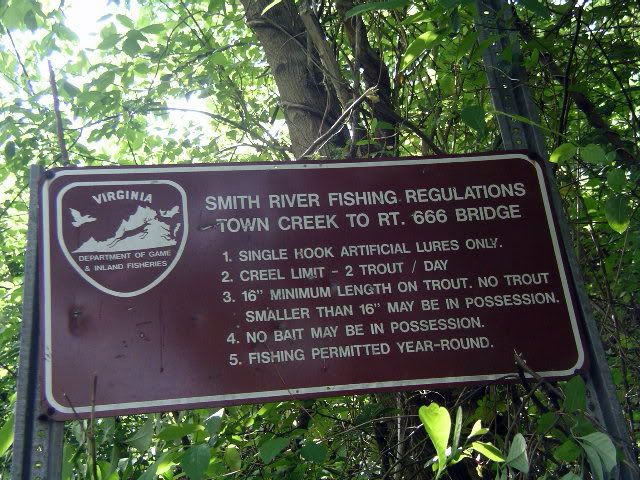 I looked over the bridge rail and observed a fisherman about 75 yards on the upstream side of the sign. As I watched he was placing a fish on a stringer that contained several other fish. I doubted that the fish had exceeded 16 inches and even if it had, he was certainly over his two fish limit. He saw me watching and immediately faced upstream with his back to me. After several shouts on my part, he turned around. I waved and asked, "how ya doing"? He meekly replied that he had caught a few and there were lots of fish right there in front of him.
I replied, "You know, you can't keep them on this side the bridge don't you"?. He replied with a sheepish grin, "No, I didn't know that". My response was, "You have two choices, you can get out of the river right now, or you can stand your ground and I will call the Game Warden".
With a mumble, he pulled in what looked to be worms or powerbait and proceeded to wade down stream and under the bridge. As he passed by I counted five good size fish on his stringer. I also pointed out the Special Regulations sign to him as he passed.
As you might guess, this encounter put a damper on what was otherwise a beautiful weekend. In hindsight I should have tried to call the Game Warden. I fished and did well, but could not keep from thinking about the rule breaker. This section of the river is full of the likes of him. The Smith River has many problems, some of them may be unfixable, but the proliferation of poachers and the lack of law enforcement should not be one of them.