Discussion Starter
·
#1
·
I needed to wipe a few cobwebs out of my brain and what better way to do it then spend some time on the Smith River. Friday afternoon I decided to get ahead of the generation flow by fishing down in the Koehler area at the riffles right in front of Garfield's Chicken in The Basket. This section is wadeable with the exception of the top end of the riffle where you have to hug the bank on the left hand side. It is a favorite of the locals during stocking season. It also always seems to hold a few fish no matter what time of the year.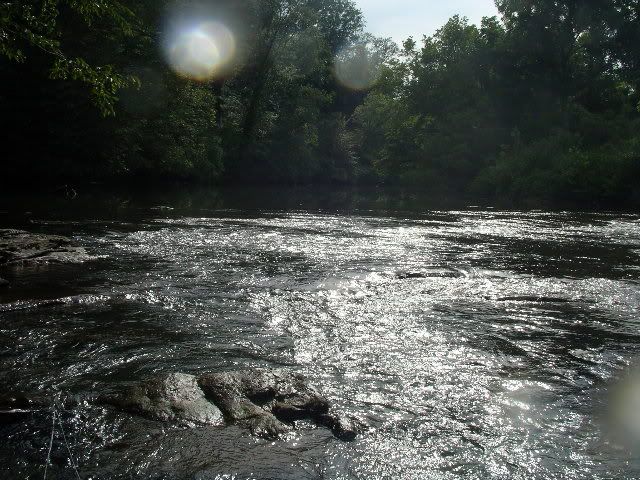 I threw caution to the wind and grabbed my four weight rod and tied on a foam beetle to see if I could entice some top water action. Once I got clear of the brush to my back and was able to make a cast I was rewarded with a small brown. One cast, one fish - not a bad way to start a trip on my favorite river.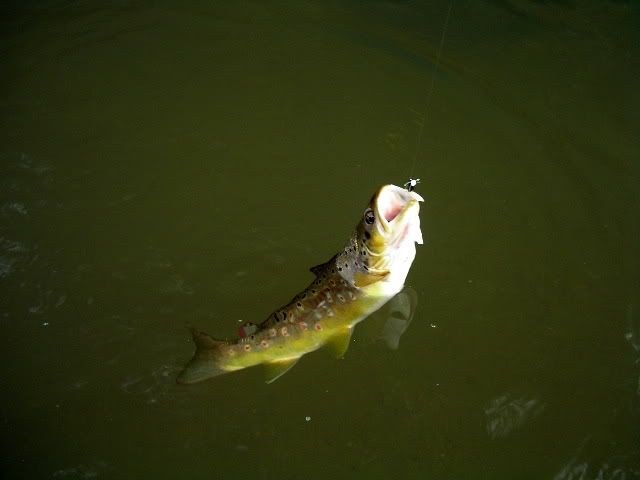 I would like to report that they just kept coming but that would be a fib. I fished a long time before having another take which I missed. I must admit that it was exciting to see the splash of a fish as it surfaced to take my little foam beetle but I expect I could have done better with an Allieworm or other dark beadhead nymph. I eventually brought two more to hand, one of which was about a foot long.
Saturday morning I attended the opening ceremony for the first section of the Fieldale Walking Trail. This trail is the first section of what will eventually be the Smith River Trail System. It was built by the Martinsville -Henry County Rivers & Trails Group, Dan River Basin Association. The ceremony was well attended by local folks and, of course, lots of politicians who were eager to thank each other for the part they played in obtaining funding for the project. It is one of the many good things that are happening in the area. I am an outsider but have been watching these things for about ten years and can honestly say that I have seen a gradual change for the better in the past two or three years.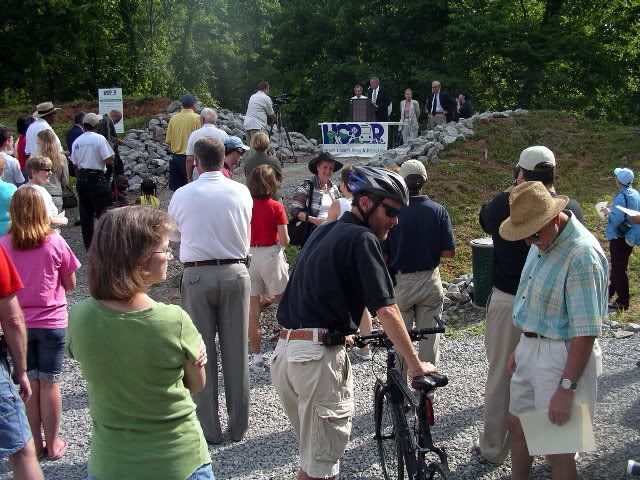 Saturday afternoon found me sitting at a table with fellow Smith River TU folks at a Friends of Philpott event hosted by the US Army Corps of Engineers. I tied flies and gave a few casting demonstrations while SRTU President Robert Woods passed out Trout magazines and signed up a few new members. We were joined by fellow SRTU member and nationally known wildlife artist Laurie Waterfield who displayed some of her painting and demonstrated her artistic ability to capture the moment on canvas.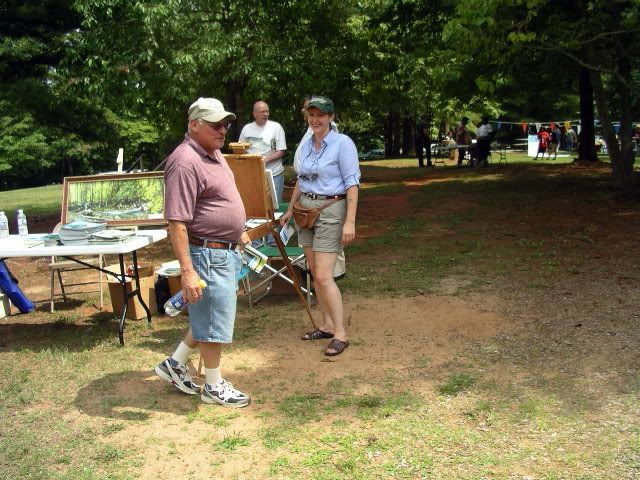 All that public face time gave me a hankering for some quiet time on the water. I knew from past meetings that Ms Waterfield, in addition to being a very talented artist, had a reputation for being a competent fly fisher. In fact, until artistic endeavors started taking too much of her time, she had been on the staff of a regional outfitter as an Orvis Endorsed Fly Fishing Guide. She accepted my invitation to do a little fishing that evening. We made a date to meet at the lower end of the Special Regulations Section at 5 pm. That section is basically one long pool of flat water which traditionally holds a decent amount of fish.
My favorite way to fish this section with a partner is for the two of us to walk side by side up the center, with one casting to the right and the other casting to the left. We both also cover directly in front as a lot of the fish will be laying right out there in the middle. The rule for this section when fun fishing is to switch sides once one or the other has caught two fish without the other connecting.
As good a section as this is, we went a long ways before having a hit. I was fishing my old standby the Allieworm and Laurie was using a beetle. I finally connected with a small brown and soon had another of equal size.
We swapped sides and Laurie swapped flies. I tried to offer her an Allieworm but she would not hear of it.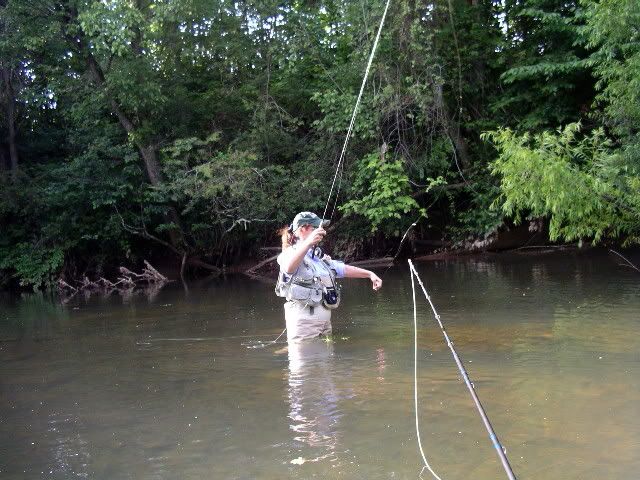 I can't remember when I have had such an enjoyable fishing partner. The fish were not biting but we had a great time just talking and ribbing each other about our lack of fishing ability. We swapped sides a couple more times before I finally waded over and cut her fly off and tied on an Allieworm. She muttered something about "I'd better not catch one on my first cast with that thing". It did not happen quite that quickly, and we were just about to our "get out point", but we slowed down and thoroughly fished that big pool right off the first fishermen's path at Rosemont Road. I heard a shout and instinctly reached for my camera. It was not a big one but it sure put a smile on her face.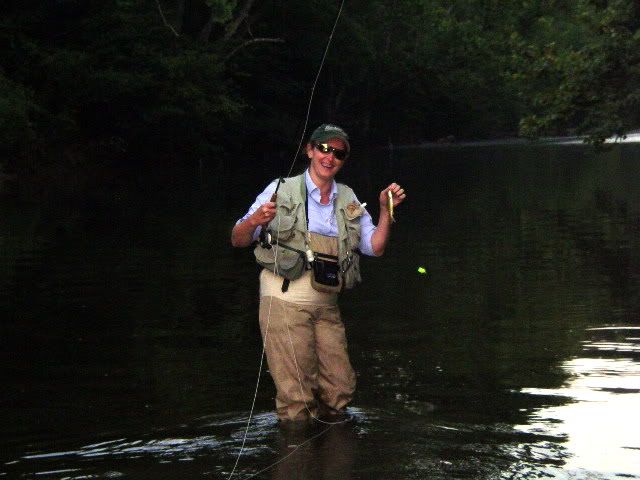 It was almost dark but she finished out the trip with a another one, this time a decent size Rainbow which thought the Allieworm was just what it needed for supper.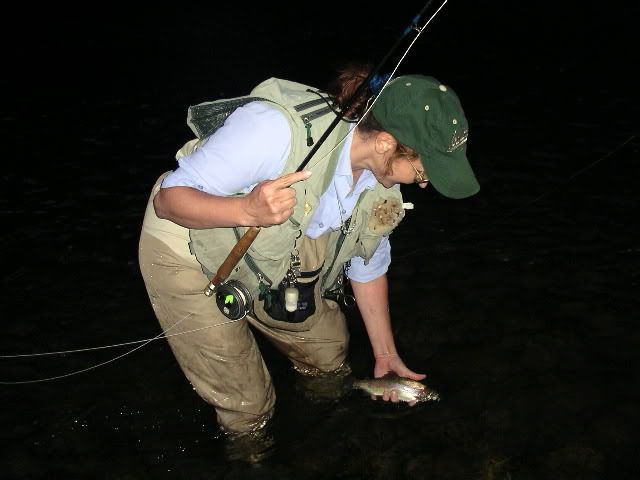 Thank you Laurie for showing this old man that fishing is more then just catching a bunch of fish.