Discussion Starter
·
#1
·
Headed to the Bassett area on Friday in order to help prepare for the Smith River TU fishing event and picnic which was scheduled for the next day. I debated fishing at all on Friday as it was well into the afternoon and misting fairly steady by the time I was able to hit the water. Of course, once I slid down the bank and got into the water the mist changed to rain but by then I was already committed. I put in well downstream of Bassett because they started to generate at in the early afternoon. The section I fished consisted of mostly flat pools with the occasional riffle. It was all very wadeable.
I soon rolled a couple of rainbows. One remained on long enough to qualify for an LDR but none of them came to hand and therefore could not be counted. After a fashion I was able to remain connected to a small brown long enough to take his picture.
By the time I reached my "get out point" I had laid my hands on more then a dozen Smith River Brown Trout and a couple of stocked Rainbows. Not a bad take for a couple hours on the water. All were caught one at a time and all were fooled by the Allieworm.
The following day we had the SRTU fishing event. More then 20+ folks hit the water and all reported good success. Many did themselves and the Smith River proud by catching well up into the double digits.
After sending a couple of visitors up through the flat water at the bottom of the Special Regulation section I hopped back into my truck and drove to the Bassett Library were we had the recent Trout In the Classroom releases. I had heard there was good fishing to be had upstream of the library but had never fished it before. The rumor was correct because I once again rolled but failed to hook a couple of fish right were we released the TIC fingerlings. I settled down and soon placed my hands on a decent one a little way up from there.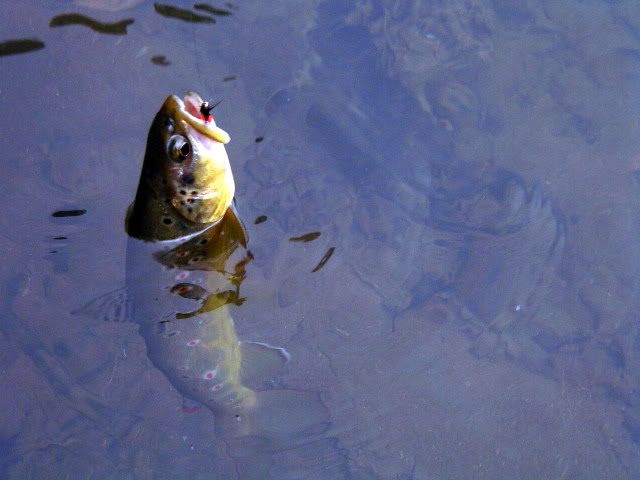 It just kept getting better. The browns were coming with fair regularity. I had expected to catch a few Rainbows as this section is between two bridges were the stock truck visits, but it appeared that most of the "put & take" fish had already been taken.
I did come to one long hole which required me to hug the bank to avoid water going over my waders, but other then that it was easy wading all the way.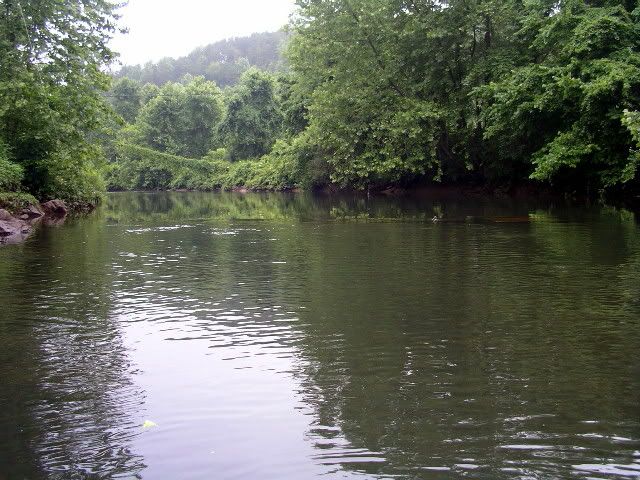 Just before I exited the stream (Less then 2 hours to fish this short section) I lucked on to two Rainbows, one of which was a very respectable size.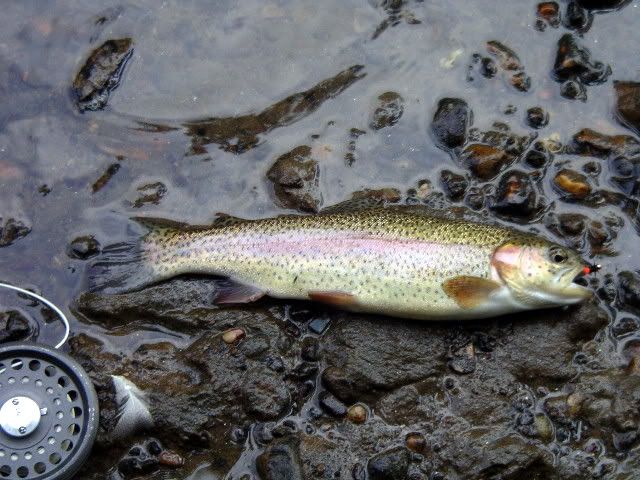 I felt pretty good about my count. It was a new section of stream to me but my method of nymphing was able to bring a respectable amount of fish to hand. I expect you will see my truck parked at that same location on a more frequent basis.