Discussion Starter
·
#1
·
The Smith River continues to provide a challenge and refreshing reprieve during the heat of summer for those who are willing to pay their dues and learn some of her quirky ways. First time visitors to the Smith often go away scratching their head and thinking "This is a tough river to fish". All I can say is that the fish are there. One of my friends helped with the recent VDGIF sampling and reported +400 fish scooped up at just one the many sampling sites. The fish are not real big, but they are there.
Friday morning I got a late start because I had to wait out a short but very refreshing rain storm that blew through the area. My rain gauge registered 1/4 inch so it did not do much good for the parched lawns and low streams, but every little bit helps. I had planed to hit the Special Regulation Section but due to my delayed start decided to fish a short section near the "Hayfields" which is just down the road from my "get away" cabin. I normally stay at least two nights when I'm visiting the river but with all this heat there are not many enjoyable out door activities other then fishing and during the week that is limited to the mornings by the generation schedule, Therefore I was heading back to North Carolina a day early.
The water had just a hint of color from the recent rain and there was a nice bank of fog rolling off the surface. Perfect for fishing.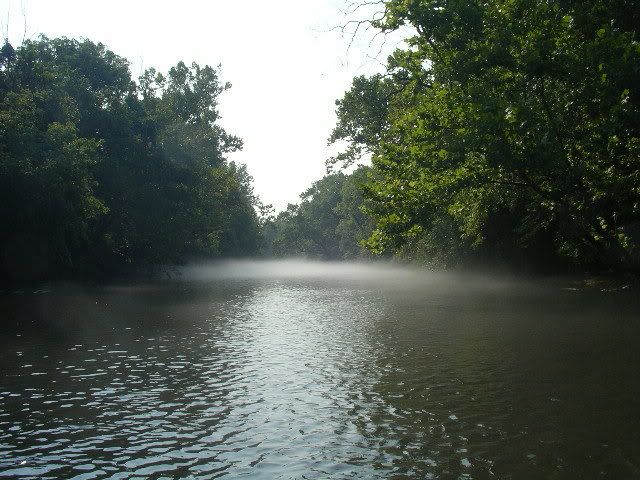 I was soon rewarded with a brown trout of about 8-9 inches. This may seem small but that is the norm for the Smith. The are brightly colored and give a good account of themselves. They are also very plentiful.
I knew my next fish was a good one by the way it bent the rod and stayed way on the far side of the river. It was a lunker by Smith River standards but in reality was only 13-14 inches long. Nice to see him. He was one of several of this size I have caught this year. My friend and VDGIF biologist, Scott Smith told me the recent sampling turned up quite a few +12 inch fish. Things are looking up!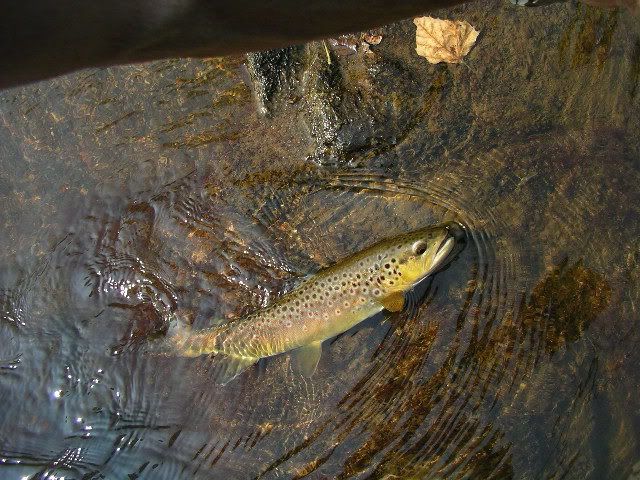 They were not hitting like gangbusters, but they hit with enough regularity to keep my interest up.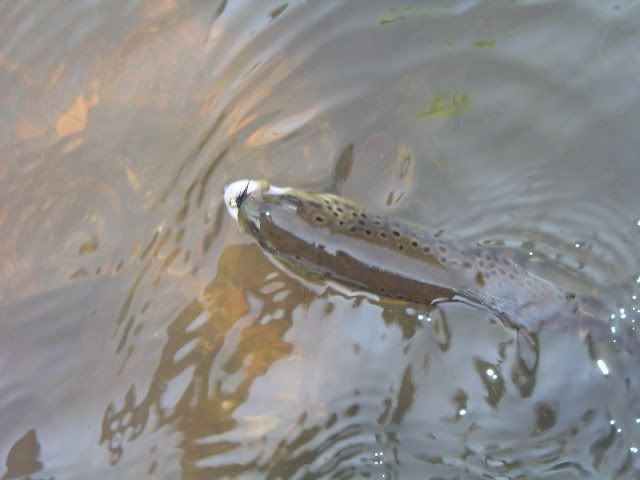 My last fish of a very short day (less then 2 hours on the water) was a match for the +12 incher I had caught earlier.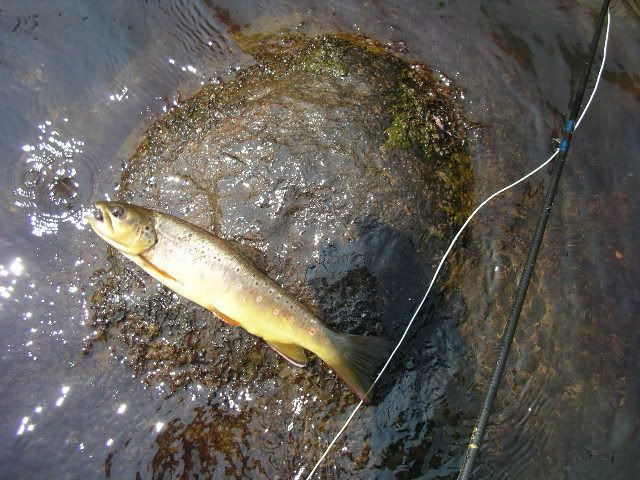 Most of my fish today came out of some of those flat pools which are about waist deep. What better way to spend these +90 degree days then waist deep in the cool waters of the Smith River. Maybe that is one of the rivers secrets, because I didn't see another soul all morning.