Discussion Starter
·
#1
·
The Smith River has been fishing very good for folks that have fished with me the past few weeks. On Friday I took a gentleman to the lower end of the Special Regulation section where he did very well. This was his second time on the river. The previous time he had fished near the Mirror Factory which was the only spot he could locate from reading various reports about Virginia's once famous trophy trout stream. Mr. P was a life long fly fisher whose business travels have allowed him to fish in spots many of us only read and dream about. He had recently figured out that the Smith was only a two hour drive from his home in Raleigh, NC and was hoping to make it his new "home water".
We arrived to a bank of fog which is normal this time of the year because of the vast difference in air and water temperatures. The fog hung with us most of the morning.
Casting and wading were not issues with Mr. P. He had them down to a pretty good science. What he hoped to gain for the day was a better appreciation of nymphing techniques and also learn more about the river. After a short demonstration of what works for me, he was tossing the Allieworm in most of the likely looking spots. He soon found that a sure way to miss a strike was to take your eyes off the indicator. Another way was to react too quickly. As any good host will tell you, "It's better to be a little late then too early".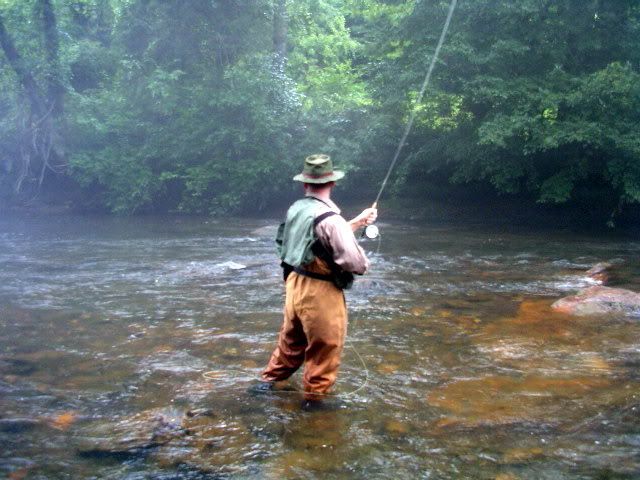 We were soon into fish and Mr. P did himself proud.
He was closing in on double digits when we looked up through a break in the fog and saw that another fisherman had slipped into the water less then a hundred yards in front of us. I am sure the other fellow did not even know we were there because of the fog.
Not wanting to fish "used water" we climbed up a bank and walked the rail road tracks to well upstream of the other gentleman, leaving him with at least two hours of fishing before reaching where we reentered the water. The move worked to our advantage. The fishing was good at our initial section but it really picked up at our new spot. By now Mr. P knew what to look for and was not missing many fish. They just kept coming one right after the other - some were small, but there were also a good mix of 9-10 inch fish.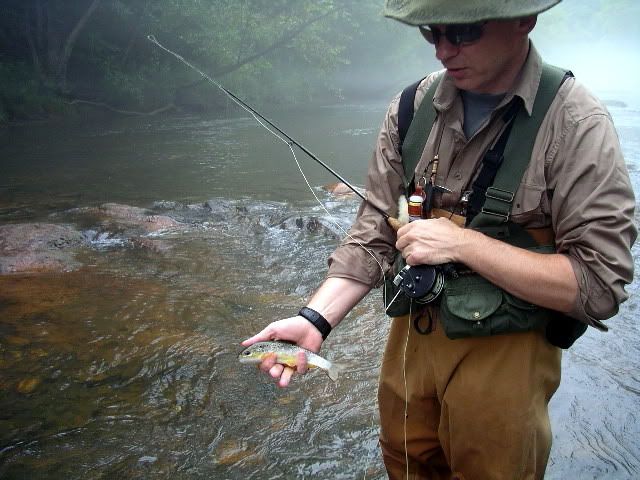 We moved into some wide and flat sections which were too much water to cover for one person without a lot of zig-zag maneuvering. Mr.P, being the gentleman that has led to success in his business, invited me to fish. I took the lesser water and kept him to what I considered the prime sections. The fishing was so good that we had doubles on two or three occasions.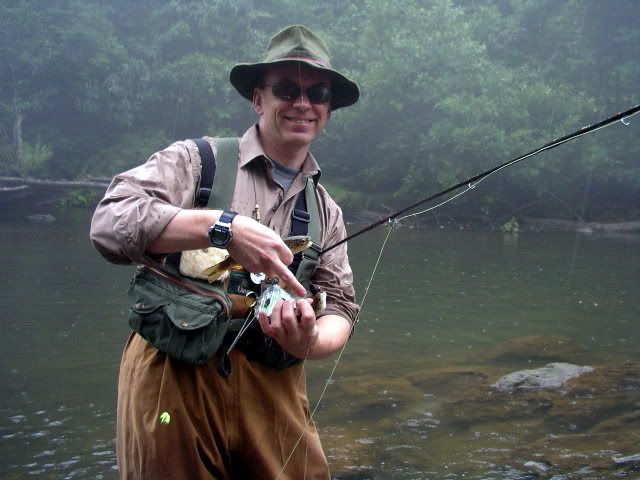 None of the fish would come close to beating the Virginia Historical Brown Trout record set on the Smith River back in the mid seventies but they were all a delight to catch. A couple of the nicer ones pushed the twelve inch mark.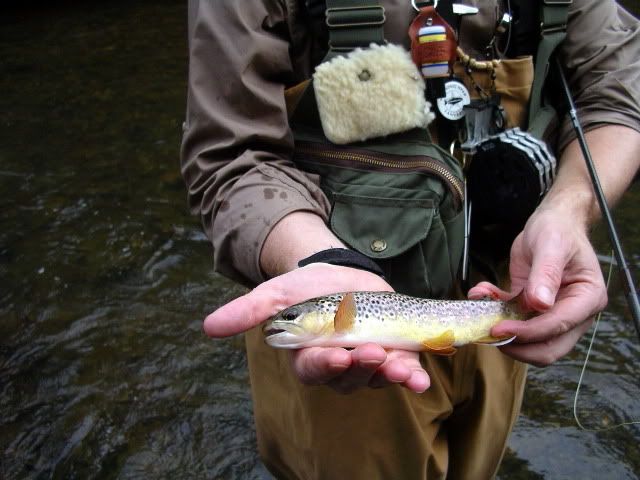 We reluctantly called it a morning at 2pm in the afternoon. It was tempting to keep racking up another fish, but the generation surge was coming our way and Mrs. K was holding lunch back at our circa 1900's log cabin. By this time the fog had burned off and it was a fairly long walk back down the railroad tracks to our vehicles.
After lunch we piled into my truck. Mr. P sat on the passenger side with map and pencil in hand as I gave a tour of the lower river. Some folks think I provide too much information, but at this stage in my life I don't have many fishing secrets. In my opinion, the more folks that call the Smith River their "home water", and by extension become an advocate for the river, the better it will be for the fishery.
We finished out the afternoon, (actually early evening), down in the Koehler area. The sun was shining brightly on the water and the temperatures had gone up at least 20 degrees since early morning. We were also fishing in totally different water. For whatever reason, the feeding frenzy we had enjoyed just a few hours before did not make it's way down river. Mr. P , being the persistent fisherman that he was, added three more to his catch.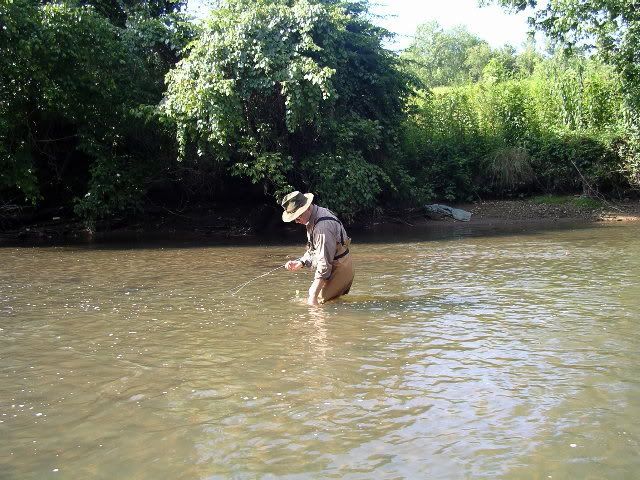 We stopped counting after hitting double digits but my guess is that he brought 25-30 to hand and LDR at least 10 more. We won't even mention the number that he just plain missed. I fished a bit at the end of our morning session and also caught a respectable number. We were both tired fishermen when we finally parted ways. Any day of fishing is a good day but on Friday the Smith made it a day to remember.
While I have your attention
I would like to invite you to a free trout fishing seminar this coming Saturday, July 28th from 1-3pm at the Gander Mountain Store off Skibo Rd in Fayetteville,NC.
They have asked me to talk about the Smith River, which is the closest trout stream to the Fayetteville area and most folks in Eastern NC. We will assemble in the Gander Mtn "Lodge" where I will use a PowerPoint presentation to give a little history of the Smith, talk about some of it's challenges and spend a good amount of time explaining and demonstrating what works for me. Once again, the seminar is free and I will be giving out a lot of information.