Discussion Starter
·
#1
·
I returned to the Smith River this past weekend after a almost six months hiatus which included a very successful deer season followed by a hectic schedule of fly fishing clinics at the NCWRC Pechmann Fishing Education Center where I am privileged to be known as the Volunteer Coordinator. Just suiting up in waders and stepping into cold flowing water was a treat.
My first choice for Good Friday afternoon was already occupied by another fisherman so I headed upstream from the Highway 666 bridge which marks the lower end of the Special Regulation area. The first thing I noticed at the bridge was the absence of the two Special Regulations signs I had duct-taped to the bridge abutments. Not to fear, I had another one in my truck. This time I placed a Spec Reg notice on one bridge abutment and a "Don't Spread Didymo" sign on the other. I will stop back in a couple weeks to see if they are still there.
This section of the river is usually good to me and I fully expected to catch a mixed bag rainbows and browns because those that are smart enough to head upstream should be safe from harvest. The water was fairly clear but my leader was long and my casting was good. I had on my old reliable "Smith River Allieworm". It was obvious my expectations were just wishful thinking because I fished up to the factory stairway without so much as one hit. Nor did I observe a rise or dimple on the surface.
If I continued upsteam I would have been forced to remain in the water without an opportunity to exit for a long way, so decided to retrace my steps in hopes of finding action in another section of the river. I recognized a couple of NC fishermen near my exit point and stopped to compare notes prior to heading elsewhere. Good to see old friends, both of whom are frequent visitors to the Smith. They were fishing a long riffle in the stocked section where some sort of unseen hatch was coming off. . One was having fair success with a very small nymph hung under a small dry used as indicator. The other was not doing as well but claimed "big fish" in a friendly contest between the two.
I stopped at a section known to some as the "hayfields" and fished for about an hour in a riffle that has in years past produced many, many fish. My fly of choice was placed in all the likely looking spots with only one take that ended up a "miss". As I work my way up through the riffle I observed the flashes of feeding fish but once again my nymph failed to produce. A quick change to a #20 Parachute Blue Wing Olive produced three 7-9 inch brown trout.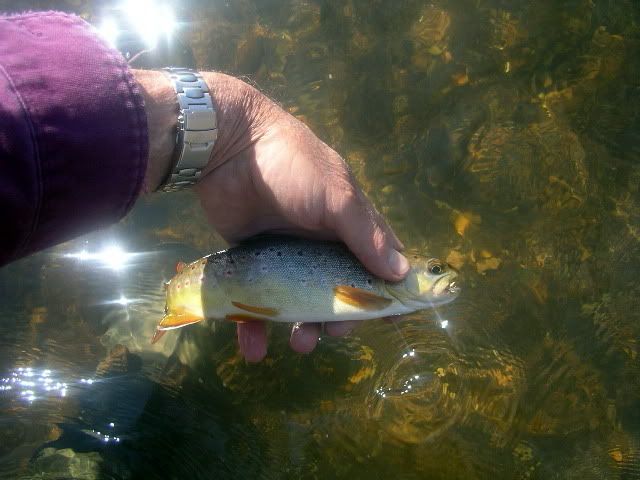 Yep, that is right. I caught them on top! I am stubborn when it comes to fishing a nymph but I'm not so dumb as to leave it on when fish are feeding all around me but ignoring my offering. I missed and LDR a few more before the unseen hatch abated. Got the skunk behind me and it was a nice afternoon on the water. Pulled out a little early and went for a walk in the woods near my cabin - did little scouting for next years deer season.
The following afternoon I fished downstream of Stanleytown Bridge. As usual my initial set up is an Allieworm hung about two feet below a yarn indicator. I was not disappointed because less then a half dozen casts into the afternoon a small brown inhaled the #14 nymph. That certainly restored my faith and placed a smile on my face.
After that I got into a pod of stocked rainbows who had found safety well downstream of the usual haunts of the bait fishermen who generally concentrate their efforts to within 100 yards of the nearest bridge.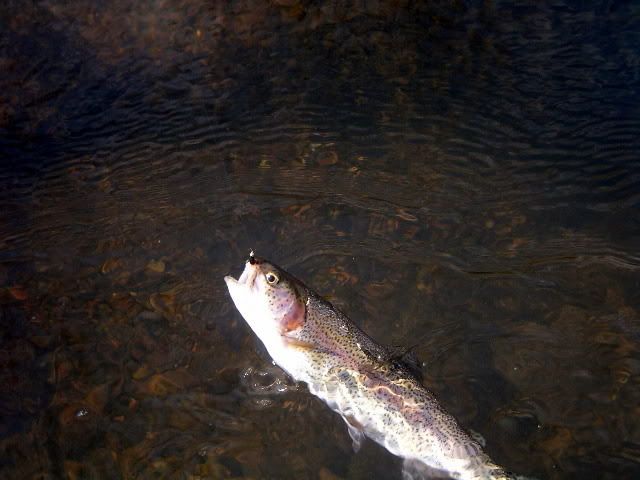 Small fish of the day. If that nymph had been the real thing he would not had to feed again for a few days.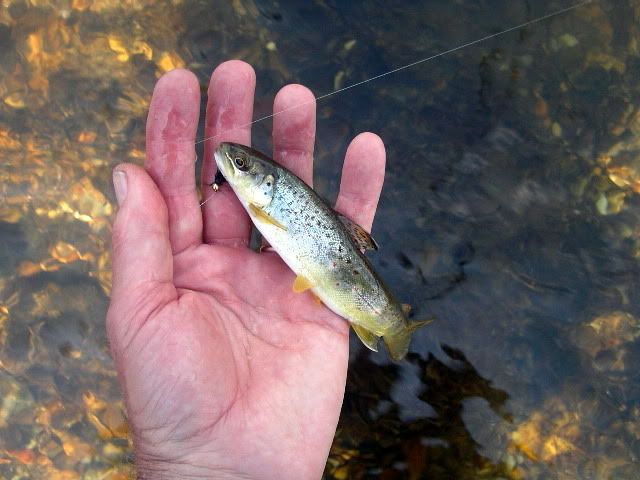 A fish here, a dry spell there, it went like that most of the way back to the bridge. The wind was blowing right down the river into my face which added a challenge but there were enough tugs on the line to make things interesting. Double digits and all on my favorite nymph. The buds are starting to push through on the trees but it is still pretty bleak out there. Better days are coming but in the meantime I'll get out there fishing when the weather is favorable.
I am so blessed to be starting the 2008 fishing season on my favorite trout stream. Come on out and join me!