Discussion Starter
·
#1
·
Eight o'clock found me all by myself at the Mirror Factory parking lot where I hoped to get a little fun fishing in before the temperature made it into the 90s as it had for the past few days. It was projected to do so again on Tuesday. After pulling on breathable waders I worked up a sweat as I walked the railroad tracks to the trestle pool. I wondered how folks endured neoprene. Maybe that is why most folks stopped trout fishing by the time summer rolled around. But they had to suffer that neoprene once tailwater fishing came into vogue with it's daily flush of cool water.
Once I got on the water the temperature cooled down a bit and one of those fog banks that occur at this time of year gave testament to why I love fishing the Smith.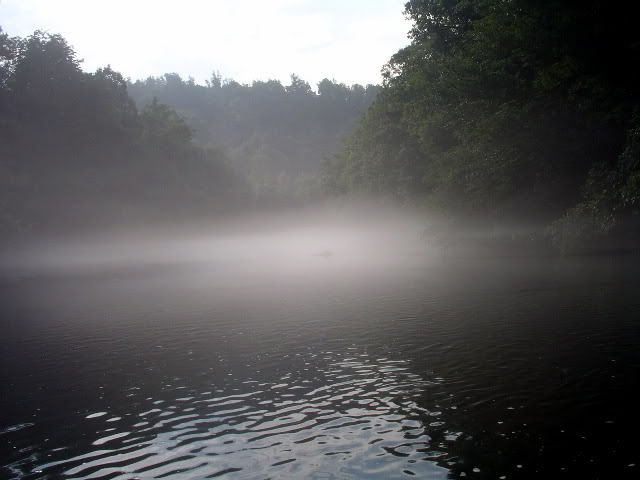 The trestle pool is usually a good spot to start, but I fished it all the way up to it's head riffle before getting the first hit. There was some sort of hatch going on with some flashy splashes at the riffle. I figured I was all set fortop water action because I'd recently sent away to one of those discount fly shops for some size 20-24 sulfurs, blue wing olives, yellow sally's and the sort. I quickly cut off my battle tested Allieworm, downsized the tippet and was casting miniature dry flies to those little splashes. I had a couple of takes but could not complete the connection. I tied the AW back on and got the skunk and a couple more behind me. They were not big but they all counted.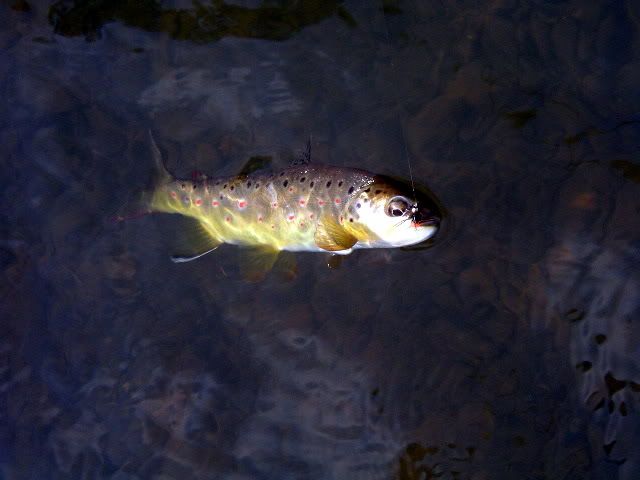 The fishing was steady but not that great. I began counseling myself and thinking I was fortunate to be "fun fishing" and not trying to show someone that I thought I knew what I was doing. I did luck into one nice rainbow which was the big fish for the day. Lord only knows how he got that far down into the Special Regulation Section.
The smallest fish of the day was this little brown trout. Makes one wonder what they are thinking when they try to take such a large mouth full.
Despite my pessimism, the fish continued to come one at a time and I soon had my goal of double digits. Most were of the 7-8 inch variety. A couple pushed the 9 inch mark. All displayed beautiful colors.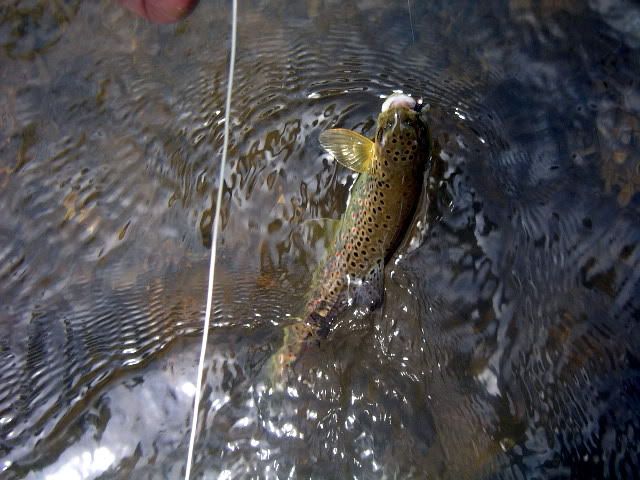 I rounded out the day by going to the lower end of the Special Regulation Section where I nailed a half dozen Special Regulation signs to trees in the area where flagrant poaching takes place. The VDGIF sent me these signs which I offered to post in conspicuous areas. More signs are on the way. Soon there will be no excuse for not knowing the rules. I am encouraged by this spirit of cooperation by the VDGIF and believe we will see more enforcement presence as soon as they resolve a personnel shortage.