Whenever I'm with a new client on the Smith River I like to start off with a demonstration of what works for me. On Saturday morning I confidently stepped into the lower end of the Special Regulation Section and promptly fell in a hole that had been washed out near a rock by the generation surge. I know that impressed the doctor from Winston Salem. Doctor D. is a frequent visitor to the Smith but heretofore he had confined himself to the upper end of the Special Regulation Section behind the Mirror Factory. He liked to think of the Smith as his "home water" but was frustrated at the way the river begrudgedly gave up its bounty. His wife thought that the perfect Fathers Day present would be a day of fishing with an opportunity to combine pleasure with a little learning.
After a quick recovery, I proceeded to demonstrate my method of fishing a nymph. There is probably no real secret to dead drift nymphing but I've found that most folks grasp a concept quicker if they see it rather then merely listen to it being described. I always carry my fly rod, but it stays tucked under my arm other then for demonstration purposes. I also find an extra rod comes in handy when the client breaks their fly off or tangles their leader. I just pass them my rod so that they can continue fishing while I repair the problem.
Once I got over my embarrassing fall we proceeded up through the riffle section off Rosemont Road. Things started off fairly slow but it was a delightful day to be on the water. The temperature was rapidly heading towards ninety but the water was cool with one of those summertime fogs hanging on the surface.
I have been doing this long enough that I can say the biggest complaint of guides is a client that even though you put them on fish they can't make the cast. This was not the case with Doctor D., he had his casting down pat. He could lay out a fairly long line and did it without any false casting, which in my opinion wastes time and spooks fish. My job was to find some fish which were in a feeding mode.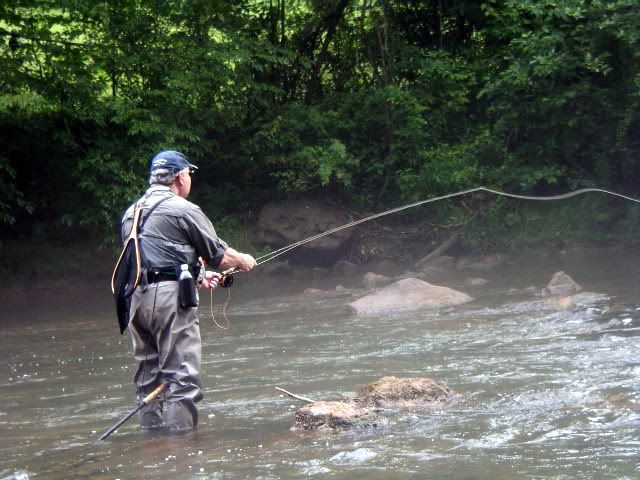 They soon started to appear one at a time.
Some were bigger then others but even the little ones showed plenty of spunk and all were delightfully colored.
Once Doctor D. had the hang of it, the fish started to come with a fair regularity. We didn't keep track, but I estimate that he was into the middle double digits. He said it was certainly the most fish he had ever caught in a single outing on the Smith.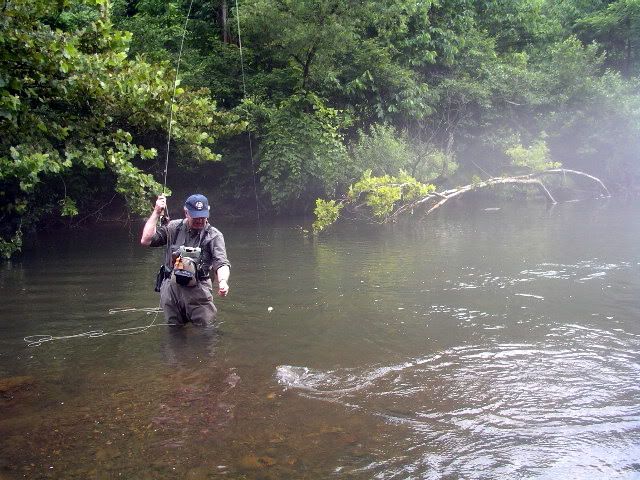 He caught 2-3 rainbows . The remainder were browns. A few were of respectable size. All put a smile on Doctor D's face.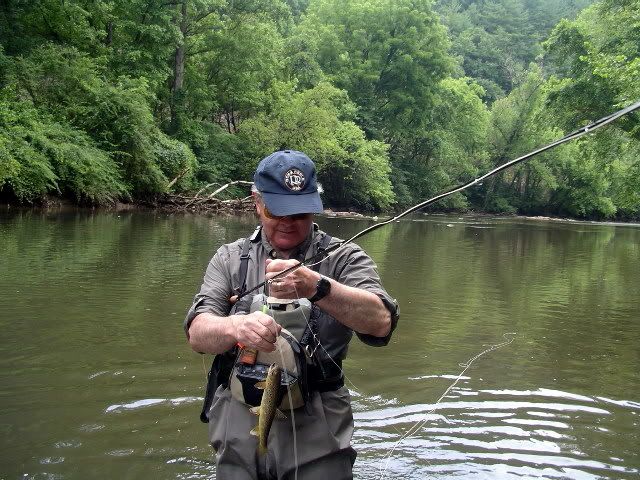 In conclusion, despite an embarrassing slip by yours truly, we had a great day. The company was good, the fish cooperated and we topped it all off with a late, but delightful lunch prepared by Mrs. K back at our cabin. I was prepared to finish the day down in the stocked section near our cabin but Mrs. D. had told the good doctor to be home in time to clean up for a social engagement. Instead of fishing, we hopped in my pickup and I gave a tour of the river while the doctor made notes on a map which I provided. I expect I'll see his vehicle at some of those spots, but I don't mind. I love selling the Smith River.