Discussion Starter
·
#1
·
One of my fishing buddies won't let anyone photograph him with the stream in the background or with him holding a nice fish before he takes the fly out of it's mouth because he doesn't want to give away any secrets. I fall in the other extreme. Most of us are in it for fun and also doing "catch and release" so no secrets here. Besides that, in the case of the Smith, the more folks fish her the more clout we will have to help make changes necessary to return her to a world class trout fishery once again. Here is one of my favorite spots. I really had not planned to fish here Sunday morning but someone else was already fishing my original choice so I drove on and ended up here. I've been fishing the Smith for over twenty years and don't really have a favorite spot. I've mentally broken up the river into sections based on ease of entry and exit points - they are all good if you fish them right.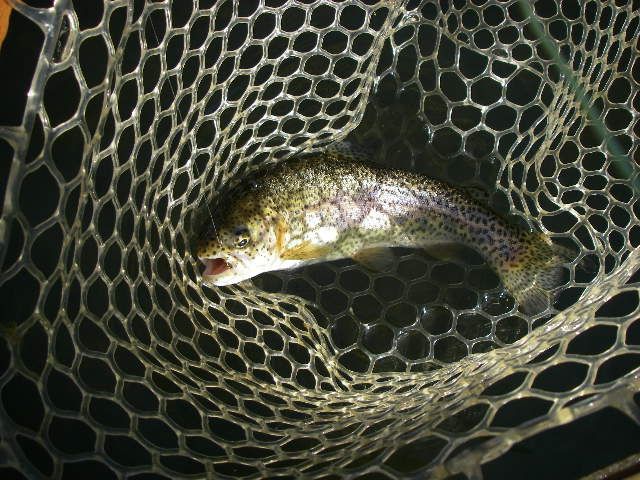 It took more time then I like to admit for the first fish to come to the net. I'm now keeping stocked rainbows on the Smith because they compete with the stream spawned browns for the limited food. I'm hoping for a limit of six before I shuffle my feet forward to my "get out" point.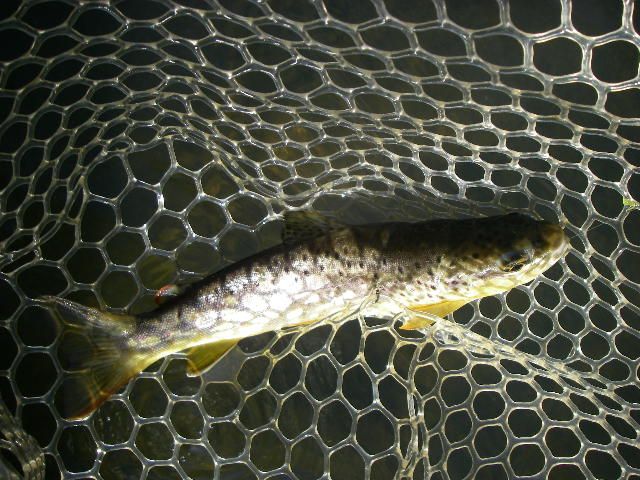 Caught a lot of browns - not many required the net but if they have any size at all I've found it easier to control them for a photo when you're standing waist deep in water.
The real small ones get the wet hand light grip treatment. I see a couple flies on display but they don't show very well so let me reveal I was fishing an Allieworm about 2 feet under a yarn indicator with a zebra midge dropped about a foot below the AW. The zebra midge got most of the play on Sunday, however this particular fish fell for the AW.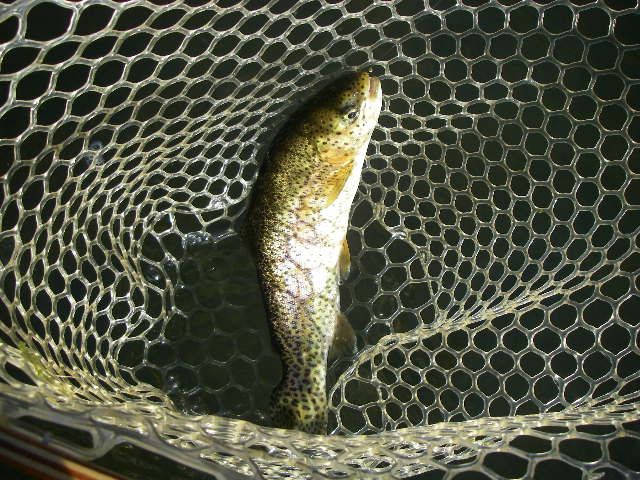 A half dozen rainbows committed suicide by the time I approached my predetermined exit point.
Ok, here is where things go astray. My creel is one of those "keep it cool" canvas types which straps to your waist and rides in the water if you're wading fairly deep. I'm small framed without much in the way of hips so the full creel was slipping down. I unhooked it with the intention of tightening the waist strap. It was full of water so I turned it up to lighten the load. Much to my feeble brains astonishment the fish poured out right along with the water. I was able to corral four of them but two sank out of sight never to be seen again.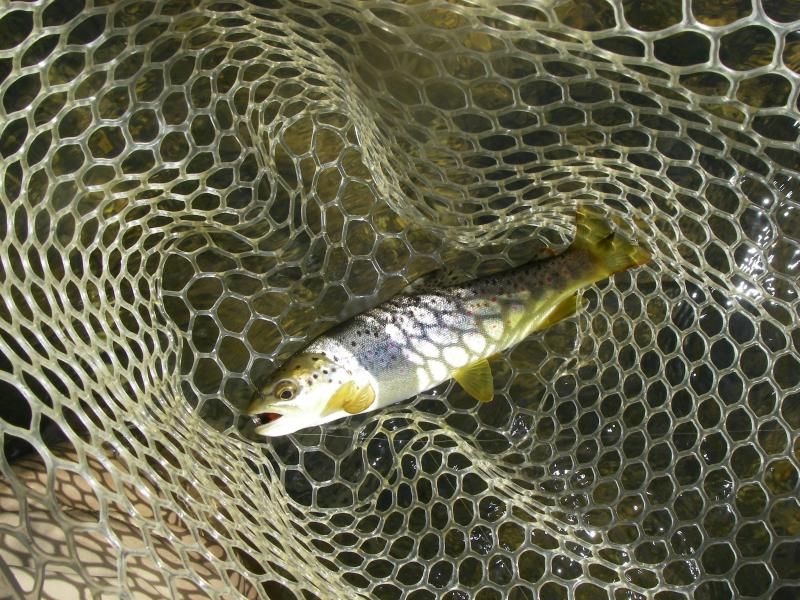 Every fish I caught after that bone headed mishap was a brown trout so there were no replacements. What the heck - it makes for a good story anyway. Great morning. In my opinion the Smith is fishing very well. I saw a lot of midges but no splashes or swirls to indicate the fish were keying on them or anything else. Nymphing is the way to put a bend in your rod most of the time. That could change shortly because we are approaching the 2-3 week period of great sulphur hatches and right after that it will be time to try beetles and ants.