Discussion Starter
·
#1
·
Seems like every time I go fishing lately a cold front is passing through the area. This was certainly the case on Thursday, April 5, 2007 when I made the 150 mile drive to my "get-a-way" cabin in Bassett, VA. I went there in order to attend the Smith River Trout Unlimited (SRTU) meeting being held that evening at Rania's Restaurant.
Mrs. K. had strongly suggested that instead of wasting time on "catch and release", that some fresh fish would be a welcome change of diet. She had heard me talk about a recent stocking of the lower river and indicated that if I were the great fisherman that I professed to be, I should provide some fresh trout for the table. With that caustic challenge ringing in my ears, and despite a chill in the air and a gusty breeze bending the trees, I headed for the lower Smith River.
I entered the stream a short way downstream of the village of Bassett. There was still a fair amount of current but it rapidly dissipated as the generation surge passed and the river returned to normal. My entry point was a mid-waist deep spot and it was easy to see how just a little more current would make wading a dangerous proposition. I have started using a wading staff and found it a comfort on this occasion.
It was not long before the Allieworm fooled the first fish. It was a nice one and I eased my creel around to the front so as to be ready to furnish the first of what I hoped to be a nice mess of "put and take" trout for Mrs. K's fish fry.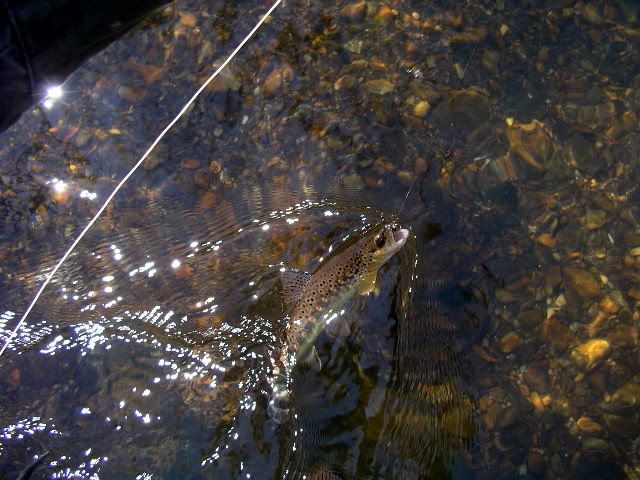 As the fish came closer I saw the fish was not a stocked Rainbow, but instead, was a stream spawned Brown. I have never intentionally killed a Smith River Brown, therefore he got a photo for his trouble and immediately went back so that someone else can enjoy catching him.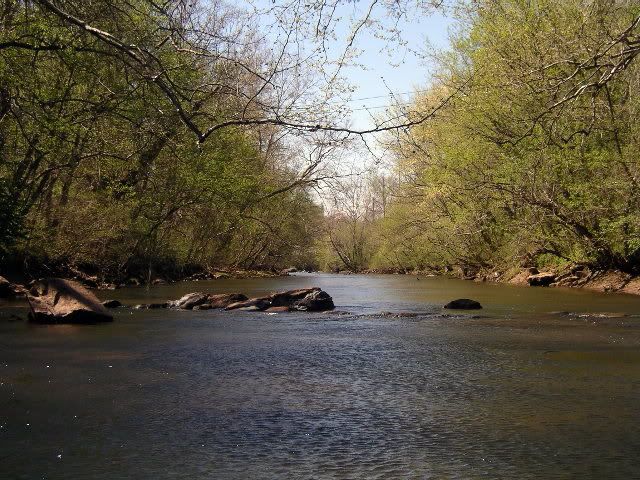 I had hoped that I would be protected from the wind down in that section of the river which is lower then most of the land around it. Much to my dismay, the wind was blowing directly into my face as I waded upstream. The weather forecast had called for gusts of up to 35mph and they were not wrong. Even though I am a fairly good caster, my fly was often blow back to land in a big tangle of line directly in front of me.
I was soon hooked to another Smith River Brown. This one was the biggest of the day. None would go over nine inches but they are a joy to catch because they're strong, often give an aerial display and are very pretty.
With all the wind and bone chilling temperatures it was not a very nice day to be on the water, so waded faster then normal in order to get back to my vehicle which was parked a short distance upstream. Even with these trying conditions I still caught a decent handful of fish. With one exception, all the fish brought to hand were Brown Trout. So much for Mrs. K's fish fry.