Discussion Starter
·
#1
·
The Smith River has a reputation for being a tough river to fish, but lately folks who have accompanied me are smiling and thinking they may have just discovered a new "home water". I am quick to point out that each of the many fish caught are caught one at a time and none came during a "hatch" or feeding frenzy which is usually associated with exceptionally good fishing.
More then a small handful of fish brought to hand is a testament to the skills of the individual fisherman. In my opinion, those skills include better then average casting ability, knack or ability to "read the water" and careful wading coupled with the confidence to keep moving to find a fish that wants to feed. The past few times out I have been fortunate to team up with individuals who either possessed those skills or were quick to grasp the concepts that I was trying to teach them.
I fished with a gentleman on Saturday who wanted to polish his nymph fishing skills. Knowing a little about nymph fishing myself, we passed the introductions stage and headed to the lower end of the Special Regulations Section where we could fish up through the long riffle just off the end of Rosemont Road.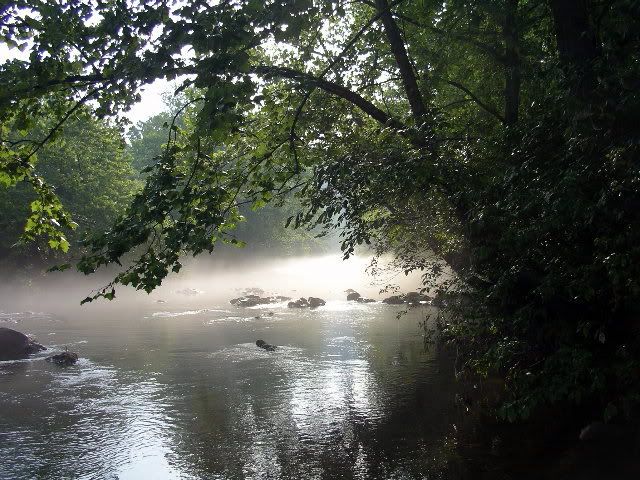 After showing him my basic nymph set up, i.e. an 8 1/2 foot, 5 weight rod, with an Orvis braided leader butt, 3-4 feet of 4x tippet topped off with 18 inches of 5x tippet. I also insert a small hunk of egg glow yarn just above where the 4x and 5x are surgeon knotted together. This egg glow yarn is tied in with a clove hitch and gunked up with floatant so that it will ride high and act as a strike indicator. Of course on the terminal end of the 5x we tied a size 14 beadhead Allieworm. I always start with the Allieworm but will change if it does not produce. The Allieworm has been a faithful producer over the years but in my opinion it is having the confidence in your method more then the fly that catches fish.
The first thing my new friend had to learn was that false casting looks good but does not catch fish. In fact, in my opinion, false casting is very seldom necessary and therefore a waste of effort and most definitely spooks fish when you're fishing in "gin clear" water such as the Smith. After a few words of counseling the false casting was soon behind us.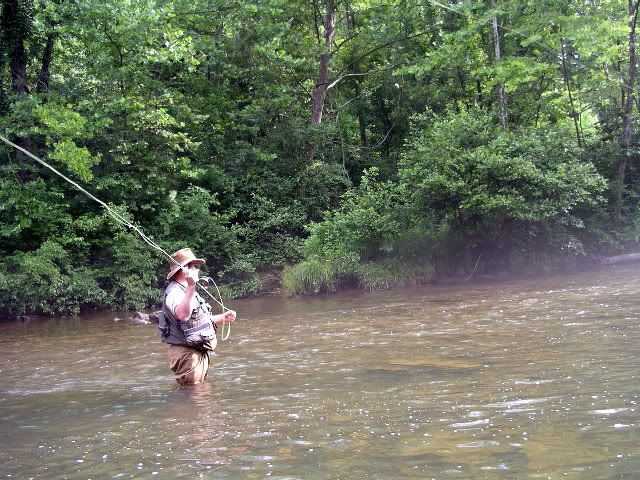 After a few misses where this young man learned that it is better to be a little late on the take then to be too early he soon had his first fish.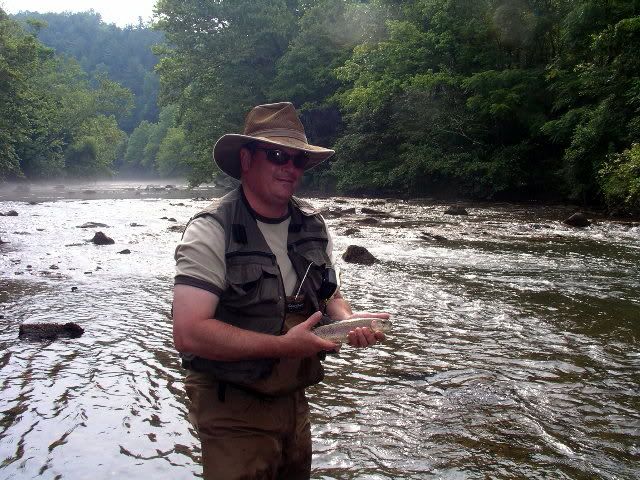 The fish started coming one at a time and before we reached our "get out point" he had a good appreciation of the nymph fishing techniques which have worked well for me on the Smith and many other streams.
The one thing which I stress with everyone that fishes with me is to keep moving forward. What we are looking for is a fish that is ready to feed. Just about every pool and riffle on the Smith holds several fish. I saw this when I participated in the VA Tech & VDGIF Study.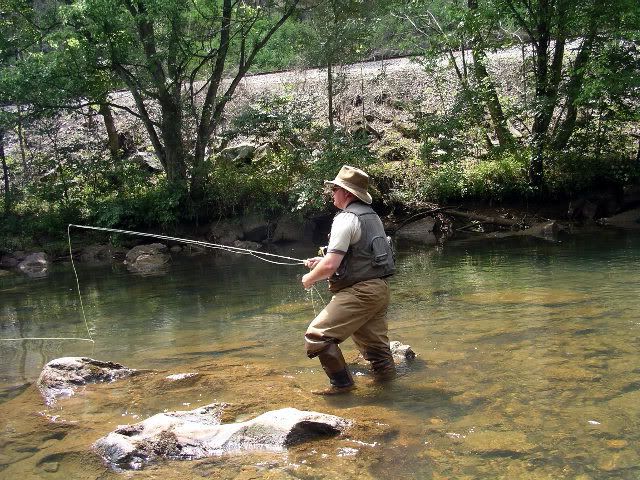 None of the fish were big ones, but they were all beautifully marked and give a fisherman a feeling of satisfaction when thay are able to momentarily touch one of Gods finer creations.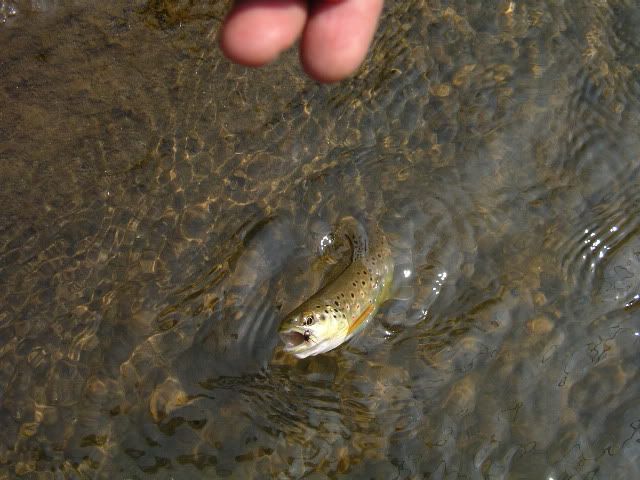 After lunch we finished out the day on a short section in the lower river south of Bassett. My friend had learned his lessons well. He quickly moved upstream without any prompting from me and was immediately into fish. He had produced double digits in the morning and repeated that all by himself in the afternoon. I followed along behind him and was able to coach a few to my Allieworm as well.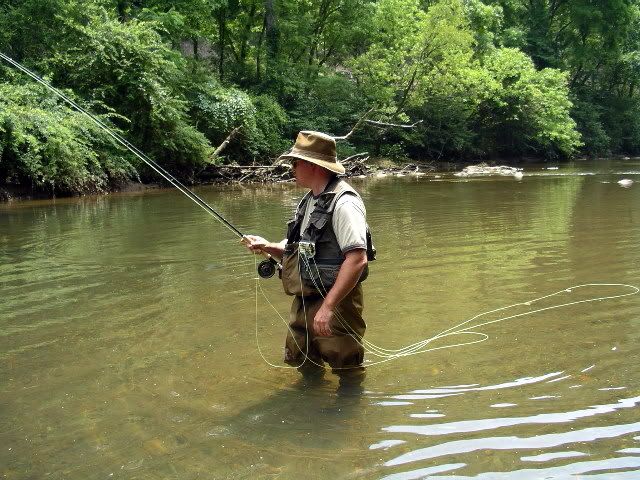 Sunday morning I went to the Mirror Factory and nailed up a few official Special Regulations signs which the VDGIF sent the Smith River TU so that we can post them along the fishermen's paths and in other prominent places. We still have a few more to go but they should all be up within the next two weeks. These signs are going up so that "I didn't know" will no longer be an excuse for those that bend or break the rules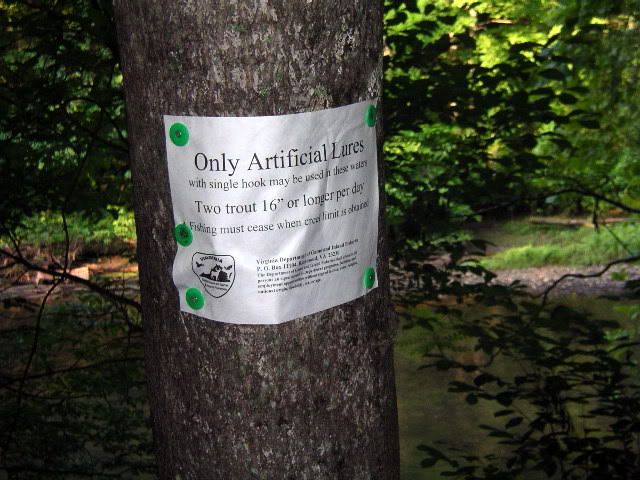 I have personally talked with the local Conservation Police Officer (new name for VA Game Warden) and corresponded with the regional supervisor. They are aware of the rule breakers. They are currently experiencing personnel shortages but I am confident that we will start seeing more law enforcment presence on the Smith River. If you observe a violator or just want to talk with a CPO the best way to contact one in Henry County is to dial 911 which goes directly to the Henry County Sheriffs Office dispatch. They have a direct link to the CPO covering the Smith River. If a CPO is not readily available and it is a flagrant violation a HCSO deputy may be dispatched to take a report which will be forwarded to the CPO who will follow up with a possible citation.