Looking at the calendar and trying to figure a date for an event without conflicting with something else is near impossible these days. With that in mind SRTU stuck to it's guns and went with our originally announced schedule of Friday, Saturday and Sunday, May 16-18 for our Lying / Tying / Fishing at the Bassett Cabin which sits right on the bank of the dam or upper section of the Smith River. Considering everything else that was going on we had a pretty good turnout.
Some folks bunked at the cabin, some camped on the grounds and several who lived in the local area just came for the main events and went home for the evening. One thing is for sure, those who missed it, missed a heck of a good time and also missed some good fishing.
Others have posted some good stories and photos on BRFFF about the fishing
http://www.brfff.com/forum/index.php/topic,10127.0/topicseen.html
so I will confine my post to happenings at the cabin with a little of the fishing thrown in where I was personally involved. Photo above shows a couple Smith River Regulars waiting for "newbies" to show up so they could be greeted and pointed in the right direction.
On Friday they were generating from 1-7pm so afternoon fishing was limited to the lower river ahead of the flow or the upper river during the last hour before dark once they shut the turbines off. I was there early so jumped ahead of the flow to see if the river was fishable after the recent rain which had dumped a lot of silt into the lower river. The section down through Bassett was cloudy but apparently the fish could see a nymph because I caught a half dozen like this before heading back to the cabin to help greet folks.
We had two fishermen from Fayetteville NC show up in hopes of learning a little more about the closest trout stream to the majority of folks who live in eastern NC. Just before the COE turned the turbines off I grabbed one of them and headed to the dam in hopes of catching a sulfur hatch on falling water. We had to wait a little before stepping in but as soon as the water started to receed you could see fish activity.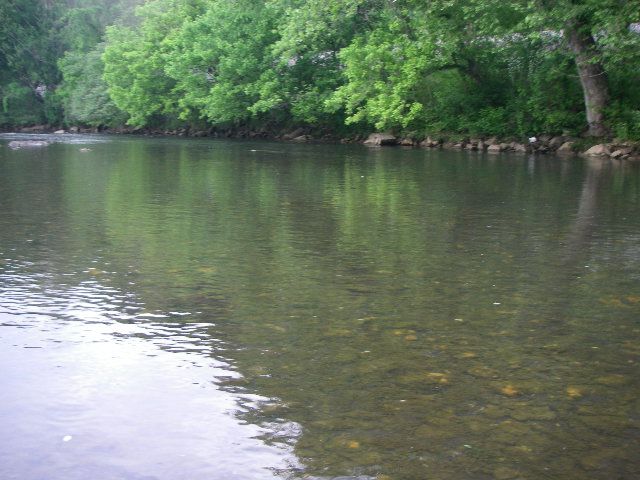 I fished downstream and gave the riffle with all the activity to Eddie.
I just knew we were going to tear them up but I went a long way before hooking this stocked rainbow. I added a couple of small brown trout to the tally before locating a "get out" point. The recent surge of 44 degree water was bone chilling cold. When I got back to the truck Eddie reported a similar experience, i.e. some activity but no spectacular hatches like we had hoped for.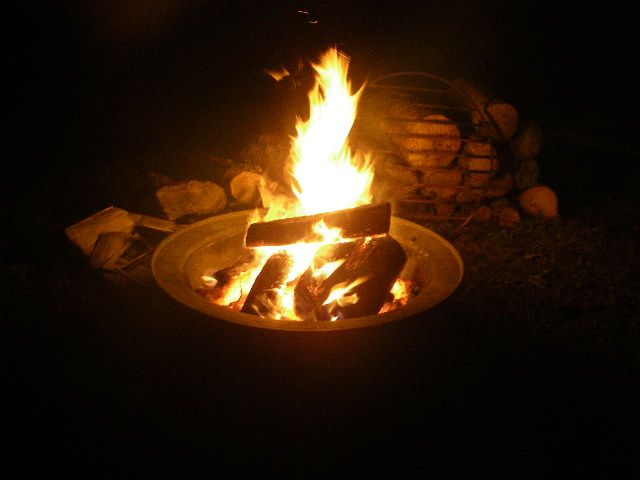 Prior to heading out we had been made the "designated pizza delivery team", so called ahead to Papa's Pizza where we dropped the better half of a century note on the local economy. Pizza, a hot fire, good friends, tall tales authenticated by a liberal flow of adult beverages - What more can a fisherman ask for?
There was no generation over the weekend so we should have been up early and on the water but for some reason folks were late getting out of the sack.
Once up no one was eager to be the first to head out. It seemed like most of the tying took place in the morning both days - folks were mumbling about trying to tie something that would match the hatch they had seen the evening before.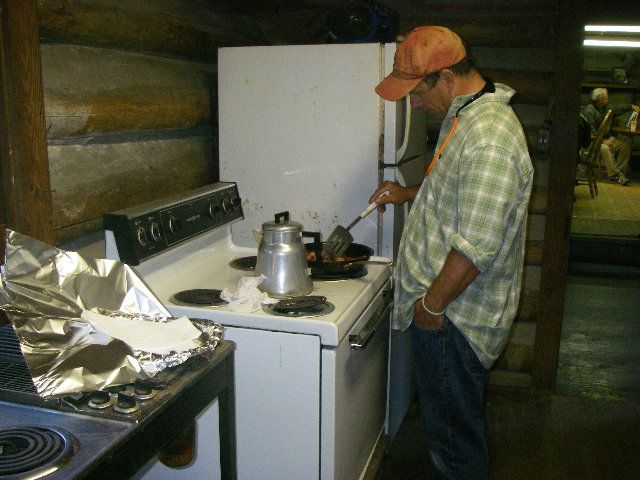 Shane does a great job of whipping up breakfast.
While the folks who had over indulged the night before got their act together a few tested the waters right in front of the cabin. We saw several fish rising there but if anyone caught them they did not reveal it to me.
I took a different "newbie" to a well know spot. There had been a drastic change in the weather with a cold front pushing through but we were determined to give the fish a try.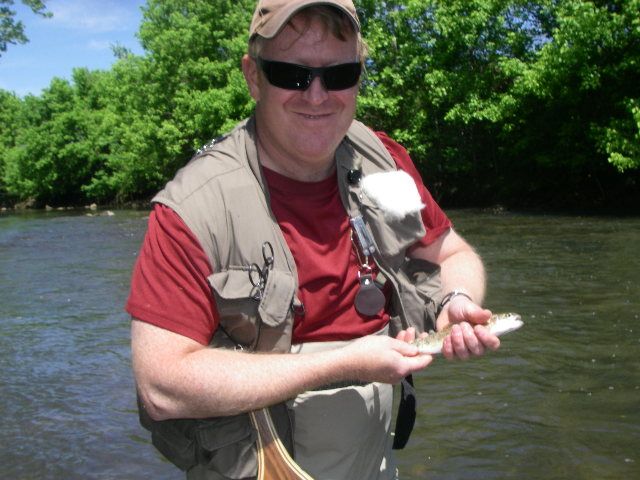 It doesn't take long - at least half a dozen similar to this put a big grin on his face. I'm betting we have the makings of a "Smith River Regular" here.
Saturday evening we had a big meal of barbequed pork with all the fixings washed down with the beverage of your choice. I even tried a strawberry beer which tasted like strawberries (officer I've been eating strawberries all day - they must have been spoiled and fermented in my bloodstream).
Once again no early risers Sunday morning. The crowd has thinned a bit but Doug is determined to tie something which will match the hatch everyone saw the evening before.
Got to give that pesky trout which has been giving us the finger for the past three days one more opportunity to commit suicide. It turns out it is still saying "are you kidding me - I'm not falling for that imitaiton". Some of the diehards stuck around for the evening hatch and reported "ya should have been here". Most of us packed it in, cleaned up the place and headed for home with the feeling that life is good and we are fortunate to have good friends to share it with.