Discussion Starter
·
#1
·
GColwell and I headed down to Sutton Lake yesterday, 24 Feb 2018. We arrived a little after dawn, about 0700, and launched the boat. Trolling around the 70-74 degree water we did not receive any bites or even nibbles. Looking around it didn't seem like any other fishermen were having any luck either. So we continued along and started fishing the back of Lake 2 and Lake 1 up on the shoreline. We passed the cut-through that takes one from Lake 1 to the back lakes. As we got to the other side GColwell hooked up with this beast on a weightless senko cast up on the shore in about 2 feet of water. He does not fish lakes but more golf ponds and what not so this was a fun, new experience for him. I'm glad he caught a fish here.
We continued further up the shoreline where we were sheltered from the light breeze. By this time I had switched over to a topwater as the surface was almost like glass. We continued to fish the shoreline watching fish breaking the surface down the way a good bit about 10 feet off the bank. I threw my topwater out and during my retrieve I noticed movement following the lure so I stopped reeling and the moment the lure settled it disappeared. The line quickly went taut and I set the hook. The rod I had built was doubled over with a good fighting 3 pounder. As I'm fighting the fish into the boat, she breaks water and GColwell about fell off the boat. "That's a four pounder man! She's gotta be four pounds!," he exclaimed. She starts peeling a bit of drag off the reel and I let her do her thing. Now I've got her under control again and I'm reeling her in when she jumps full on out of the water trying to throw the hook. At this point, I about fell off the boat and GColwell is screaming, "That's a five pounder man!" I finally fight her all the way to the boat and GColwell pulls out the net and dips it in the water as I lead her into the net, he pulls her up and places her on the boat. We about fell over with excitement as we realized, she's not five pounds, but more than six.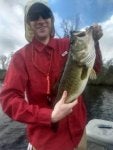 She weighed in at 6.12 pounds. I could have fit my fist in her mouth and that tongue would have filled the palm of my hand. My favorite part is this is the first first I caught on the rod that I built and the rod and guides didn't break!
Overall, the day was slow as we only caught those two fish, but, with the excitement of that lunker, now my PB, it was a fun day and GColwell was able to enjoy fishing an actual lake.
Until next time!