Discussion Starter
·
#1
·
Well, guess I'll warm up the kayak reports section with some action I encountered this past weekend.
I've been very goal oriented this year to my fishing approach and with December close at hand, it was time to finish my goal of 6 different freshwater citations off the kayak in 1 year. I told the wife all this information and begged for permission to fish Saturday AND Sunday. I told her my plan was to catch an 18"+ rainbow trout in the mountains and then the next day to hammer a 41"+ blue catfish. She was rather hesitant but I told her the trout would be fast, if I catch a big rainbow first cast I'll head home. She said ok and that set events into motion.
Headed up to a little spot I will not share, don't ask, if you do I will send you to Tennessee. Pulled up and was bummed out that I saw no life in the water. Hmmm I thought, it is pretty cold so I guess I want to make some casts before I pull my trident off the rack. 4th cast in and I had a plump Brook Trout on the bank. Ok, time to slip the kayak in!
Slipped in and had to paddle through a thin sheet of ice. Can't say that's a first, but it doesn't happen often.
Tried a few spots with no luck, and finally broke the ice...so to speak
Did I mention it was cold? Went to cast and my lure didn't go anywhere. Turns out my rod guide had iced over.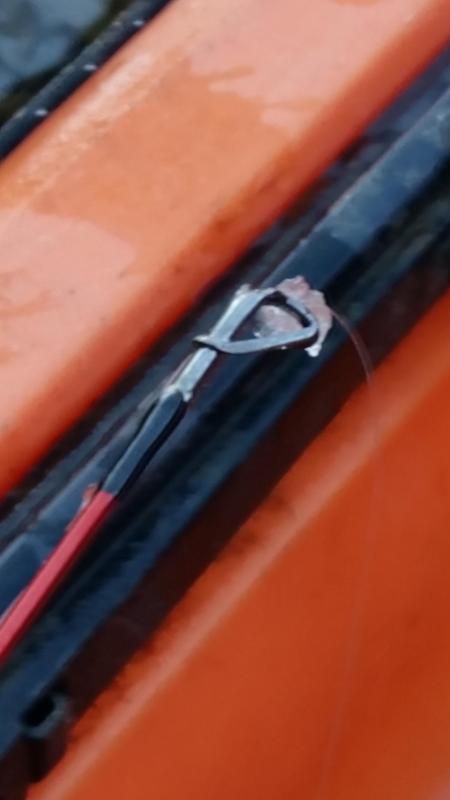 After defrosting the rod tip in my mouth and a couple of missed fish later, I decided to move on.
Parked in a spot that yielded me a citation Brook Trout earlier this year to see what was around. Couple of casts later my jig stops with an immediate head shake. The water lit up with a metallic pink and I knew I had gotten what I came here for!
Off she goes...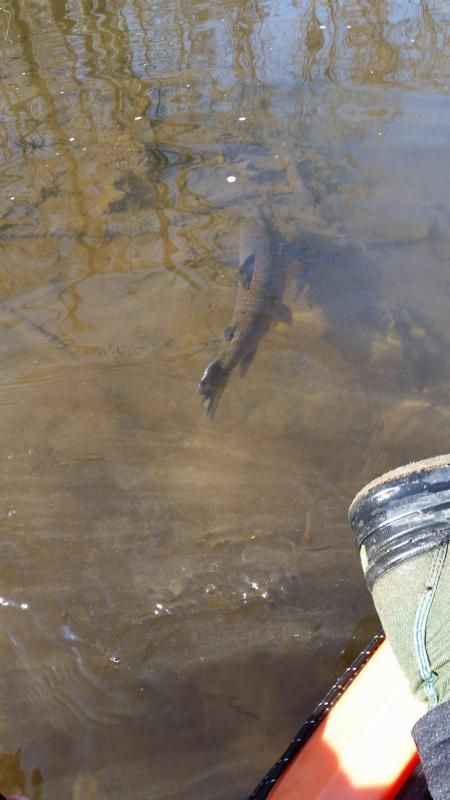 Well guess its time to head home. On the way back I began to spot lots of trout...oh man...I don't want to go home. Asked for permission to stay out and play some more. And played I did, a trout catching frenzy occured. I had trout cruising under my kayak, even managed to jig a couple from right under my bow. What a blast!
Here are a few shots.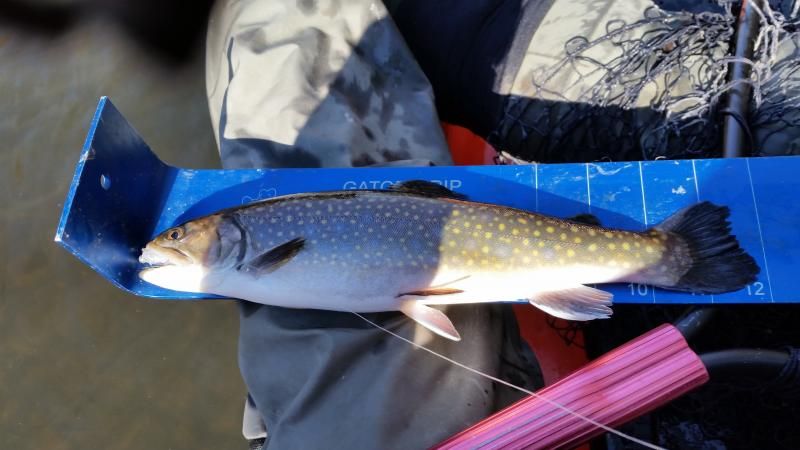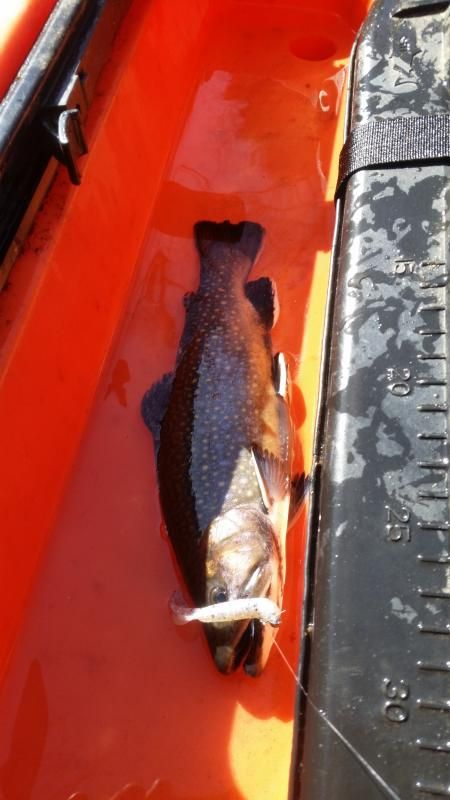 So 1 down, 1 more to go. Pulled the trident off the rack and loaded up the Hobie. My wife told me I was nuts for going again, especially with how cold it was that evening. I told her no way, I'm telling you, tomorrow I'm catching my big catfish, I know the day is right.
Launched not too long after day break to a much nicer than expected day. Met up with my buddy Jeff on the water and we began combing Lake Norman for our whiskered friends. Jeff struck first with a puller. Not sure 100% how big it was, but I think it was about 32 inches. Not a shabby start for the day! Jeff struck again with a 20 inch class cat and I was now in the hole by 2. Action quieted down again and we did some more combing.
Unfortunately, not much action until about 9:30. My port goes off. I'm thinking well, there is an eater to start the day. I take the rod out of the holder and go, nope, definitely not an eater, looks like maybe a 30 inch class fish as I try to lift it off the bottom and don't make much progress. All of a sudden the fish just starts cruising...not running just cruising...I've hooked into a submarine. I hang on for dear life as I begin to get towed for 100 yards or so. I can't stop this thing. This is it, this is my fish...#6, I'm not losing it. I finally gained some ground on the bugger but no depth. My rod is straining, line ratcheting off the reel. My rod seemingly at a 90 degree angle. Hang in there 17# test, you can do this! Finally a sign I'm starting to win, I see bubbles rise from the depths. Come on fish, let me catch a glimpse. Finally I get a 1 second sighting of the tail...I wanted to shout, but I had to keep my cool. Lots of lost line again. After a few more minutes I see the whole fish...my net it too small. Hook is placed in the corner of the mouth, but not well. Off goes the fish again. Few more minutes back near the kayak. This time the hook is in the roof of the mouth...holy cow I need to land this fish quick. I wanted to reach down and just grab its jaw, but I pictured a mashed hand and going overboard. Got my lip grippers and clamped down. Hauled the beast aboard! Victory? Nope fish rolls off my lap and back into the drink, nearly rolling me in the process. Mad scramble and on deck a second time.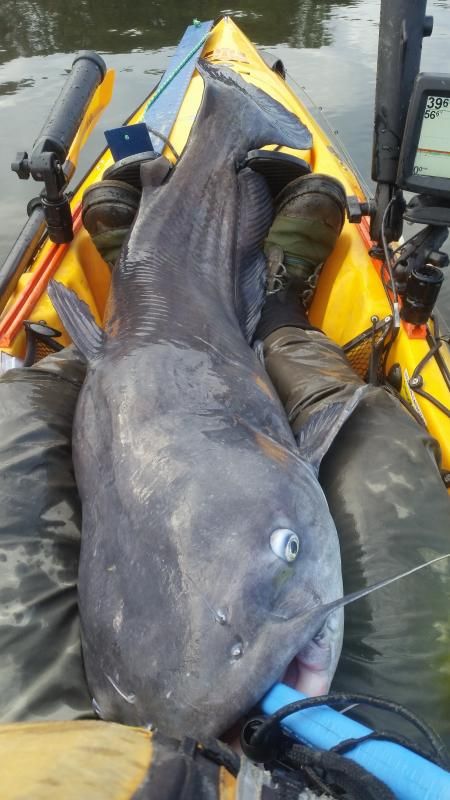 Victory is mine!
But now what...I need a measurement.
Curses this fish takes up my whole cockpit and impeding my propulsion system. Grudgingly I grabbed my paddle and headed into shore.
Maxed out my 38.5" ruler plus a Pepsi can!
I really wanted to get it weighed and/or get a nice bear hug shot, but I was already concerned about the health of this gladiator. She took off with no problem, what a sight to see such a big fish glide through the shallows back out to deep water!
Trolled around a bit with not much love. Ran into a few cats eventually, and about 3:30 the trolling bite began to turn on.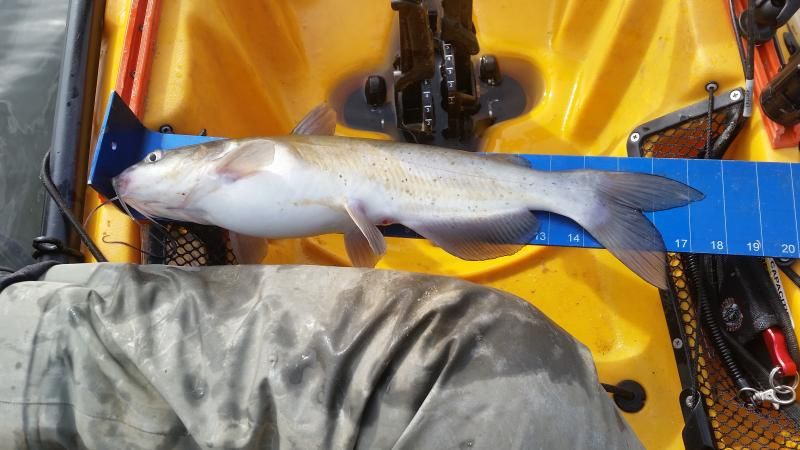 Amazing weekend! Get out there and fish...they are biting!