Discussion Starter
·
#1
·
We just finished the 6th trout fly fishing event for the year. This event was hosted by the John E. Pechmann Fishing Education Center (JEPFEC) with the aide of a dedicated cadre of volunteers who give many hours of their personal time to teach others the fundamentals of fly fishing. Kris Smith the Director of the JEPFEC is fond of saying to the participants, "Our volunteers work real cheap. The only form of payment they receive is a donut and a sausage biscuit. So thank them because we could not put these clinics on without the help of our volunteers".
As the Volunteer Coordinator (Unelected and unpaid, I might add), I can echo what Kris has said. We have put together a good bunch of volunteers. None of us are experts on all aspects of fly fishing but we have figured out who is pretty good at what and have a great time sharing that information. I am very fortunate because our current group of volunteers make me look good.
Saturday's event went well. We had about 20 scouts and their leaders. Due to the smaller number, (we had 40 last week), we were able to give a lot of one on one attention to those who were totally new to fly fishing. A show of hands revealed that at least half of our group had never picked up a flyrod in their life before.
The wind played havoc with fishing Saturday. Because of the reduced numbers we where able to place most of the participants around the ponds with their back to the wind. Those 25mph gusts made some of the scouts look like long distance casters.
As you can see by the dress of our scouts, it was also a might chilly.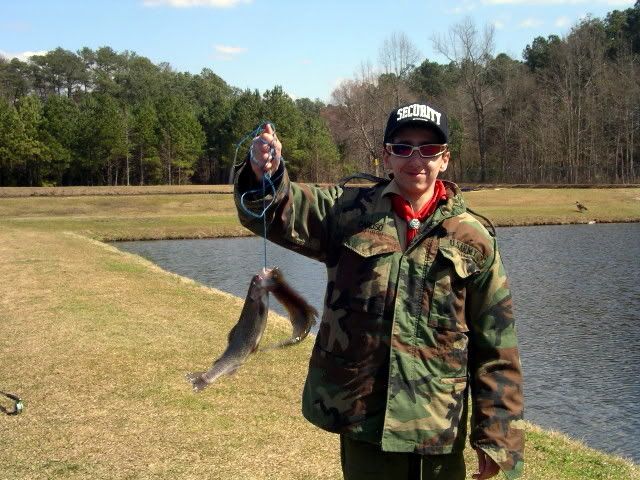 Despite the trying conditions, everyone caught fish. In fact, Saturday was one of our better "catching days".
One of the requirements of the Boy Scout Merit Badge is to keep, clean and cook their catch. We ran a cleaning station where everyone got some hands on experience under the watchful eye of one of the NCWRC fisheries technicians. Another of the technicians, with the help of a couple scout leaders and older scouts manned the cooking pots to dish up french fries and trout. Eating fresh caught fish was another new experience for most of the scouts and also for some of our volunteers.
And so ends the 2007 trout season in Fayetteville when the 2nd Boy Scout Merit Badge qualification concluded with a fish fry for all participants.