Discussion Starter
·
#1
·
thought i'd share this because i know lots of you have had similar experiences. wrote up the story just because why not, and thought y'all might enjoy. i know, i know, it's long. apologies for that. and, i'm kicking myself for not taking a picture of the fish, but i guess there's a sorta good reason. and i opted against including the more elaborative pics, but PM me if you want to see 'em. ha.
I'm not surprised this happened.
At some point in my life, I was going to wind up with a fish hook buried deep in my flesh. I've known this for a long time, and I've actually been OK with the inevitability. Really, the only surprise is that it took this long.
I mean, I'm 39 and I've been mildly addicted to fishing since I was a little kid. I was aware of the odds, y'know? Eyes wide open and stuff.
The moment finally arrived this week, as I was fishing in a pond in south Charlotte. The last licks of daylight were holding tight to the horizon as a four-pound largemouth bass crashed into my topwater plug, a Skitter Walk that I'd bought last summer but hadn't taken out of its box until about a half-hour earlier.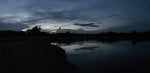 (this pic is from about three minutes before it all went down)
Topwater bites are just the best, especially when you're matriculating the lure slowly across the surface with a walk-the-dog cadence. The explosions seem to come from nowhere, always catch me off guard and send a bolt of excitement surging through the body.
Anyway, this big'un blasted the Skitter Walk. I reeled it in as quickly as I could, because in my mind, I was thinking I would still have time for a couple more casts before the can't-see-anything dark set in. Gotta maximize the opportunity, right?
I quickly lifted the fish up with the rod and carefully positioned my left hand to grab its lower jaw so I could remove the dual treble hooks, both of which fit comfortably within the confines of the beast's giant bucket mouth. From what I could tell by the dim light, the hooks at the front of the Skitter Walk were less secure, so I set about removing those first with the needle-nosed pliers on my Leatherman.
As I grabbed that treble hook, the bass bucked, as bass are wont to do. Now, I'll freely admit that it's been a while since I've had a four-pound largemouth gripped by the jaw, and I forgot how powerful they are when they buck like a bull trying to eject its rider before the eight seconds pass at a rodeo.
My grip slipped a bit, which drove the point of the treble hook on the back of the lure into my thumb. Ouch. My reaction, stupidly, was to drop everything, which meant that the hook point, propelled by gravity and the force of the four-pound fish falling, burrowed deep into my thumb, way past the barb.
The pain was immediate, and the pain was intense.
"Yep, it's finally happened," I thought. "Dammit."
So now I'm looking at this bass on the grass, with the five-inch Skitter Walk connected by one set of treble hooks to the fish's upper jaw and by the other set of treble hooks to my thumb, and I'm mentally begging the fish, "Please don't jump again."
The puncture wound hurt enough, and I didn't want the hook to start ripping flesh.
I grabbed the Leatherman off the ground and quickly—but, y'know, carefully—wrenched the hooks out of the fish's jaw, then cut the line so at least I'd be free from that tension. After I pitched the bass back in the water—it wasn't his fault, so no reason to commiserate with him any longer—I took a picture of the hook buried in my now-bloody thumb, because that's what I do. I'm a journalist, and I document pretty much everything.
There would be no more casts on this night. I collected my stuff with the hand that wasn't attached to a Skitter Walk and headed back to my car.
All I could think of was the story my mom likes to tell of how she met our next-door neighbor so many years ago. He knocked on the door one day shortly after my parents had moved in—my mom was pregnant with me at the time—with the hook from a fishing lure stuck through one of his nostrils. "I'm Frank," he said with a smile. "I hear you're a nurse."
She took one look and told Frank to go to the hospital. Smart lady, my mom.
After a few minutes of probing and pulling and the flashes of blinding pain resulting from both of those foolish activities, I decided to follow that same sound advice, almost four decades later.
(OK, take a breath. Told you it was long. I won't be insulted if you decide to stop here ...)
Turns out, I was the hit of the emergency room that night. At least, my thumb—with its new appendage—was the hit of the ER.
After I was admitted to an exam room, a nurse tech stopped in and said, with an air of eagerness, "I've been looking forward to seeing this ever since I saw it posted on the board."
Gee, thanks.
Another tech stepped in: "Are you the guy with the hook stuck in his thumb?"
Yep, that's me. Seems this was the first hook-in-thumb medical situation for both of them, too. We were all in this new experience together. Well, kinda.
I had a hook in my thumb. They had empathy. Not exactly the same thing.
"I can't wait to see how we get that out," the first one said. "Me, too," the other replied.
Yeah, me, three. And that continued the theme of the night. I lost count as to how many times I heard that same sentiment. It started with the admitting clerks, was repeated by the transport guy and then the nurse who took the X-rays to make sure the hook hadn't hit bone (it was deep enough that was a possibility) wondered aloud the same thing.
Word had of my thumb spread throughout the ER, and on an otherwise slow night, everyone wanted to see. At one point, even the janitor stopped by for a look (OK, not really). It was a puzzle that needed solving, and nobody seemed to have a solution.
The PA on duty that night, whose job it was going to be to remove the hook, stopped by to take an initial look and also to numb the thumb. On her way out she turned around and looked at me and said, "I still don't know how I'm going to do this."
Half-hour later, with the thumb fully numb, the second tech poked her head back into the room. "Don't worry," I said as I nodded at the Skitter Walk. "It's still in there."
She laughed. "Oh, good. I mean, that has to hurt, but I didn't want to miss this."
The nurse who'd taken my vitals a couple hours earlier stopped by to share what was on her mind. "My husband and son went fishing at Lake Norman last weekend. Ever since I saw what happened to you tonight, I've just thought over and over how glad I am this didn't happen to either of my boys."
Me, too, lady. Glad I could carry that burden for you.
The PA's initial idea was to snip the hook off and push it all the way through so the barb wouldn't snag on flesh coming out. Sound theory, but when she brought in the only wire cutters they could find, I just laughed. There's no way, I told her, those puny things are going to come anywhere close to cutting this hook. I don't buy the cheap stuff, I said.
I was right. Not even close. And even if the cutters had actually snipped the hook, the angle of entry was such that there wasn't enough hook to push all the way through without getting completely enveloped in my thumb meat.
So the PA decided to make an incision directly above the barb, then insert an 18-gauge needle along the hook path to cover the barb so it could slide out without catching.
Sounded like a great idea to me. As she positioned her scalpel and started the procedure, I grabbed my phone with my right hand and pointed it at my other hand.
She noticed, paused, and said, "Are you really taking a picture right now?"
I laughed. Of course I was.
Pics or it didn't happen. This is 2015. I'm a journalist. Things must be documented.
After maybe a minute of deftly cutting and maneuvering the needle into position—as I watched the whole thing in what was a bizarre experience—the PA pried out the hook.
Her plan had worked perfectly.
"Bravo," I said. "I'd applaud, but, well, y'know …"