Discussion Starter
·
#1
·
Long time, no post. I've been a little lazy, mostly posting my photos to Facebook. Sorry guys! My family is also in the process of moving to the Oak Ridge/Stokesdale area. I'll be very close to Belews and my hometown of Kernersville.
Regarding the fishing ... Memorial Day (today) was my day to fish this weekend. It just so happens that Kev2380 was also available to fish. With the beautiful weekend weather and near perfect conditions on all Piedmont flows, we were primed for a spectacular day. Although Kevin is an avid flyfisherman, today was the day to show him the ropes of riverbassin' on one of the local flows.
We launched just after 6 am with cool conditions and a slight fog on the water.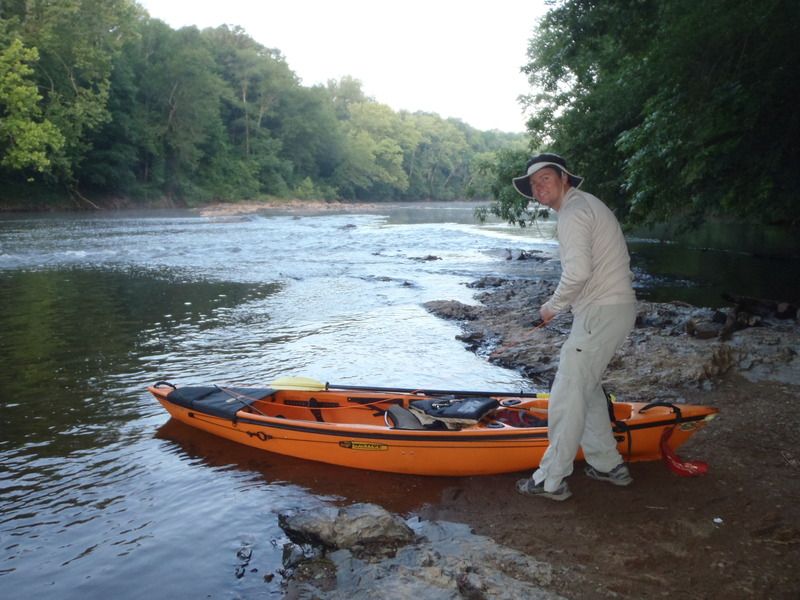 The sun was beaming over the trees from river left. Kevin snapped this photo of me far downstream with his waterproof point and shoot. I'll likely get this one framed one day. It's really incredible.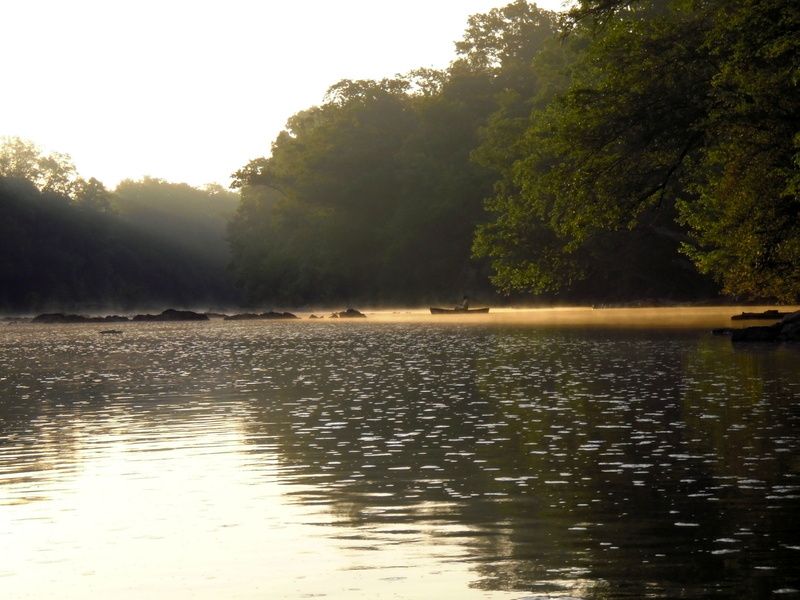 After telling Kevin at the launch that a 4+ lb bass would likely be caught today, things started very slow
. Absolutely no love on topwater: buzzbait, spook, fluke .... nothing. Kevin started flyfishing and caught several sunfish. He also brought a spinning rod and ended up landing at least 1 bass on a spinnerbait fairly early.
I finally caught a decent bass on a fluke around 9:00 am or so, and missed a few others holding tight to wood.I was beginning to wonder if I would find big momma. After switching to the spinnerbait, things picked up a little. I ended up with 15 bass or so. Most on the spinnerbait and a few trolling a gold xrap.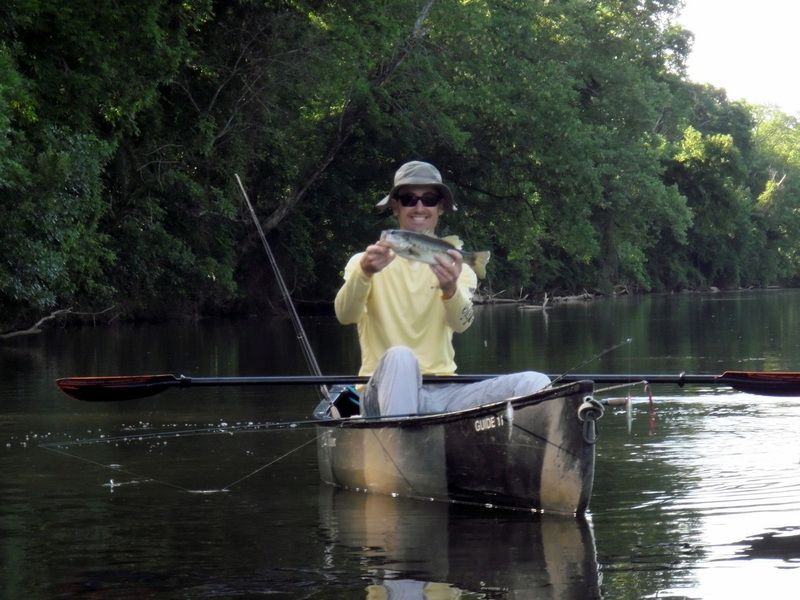 Big momma finally came out to play. I hooked this 5 lber right under Kevin's lucky orange kayak!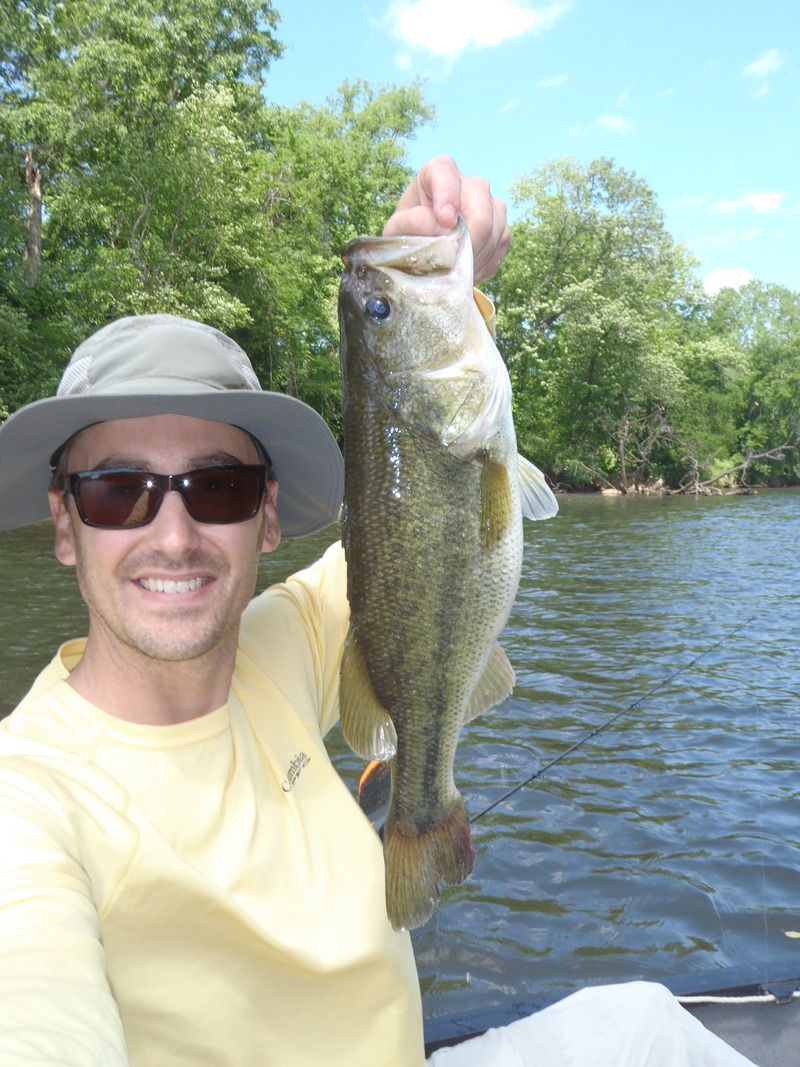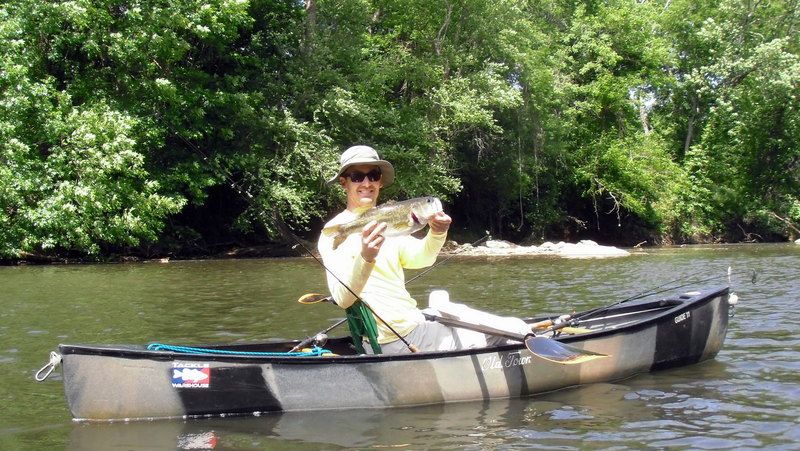 Kevin did well in the yak and I think he got a good feel for the ropes of riverbassin' our Piedmont flows.