Discussion Starter
·
#1
·
One thousand trout made a long swim from the hatchery near Bervard NC to the John E. Pechmann Fishing Education Center located across from Lake Rim in Fayetteville, NC. The distance was so long that they were assisted in their journey by one of the NCWRC stocking trucks.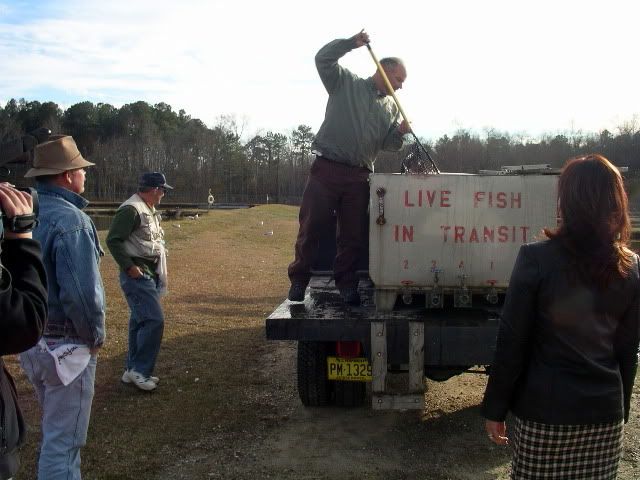 We received a good mix of Rainbows, Brook and Brown Trout. The average size was 10-12 inches, but some brought raised eyebrows and ooohhs and aaawwws with estimates of 16-18 inches.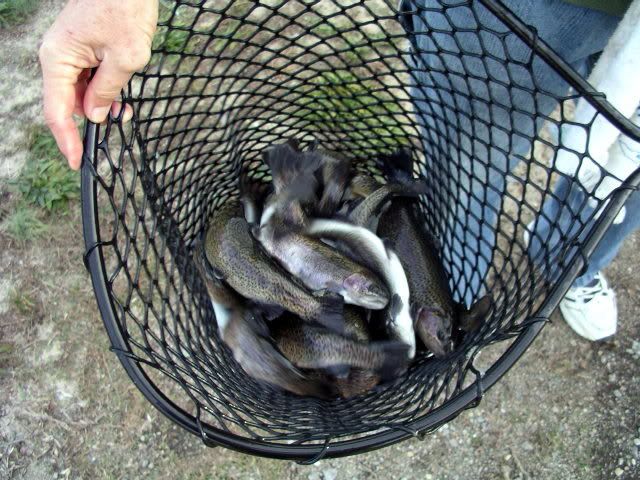 The welcoming committee included the JEPFEC staff, and several volunteers who assist with fly fishing clinics.
In addition to the fly fishing clinics which have become an annual event at the JEPFEC, the facility recently partnered with Womack Army Medical Center and a fly fishing group from Pinehurst to host several fishing events for the Wounded Warrior Program. A few of the wounded warriors were on hand to assist with the transfer of trout from the truck to two specially prepared one acre ponds.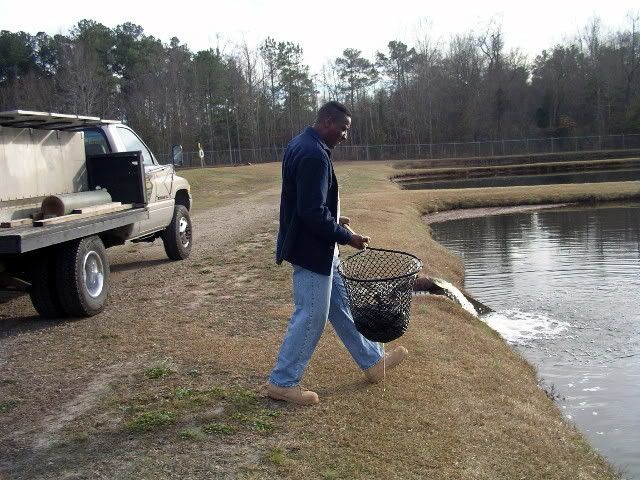 Ms. Connie Moralez-Piper, Program Assistant for the Warrior Transition Battalion pitched right in to help.
That's all folks. The tanks are empty and we now have 500 trout in each pond just waiting to test the skill of Fly Fishing Clinic participants and the Wounded Warrior Program over the few several months.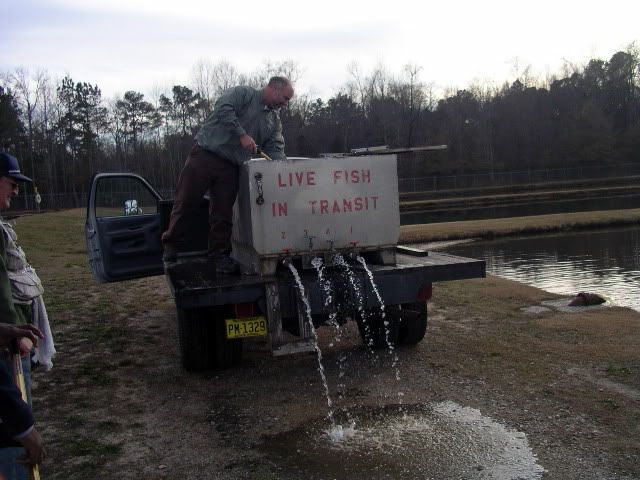 The trout's arrival means that the fly fishing clinics are right around the corner. The old building we worked out of for the past several years has been torn down and replaced with a state of the art facility. With the completion of the new building we look forward to offering more programs and having another great year of fishing.
The Fly Fishing Clinic schedule for 2008 looks like this; (All clinics start at 9am and end at 3pm)
Beginner Clinic
January 12th
January 26th
February 2nd
Advanced Clinic
February 16th
Boy Scouts Weekend
March 1st
March 15th (only if necessary)
Warm Water Clinic
June TBA
All clinics are limited to the first 40 participants - Preregistration is required. Have your friends, associates or anyone who expresses an interest, call Lake Rim Parks @ (910) 424-6134 They must register in advance. No pay at the door allowed. They can use a credit card or cash to reserve a spot - only $5 so it is a steal and we also furnish coffee, sodas and donuts. Can't beat that.
Al Kittredge
Volunteer Coordinator
NCWRC JEPFEC